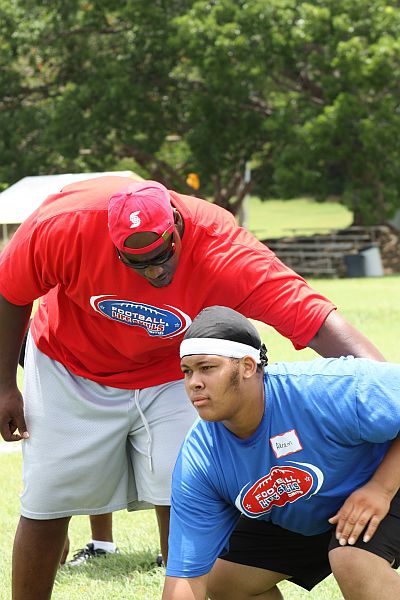 While police officials, lawmakers and the governor try to find solutions to stop the recent spike in juvenile crime, NFL legend Roland Williams thinks he may have something to help: football.
With his two Super Bowl championship rings flashing in the sunlight, Williams spent the last few days running around the UVI field, teaching hundreds of kids the ins and outs of the game and what kind of life skills they will need to make it to the top. The three-day camp, well stocked with a number of pro athletes, was sponsored by Williams' organization, Youth Lifeline America, which brings both high-profile stars and community members together to empower children.
In just a few short days, it looked like the athletes' teachings were beginning to make an impact. Balls were soaring farther, passes were crisper and teammates were encouraging one another on the field. With many local camps usually featuring pro baseball or basketball stars, it appeared that in an interest in football in the territory was beginning to make a comeback.
Williams said he was inspired to bring the camp to the territory after visiting last August.
"I just fell in love with it here," he said. "And when I had the chance to talk to some of the coaches and hang out on the football fields, I realized this place is definitely deserving of the best football camp in America."
Williams said the local athletes, who came from both districts, have been responding to the camp better than kids on the mainland. According to Sun Stroke Promotions President Rashidi Clenance, 52 students were brought over from St. Croix, thanks to the generosity of local sponsors such as the Boys and Girls Club of America.
"For them, this doesn't happen all the time, so they're really appreciating it more," he said. "And we're going to make sure this isn't the first time for us — we're going to try to make it back every year."
Youngsters in the camp were given the opportunity to experience what a real football season was like, going through training sessions with their mock teams, scrimmages and finally games as the camp wrapped up. Teaching skills to some of the groups were celebs such as Flozell "the Hotel" Adams and Robert Hicks, who kept the group's linemen under close watch.
"Everything has been really fun so far," said 16-year-old Laquan Tyson, a linebacker at St. Croix's Central High School. "I want to go the NFL someday, so I'm trying to learn as much as I can. So far, we've learned everything from commitment coverage to how to read the plays, so it's going well."
Clenance said he thinks all the local athletes could really benefit from the camp, either by getting them on the pro field or just by pushing them toward a better life.
"I know something good is going to come from this," he said. "This isn't like anything we've had before — it's something special. Even the football players have said they wish they had the chance to learn from NFL pros when they were younger. And now they're here, teaching our kids not only about the game, but life skills and sharing their discipline so they understand exactly what it takes to make it. It's amazing that we had this opportunity."