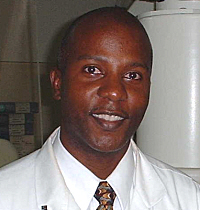 Although Gov. Juan F. Luis Hospital's resources are still stretched thin by tens of millions of dollars in uncompensated care and other financial strains, it is moving forward with lucrative advance cardiac care, expanded kidney and urological care, hospital officials told senators in budget hearings Friday.
The V.I. Cardiac Center at the hospital, which opened four years ago, has begun performing lucrative, life-saving open-heart procedures and makes money for the hospital, said VICC Director Dr. Kendall Griffith. Last fiscal year, the center made a profit of $820,000 and more than $500,000 the year before, he said.
"But the center is not separate from the rest of the hospital," he said, so that money goes into the overall revenue stream — and overall, providing free care to hundreds of poor residents is crushing the hospital's finances.
"JFL has always been committed to providing the full range of services to all who come through our doors," said Juan Luis' acting Chief Executive Officer Darice Plaskett. But the medically indigent, those with Medicaid, charity care and uninsured patients account for 40 percent of patients and 60 percent of gross charges, which translates to approximately $40 million in uncompensated care per fiscal year, Plaskett said.
While the government of the Virgin Islands directly subsidizes the hospital, partly offsetting the unfunded care, the recommended appropriation of $24.2 million is far short of the $40 million in lost revenue to the hospital, she said.
Griffith agreed, arguing the government should pay the hospital the full amount of the cost of care the government mandates the hospital provide. Aside from fairness, cutting the hospital's budget can create a "negative spiral," Griffith said, where less revenue means offering fewer services, which will result in a further lessening of revenue.
The hospital's top management came before the Senate to discuss Gov. John deJongh Jr.'s 2011 budget recommendation of $24.2 million in direct V.I. government funding for the hospital. This represents a six percent reduction from last year's level, and the second year in a row of budget reductions, according to the Legislature's post audit report.
Wages and salaries account for $18.6 million of that total and benefits account for the remaining $5.6 million. The hospital expects to collect $36.9 million for services rendered, giving the hospital a projected grand total of $61.2 million for 2011.
No votes were taken at the budget oversight hearing. Present were Sens. Nereida "Nellie" O'Reilly, Terrence "Positive" Nelson, Carlton "Ital" Dowe and Usie Richards.