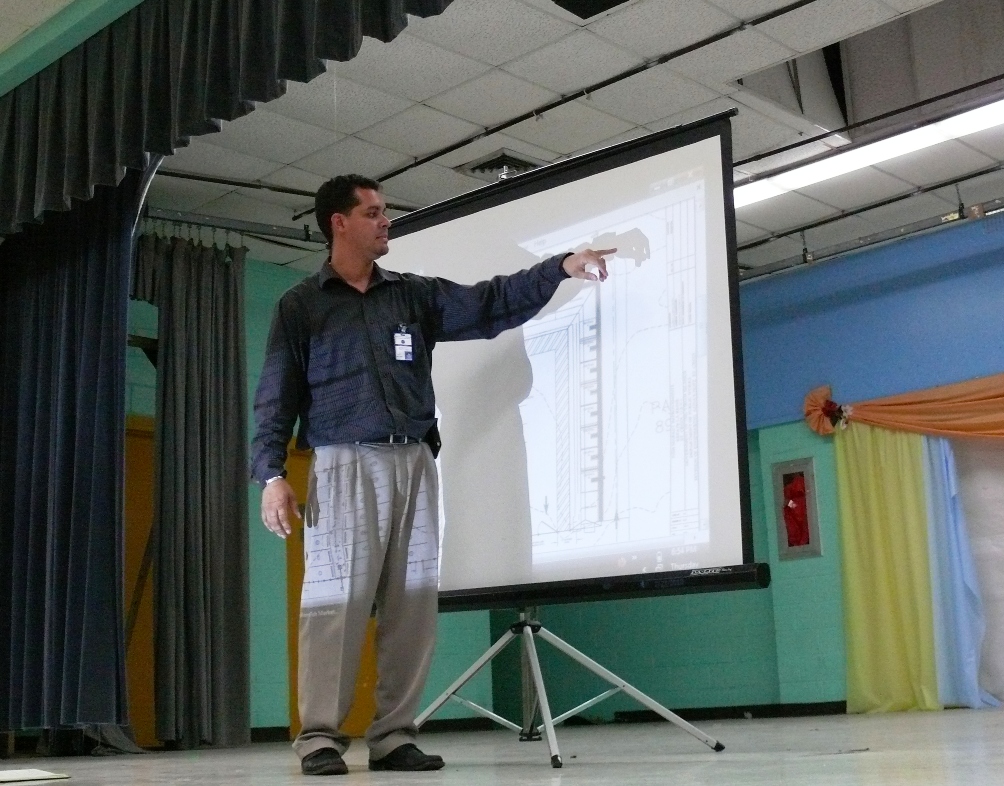 Security and protection from vandalism were top concerns of many St. Croix fishermen Thursday evening at Alfredo Andrews Elementary School when V.I. Public Works unveiled plans for a redesigned and renovated La Reine Fish Market on St. Croix.
Fishermen asked questions about drainage, whether there would be funding and a plan to pump out fish scales and debris, whether all fishermen would have to sell only at the new market. The plans call for swales and guts and other drainage work to lessen or prevent the chronic flooding that affects the area now, Deputy Public Works Commissioner Roberto Cintron said, pointing them out on the plans. Pumping out or otherwise taking care of the fish debris would be the responsibility of the market's management, while Cintron said Public Works is trying to ensure the tanks and infrastructure are designed to leave management as much flexibility as possible. Fishermen will not all have to sell at the market, but rules about selling roadside that were relaxed when the market was shut will likely be tightened back up, he said.
Security was the biggest concern for many. Edward Schuster, who managed the fish market for a few months before it closed, said extreme vandalism was a serious problem, recounting a litany of excesses.
"If you kick one of them out, they will come back at night with a group of their buddies with a real vendetta to cause some damage," Schuster said. In one case, when they found they could not unclog the drains, Schuster put a little webcam type of camera into the drain to see what was happening.
"They had intentionally jammed the drain full of metal cans," he said. "You have to make it as industrial, as secure as possible. … You don't want the place to look like a jail, but you have to do something to make it hard."
Several fishermen agreed, with some suggesting there should be some sort of security during operations, even if that means higher stall rents.
"I don't care how much I have to pay, as long as I don't have to see people drinking and cussing and smoking weed, driving my business away," said St. Croix fisherman Gerson Martinez.
Opened in 2002 at a cost of $205,000, the fish market was shut in November of 2007 after a newspaper report cataloging problems with the market prompted a closer look by the V.I. Health Department, which found poor drainage and plumbing, unsanitary bathrooms and other maintenance problems.
Inspectors found full waste tanks, drains clogged with fish scales and broken restrooms. Fishermen, perhaps surprisingly, applauded the closure at the time, with many saying conditions had deteriorated to a point where closing was necessary for repairs.
Now, thanks to funding for capital projects in the V.I. Government's recent $399 million bond sale, there is $750,000 set aside for everything from designing and creating a scope of work to getting bids from contractors to perform the needed work. The renovation project is an effort to mitigate some of the issues that caused the initial closure of the market, especially regarding health and sanitation. The public meeting was held not just to inform fishermen of the plans, but to get their feedback, make sure the plans met their needs and, if need be, to changs the plans to better meet the market's tenants' needs, said Cintron, as he showed the proposed construction drawings describing the new market's features.
As it stands presently, there will be 14 stalls, each with water and electricity. Initially there were to be 16 stalls, but two were eliminated to allow for ice machines and possibly a walk-in freezer and refrigerator, he said. As before, sales stalls, and a section for fish scaling, will have drains to carry scales and fish debris to storage tanks. But the drains are much more substantial.
The drains "used to be three inch pipes and what I would call shower drains," Cintron said. "This will be more industrial."
Plans call for concrete gutters, with two-foot-wide steel grates on top, running from each of the 14 or 16 stalls into a central grated trough, then to a 12-inch pipe to a storage tank. The waste could be dried and sold as fertilizer, or ground up, pumped out and processed at St. Croix's wastewater treatment plant, Cintron said.
"I am trying to leave all option available to the management," Cintron said.
Generally praising the plans, St. Croix Environmental Association Executive Director Paul Chakroff urged Public Works and DPNR to explore processing the fish scales and waste into fish meal or silage. If the tanks are designed to accommodate it, the fish scales and parts can be liquefied by adding formic acid, an organic acid that makes bee stings and fire ant bites hurt. Once liquefied, it can be mixed with a starch, like cassava, and sold as a nutritious poultry, pig, cattle or fish food, he said.
"Before we treat it as a waste product, let's see if we can treat it as a fish by-product," Chakroff said.
Once the plans are finalized and a scope of work is completed, the work will go out for bid. Cintron estimated work may begin in three to four months.