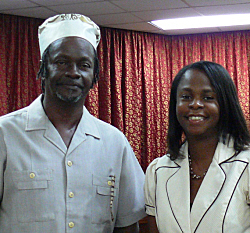 The V.I. Legislature's Committee on Rules and Judiciary approved Gov. John deJongh Jr.'s nominations of Adrienne Williams and Lloyd Daley to the V.I. Lottery Commission during hearings in Frederiksted Friday.
Daley has been a licensed V.I. Lottery dealer for the past 32 years, he said. Born on the island of Dominica, he came to St. Croix in 1965. As a longtime lottery professional, Daley had some detailed recommendations for the lottery, aimed principally at increasing potential revenues.
"I think we should investigate the possibility of legalizing the Puerto Rico Lottery here," he said. A reciprocal agreement could mean V.I. Lottery tickets would be marketed and sold in Puerto Rico, "which is a much bigger market," Daley said.
He also proposed bringing the Caribbean Lottery under the supervision of the V.I. Lottery Commission; increasing the number of licensed lottery dealers on St. John and reducing the age requirement for lottery dealers to 18, down from 21.
"Eighteen-year-olds can vote and can fight and die for their country," Daley said.
Williams is currently the chief operating officer at the V.I. Housing Finance Authority. Before that she was regional asset manager and director of the Housing Choice Voucher program in the V.I. Housing Authority.
Before she started, U.S. Housing and Urban Development gave the program a "troubled" rating; the lowest rating possible, indicating "great fiscal and programmatic integrity concerns," Williams said. Since she took over, the division got HUD's top designation of "high performer."
If approved, Williams said she would focus on improving the commissions' accountability and effectiveness.
"The Lottery Commission has been without a quorum for some time," she said. "There is a considerable amount of rebuilding that is necessary. I applaud the recent efforts by the executive director to improve accountability with unsold tickets. The absence of strict internal controls is detrimental to the viability of an efficient lottery program."
She wants to see the board establish policies and procedures for procurement, employment and other regulatory controls and to take measures to deal with past non-compliance with policies and procedures, she said. Ultimately, she sees the purpose of the lottery commission as more public service than simply promotion of the lottery itself.
"Ensuring that 'everybody wins' when someone plays the V.I. Lottery is not the true battle. Maximizing the economic benefit of the lottery to the territory should be the mission," she said.
Born and raised on St. Croix, Williams graduated from St. Croix Central High School in 1987, got her bachelor's degree from Norfolk State University in Virginia and went on to get a master's in urban affairs.
Daley and Williams were both approved without dissent and their nominations will be addressed next by the full Legislature, possibly during sessions scheduled for next Monday and Tuesday. Sens. Neville James, Carlton "Ital" Dowe, Neville James and Sammuel Sanes voted yea. Sens. Usie Richards, Patrick Sprauve and Celestino White were absent.