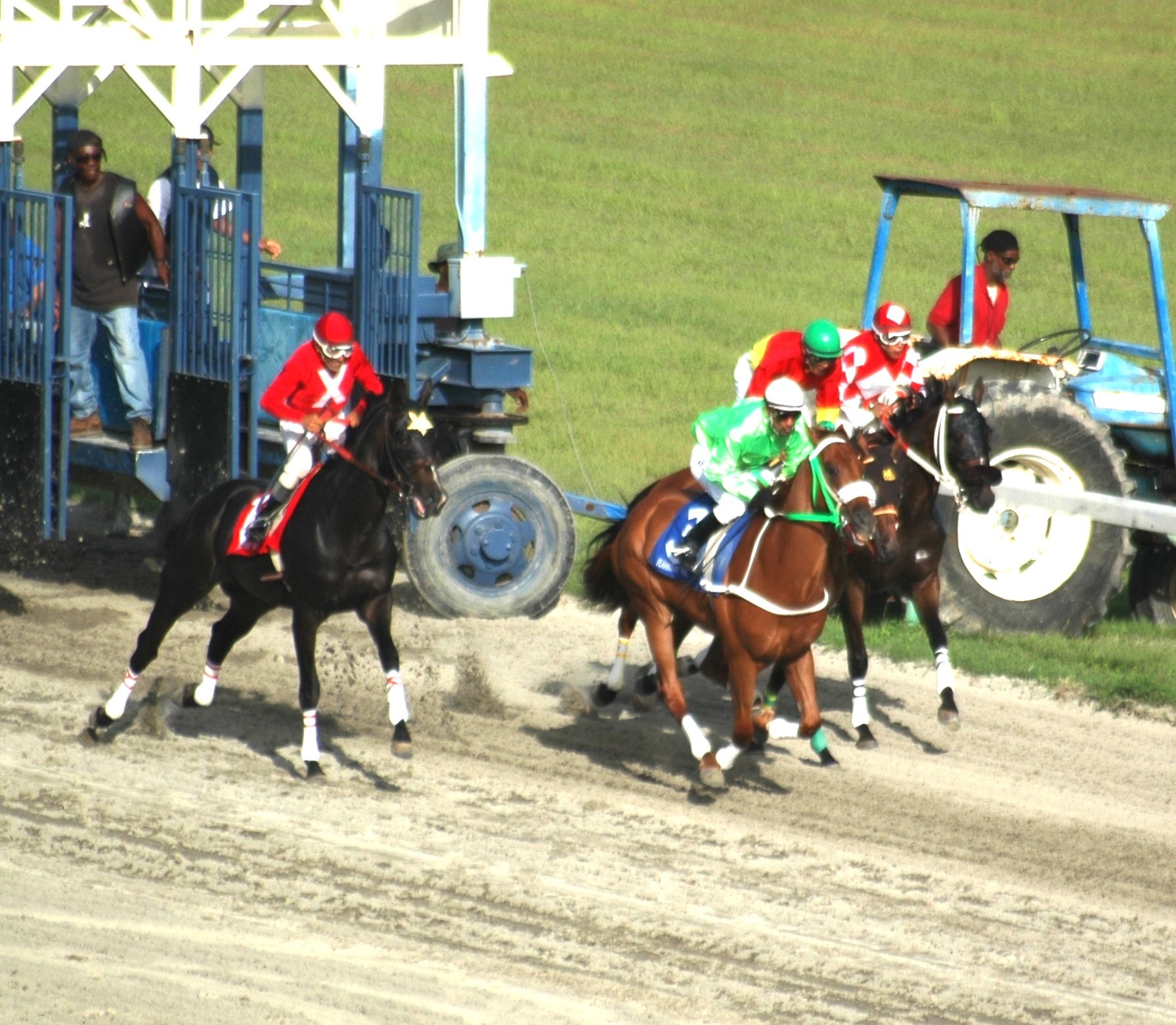 Green Sand withstood late challenges from Lost River and Temo's Dream to come away with a wire-to-wire victory in Sunday's 7.5-furlong feature race at the Randall "Doc" James racetrack. Winning jockey Angel Viera also had to withstand a claim of foul by jockey Jesus Guadalupe aboard Temo's Dream for interference in the stretch run.
At the break, as expected, Green Sand was quickest out of the gates and raced to the early lead followed closely by stablemates Cherokee Law and Temo's Dream. Lost River and jockey Junior Inirio brought up the rear.
As they entered the backstretch, Green Sand hugged the rail and increased his lead to about a length and a half over Cherokee Law and jockey Juan Santiago, followed closely by Temo's with Lost River another three lengths off the pace.
At about the four-furlong mark, the stablemates rushed up on Green Sand, with Cherokee Law on the outside and Temo's Dream on the rail looking for racing room. Viera, however, had his horse close to the rail, allowing no room on the inside; and with Cherokee Law running on his outer side, the Dream was boxed in with no way to get by.
Meanwhile Lost River had picked up the chase and was closing with every stride on the leaders. They rounded the far turn with Temo's still trying get through on the rail, and when the field turned for home at the top of the stretch, Guadalupe saw a brief opening and tried to get through.
However, Viera was having none of that. Realizing that a freight train was coming fast on the rail, he appeared to draw his horse closer to the guardrail to quickly shut the door on anyone trying to come through on the inside. The move by Viera forced Guadalupe to pull up his horse on several occasions during the run to the wire, which led to his foul claims after the race.
Green Sand held off a late charge from the late-running Lost River to win by a neck in a time of 1:31.3.
Temo's Dream last check up on the rail may have cost him second place because it allowed Lost River to get by on the outside. He was, however, coming again on the rail but it was too late. Cherokee Law ran well in his second start off of an injury but faded to last in the four-horse field.
The rest of the Day's results:
Race1 7 F Class I5(M/F) & I6 C/G, Jockey
Time: 1:27.2
1. Devil's Revenge, Steven Powell
2. Sarosata May Bell, Junior Inirio
3. Caribbean Slew, Juan Santiago
Race2 7 ½ F Class I5, Jockey
Time: 1:34.1
1. Prototype, Jesus Guadalupe
2. Zirito, Juan Santiago
3. Lobito, Junior Inirio
Race3 7 ½ F I-3 to I-4 M/F, Jockey
Time: 1:35.1
1. Leggy Blonde, Junior Inirio
2. Destiny Arrival, Elmo Barnes
3. YIMC Sword, Christian Soto, Jr.
Race4 6 F Class N-4 & N-5, Jockey
Time: 1:14.1
1. Creation Rebel, Miguel Sanchez
2. Dinero, Angel Viera
3. War, Elmo Barnes
Race5 7 F I-1 to I-2(M/F) & I-3&I-4 (C/G), Jockey
Time: 1:25.1
1. Flankers Lady, Angel Viera
2. Daddy Eddie, Junior Inirio
3. Blackjack Bob, Juan Santiago