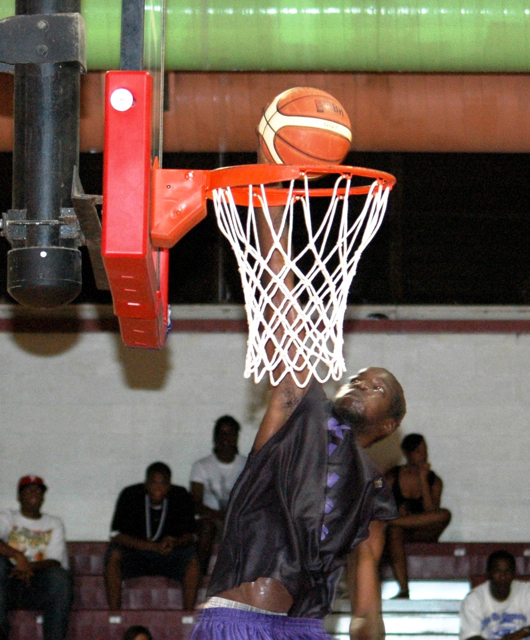 The Kings evened their best-of-three series against Guidance with a resounding 93-77 victory Saturday night at Central High's Ronald Charles Gymnasium in New Breed Basketball Association first-round playoff action.
The Kings, the lowest-seeded team in the playoffs, was not supposed to put up much of a fight against a tough Guidance squad with a a good mix of veteran and young players, but on Saturday they showed that they were not going to roll over for any one and that they are in it to win it. They hit consistently from beyond the arc, bombing Guidance with 11 3-pointers for the game.
Many fans in the gym expected a sweep in this series, and after Guidance's fairly easy victory on Friday there were even fewer doubts. But the Kings had other plans, draining six three-pointers in the opening quarter on their way to a 30-14 lead at the end of the period. Led by 11 points from Nybo Rodgers, the Kings seemed to stun both Guidance and fans alike with their early offensive outburst.
Kasheef Gumbs tried to singlehandedly get Guidance back into the game with a 12-point second quarter, but the Kings answered with 10 points from Ravi Branch and both teams ended up with 21 points in the period for a 51-35 Kings lead at the half.
Guidance's point guard, Joelfry Polanco, put his team on his back with an 11-point third quarter that got them to within 11 at 69-58, but the Kings had an answer in Davante Pryce, who's late outburst in the third helped his team close out the quarter with a 7-0 run to extend their lead to 18 points heading to the final period. Pryce finished with 14 points in the third quarter.
A 16-3 run by the Kings to open the final quarter gave them the biggest lead of the contest, 24 points, at 85-61, which just about sealed the deal. A visibly weary Guidance squad did all it could to get back into the contest, but the young Kings were just too much for them on Saturday with their hustle and dominant boards play.
Pryce led the Kings offensive outburst with a game-high 29 points, Rodgers had 21, Branch 12 and center Crag Williams finished with 13 points, 10 boards and five blocks. Guidance was led offensively by Gumbs, who finished with 23 points and nine rebounds. They also got useful numbers from Polanco who finished with 20 points while Lamar Bough and Shakeem Edwards netted 10 points apiece.