Editor's note: The Rwanda Project USVI enables local high school students to travel to the Central African nation of Rwanda to learn, engage in community service projects and promote cultural and educational ties with the people of Rwanda. VI Source Publisher Shaun Pennington, a co-founder of the project, is accompanying students this year for the second time.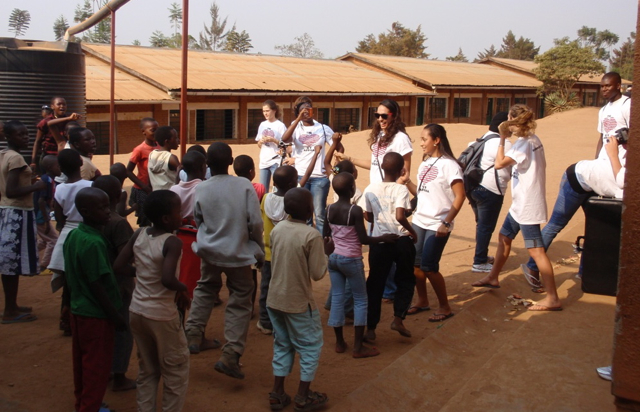 Red dust and dance engulf us as we are greeted by the dozens of children affected by HIV/AIDS who are served by the Amahoro children's center in the heart of Kigali, just a block away from the president's office and five minutes by car from the six-story Umubano Hotel, where we are staying.
For the 10 young people who have made the long, tedious journey from the Virgin Islands to the rolling hills of Rwanda, this is their first encounter with the ragged contrast of joy and suffering that is the earmark of the children here.
Every child dancing and singing in the late afternoon golden haze has been ravaged by the after effects of genocide, HIV/AIDS and fierce losses, and yet they smile and dance, play games and find joy in company.
Many are orphan heads of households supporting siblings who are only slightly younger than they are; most have lost one of both of their parents, some are HIV.
Amahoro is one of the grassroots organizations supported by CHABA (children affected by HIV/AIDS) http://www.chabha.org. We have been invited to participate in a typical Saturday afternoon gathering.
CHABA chief operating officer David Louenguth explains the support CHABA has given to the well-established centers. "We pay for their health insurance," which in Rwanda's universal health care system costs $2 a year. CHABA also assists with primary and secondary school fees and costs, offers life skills workshops and vocational training, provides micro-loans for starting businesses, and offers leadership training and opportunities for the members of the associations.
But on this last day of July the offering is more simple: unity.
Only a minutes of awkwardness separated the two groups of young people. Those moments passed and what followed was two hours of joy, acceptance, big wide grins, song, hugs and love.
"I saw the true innocence of how a kid is supposed to be and it made me happy," student traveler Ki-Yanna says in an after-event video session, noting the things that make these deeply afflicted youngsters happy have nothing to do with money. "These kids, they made fun out of the little things that they had, and each other."
For V.I. traveler Sakile, it was the instant camaraderie. "It was amazing just to be able to throw ourselves in there and interact with everybody – I could not stop smiling."
As the 5 p.m. witching hour when all these newfound friends would disappear back into their homes drew nearer, the reluctance to bring this moment in time to an end was obvious as the hugs and goodbyes seemed to repeat and multiply.
E-mail addresses were exchanged along with the embraces. Any seeming differences, even the boundaries of language, had long since disappeared.
"The music was similar, the smiles were the same … no matter where you're from a hug and a smile is the same. Love is love," notes Alexzandra, another of the 10 students whose dream to close the cultural gap while serving in a country so far away from their own, had just begun.