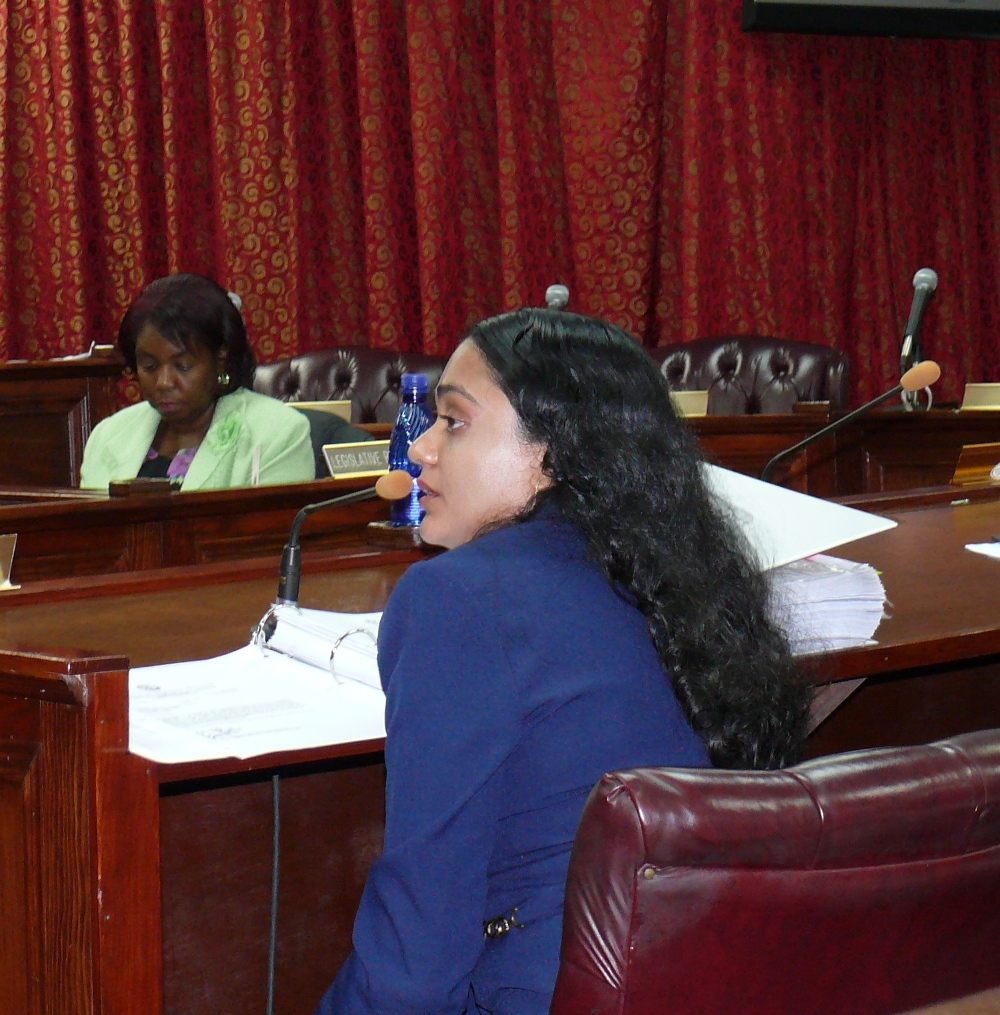 Frustrated by a lack of answers from DPNR officials regarding Hovensa emissions and the status of groundwater cleanup, senators on Wednesday voted to subpoena DPNR Commissioner Robert Mathes and Health Commissioner Julia Sheen for more comprehensive testimony.
Wednesday's oversight hearing of the Planning and Environmental Protection Committee was called to receive testimony from Hovensa on emissions and the cleanup status of leaked, underground oil, remediation efforts and any impact on aquifers.
Hovensa has been working with the EPA for the last 20 years on groundwater cleanup following the 1982 discovery of petroleum leaks from underground tanks. Since that time some 42 million gallons of petroleum has been reclaimed, with 1.2 million gallons still to be recovered.
Alex Moorhead, recently retired as a vice president at Hovensa and currently still consulting for the refinery, said Wednesday that as more oil is cleaned up, less is recovered, drawing out the process as it nears its end, Moorhead said.
There are two lawsuits pending between the V.I. Government and Hovensa in relation to the spilled oil and other alleged environmental degradation. Both Moorhead and DPNR officials said they could not answer questions directly bearing on the suits, frustrating the senators.
On several occasions, senators asked questions about the history of DPNR's oversight of oil cleanup at the refinery and were told by DPNR Environmental Protection Director Nadine Noorhasan and other DPNR staff the events occurred before they joined the agency.
"This is really very typical of DPNR, to send testifiers that have only been with them for two or three years," said Sen. Nereida "Nellie" Rivera-O'Reilly. Mathes was then subpoenaed to get more comprehensive testimony.
When senators asked Noorhasan about data on cancer and asthma rates near the refinery, relative to other areas of the island, she replied that the Health Department was the government agency with oversight for that sort of information.
Sanes made both motions for subpoenas. Voting yea were Sanes, Sens. Adlah "Foncie" Donastorg, Shawn-Michael Malone and Michael Thurland. Sens. Carlton "Ital" Dowe, Patrick Sprauve and Alvin Williams were absent.
Rivera-O'Reilly attended but is not a committee member.
A number of residents living in areas near the refinery testified to severe sulfurous odors, sooty roofs, curtains and floors and health complaints ranging from asthma to Hodgkin's Lymphoma, all of which they attributed to the refinery.
"The fumes have been unbearable for the Profit community," said Herminio Torres of Estate Profit.
"Every time it rains or is cloudy, these fumes come," said Jesus Carmona of Williams Delight. "All I am asking is for Hovensa to correct this problem we have been dealing with the past year, since the coker was built," Carmona said, referring to the newer part of the refinery that enables it to process dirtier, more sulfurous, Venezuelan crude.
Several residents and some senators suggested oil had contaminated well water in the Kingshill aquifer, something Moorhead vigorously denied.
"The EPA issued a report recently saying those wells are not contaminated by hydrocarbons," Moorhead said. "I have a copy of the report right here."
In fact, in 2008 EPA Press Officer Beth Totman said the leaks at Hovensa did not impact residents or the environment outside the refinery.
"Hovensa's release impacted groundwater, not the surface water, and it's been largely confined on site and has not impacted off-site land or water," she said.
As to air quality, Moorhead said their onsite testing had consistently shown refinery emissions and air quality downwind of the refinery to be well within EPA limits.
"In no instance in which an odor detected in the community could be attributable to the operation of the refinery was the concentration … at a level that posed a hazard," based on EPA standards, he said.
But sulfur dioxide may still be a source of odor, he said. "Hovensa is considering plans to install additional equipment and implement additional operating procedures at the refinery primarily to further reduce emissions of nitrogen oxides and sulfur dioxide."
This should reduce odor complaints, he said.
Describing DPNR's testing procedures and enforcement efforts, Noorhasan said the agency monitors particulate emissions like soot, but Hovensa does its own testing for sulfur dioxide.
Several senators were skeptical of self-testing.
"Do you recall Hovensa ever coming to you and saying they have violated any air quality regulations?" asked Donastorg.
To which Noorhasan answered no.
"Would you expect them to, with self-monitoring?" he asked.
"What they do provide is the raw data from their monitoring," Noorhasan said.
Thurland asked if DPNR could use monitoring equipment similar to what Hovensa has.
"If we had the training, expertise, funding and manpower, certainly," she answered.
Wednesday's hearing was for information gathering and oversight and with the exception of the decision to issue subpoenas, no votes were taken.