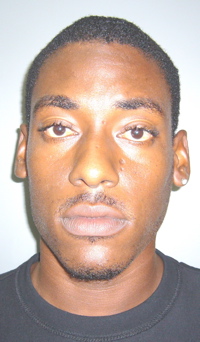 Police on St. Thomas confiscated two deadly weapons and arrested two suspects in separate incidents Saturday.
At about 10:40 a.m. Saturday conducted a routine traffic stop when officers noticed a young man driving a white SUV without his seat belt on Alton Adams Drive in the vicinity of the former Cinema One Theater.
The officer decided the driver, 22-year-old Jose A. Almestica was acting suspiciously and asked him to step out of the car. In patting him down, the officer the officer discovered a loaded magazine in Almestica's pocket. Police attempted to handcuff the suspect and he resisted. After a brief struggle Almestica was subdued and a Glock .45 caliber handgun was found on the vehicle's back seat.
Almestica was charged with possession of an unlicensed firearm and delaying and obstructing an officer while discharging his duties.
Almestica is a St. Thomas native and lives in Estate Contant who is awaiting sentencing on another gun possession charge and a charge of third-degree assault. That charge began with an April arrest under similar circumstances. Almestica was pulled over on a traffic stop and police discovered he was carrying an illegal weapon.
Bail on the new charge was set at $88,000 and Almestica was remanded to the custody of the Bureau of Corrections.
At about 5:30 p.m. police arrested 20-year-old Keith Dawson Jr. and charged him with possession of an unlicensed firearm after citizens called police reporting that Dawson was in the Tutu Park Mall and had a firearm on him.
Police arrived and, armed with a description of Dawson from the anonymous callers, scoured the area and found the suspect sitting in a purple Honda Civic parked at the rear of the mall. A loaded Glock 9 mm handgun was found inside the vehicle.
Dawson is a St. Thomas native and lives in Kerwin Terrace housing community. He was placed on a $35,000 bail and was remanded to custody.
Both suspects will be advised of their rights in Superior Court.
Officers from the Special Operation Bureau, Investigation and Forensic Bureau detectives along with law enforcement officers from Waste Management and DPNR assisted in the arrests.
St. Thomas St. John Police Chief Rodney F. Querrard Sr. commended the officers involved in both incidents. He said the Zone Commanders and Special Operations Bureau officers have been stepping up enforcement of minor traffic infractions and the results have been positive. The police chief also commended the public for being the eyes and ears of the police department and said the vigilance of the community is leading to swift arrests of people carrying illegal firearms.