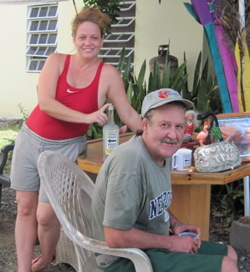 With a catchy name and an eclectic menu, the Tourist Trap serves up tasty food in a very casual side-of-the-road setting.
"I always said if I opened another place it would be a little hole in the wall," owner and chef Larry Grenier said.
He described the Tourist Trap as island funky and a spot where people come to relax.
"It's what St. John used to be," he said.
Grenier and his business partner, Cheryl Geller, opened the Tourist Trap almost two years ago after years of working at various restaurants and bars on St. John.
It's on Route 107 just a couple of minutes from the popular Salt Pond Beach and at the start of the road to Concordia Preserve, and visitors find it easy to drop by for lunch, drinks or an early supper on their way home from the beach.
While the menu includes such things as fish sandwiches, hot dogs with homemade chili, meatball subs, and nachos with homemade roasted tomatillo sauce, the New England-style lobster roll is the star.
"I use the slipper meat from Caribbean lobster, a little mayonnaise …" Greiner said, ticking off the ingredients.
He slices the sides off hot dog buns to make the traditional buttered and toasted lobster roll.
A native of Manchester, N.H., Greiner's worked at restaurants all up and down the East Coast for 20 years. He cooked, he waited tables and he bartended, but after doing the same at such St. John spots as Asolare and Skinny Legs since he arrived in 1994, he decided he'd had enough of the "front of the house."
With a tiny kitchen housed in a plywood shack and an adjacent six umbrella- covered tables, he's decided he's right where he belongs.
"I always loved to cook and it seems to be working," he said.
Geller, a Florida native, came up with the name the Tourist Trap. When kicking around ideas for the restaurant, she said that since everyone would think it was a tourist trap why not call it by that name.
She has a bachelor's degree in communications design from the Parsons School of Design in New York. After working as a graphic designer in various locations she moved to St. John 11 years ago. She and her then-partner opened the Beach Bar, and she worked on opening the now-closed restaurant Tage.
She's the mind behind the Tourist Trap marketing and a frequent contributor to travel forums that get the restaurant's name in front of the public eye. She's so well known that when her dog, Miles, recently died condolences poured in.
A big animal lover, another dog and five cats keep her company at the restaurant. And she maintains a feeding station for strays near the restaurant.
Geller is also a people person, enjoying her time visiting with customers.
"They come as customers but leave as friends," she said.
The Tourist Trap is open from 11 a.m. to 6 p.m. Tuesday through Saturday. Call 774-0912.