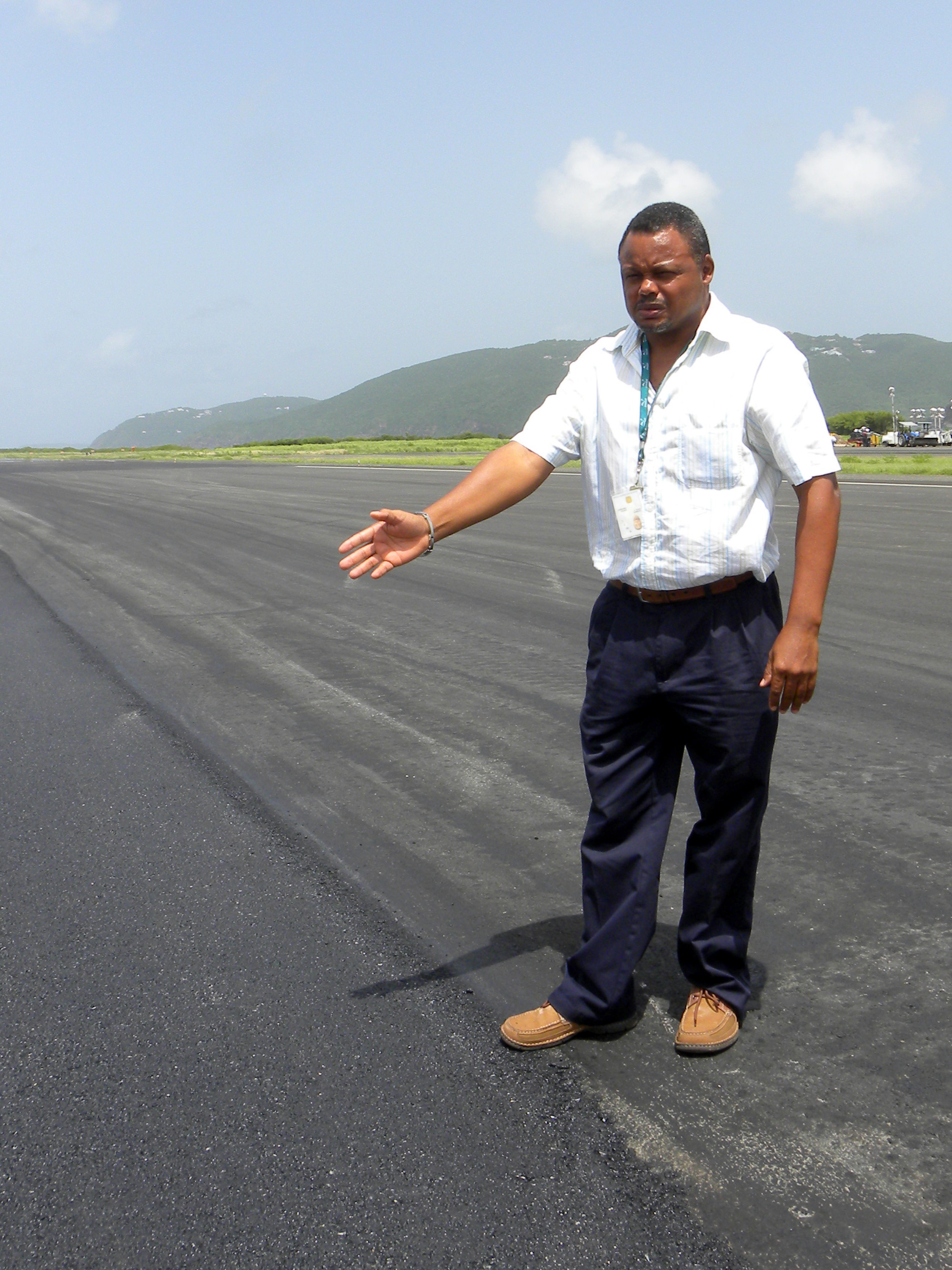 Despite pavement failures, V.I. Port Authority officials reported Thursday that the runway paving project at Cyril E. King Airport is 50 percent complete and still on target to be finished by early December.
In September 2009 VIPA applied to the Federal Aviation Administration for $14.5 million in grants for a full-scale overlay, according to VIPA Executive Director Kenn Hobson, who spoke Thursday during a VIPA press conference.
The FAA funding makes up 95 percent of the cost of the project with the authority providing 5 percent from its revenues.
The project is complex because keeping the one-runway airport operational is critical to the V.I. economy.
To allow planes to continue to bring in vital tourism dollars, the repaving is carried out overnight—after the last scheduled flight lands—and in the morning all of the paving equipment has to be out of the way before the first plane takes off before 9 a.m.
The work schedule is subject to weather delays and has to be cleared to accommodate late-night air ambulance flights.
These factors cause the overlay project to take a long time to complete, according to VIPA engineering director Dale Gregory.
Airlines with delays can also hold up the start of the night's work, according to Hobson.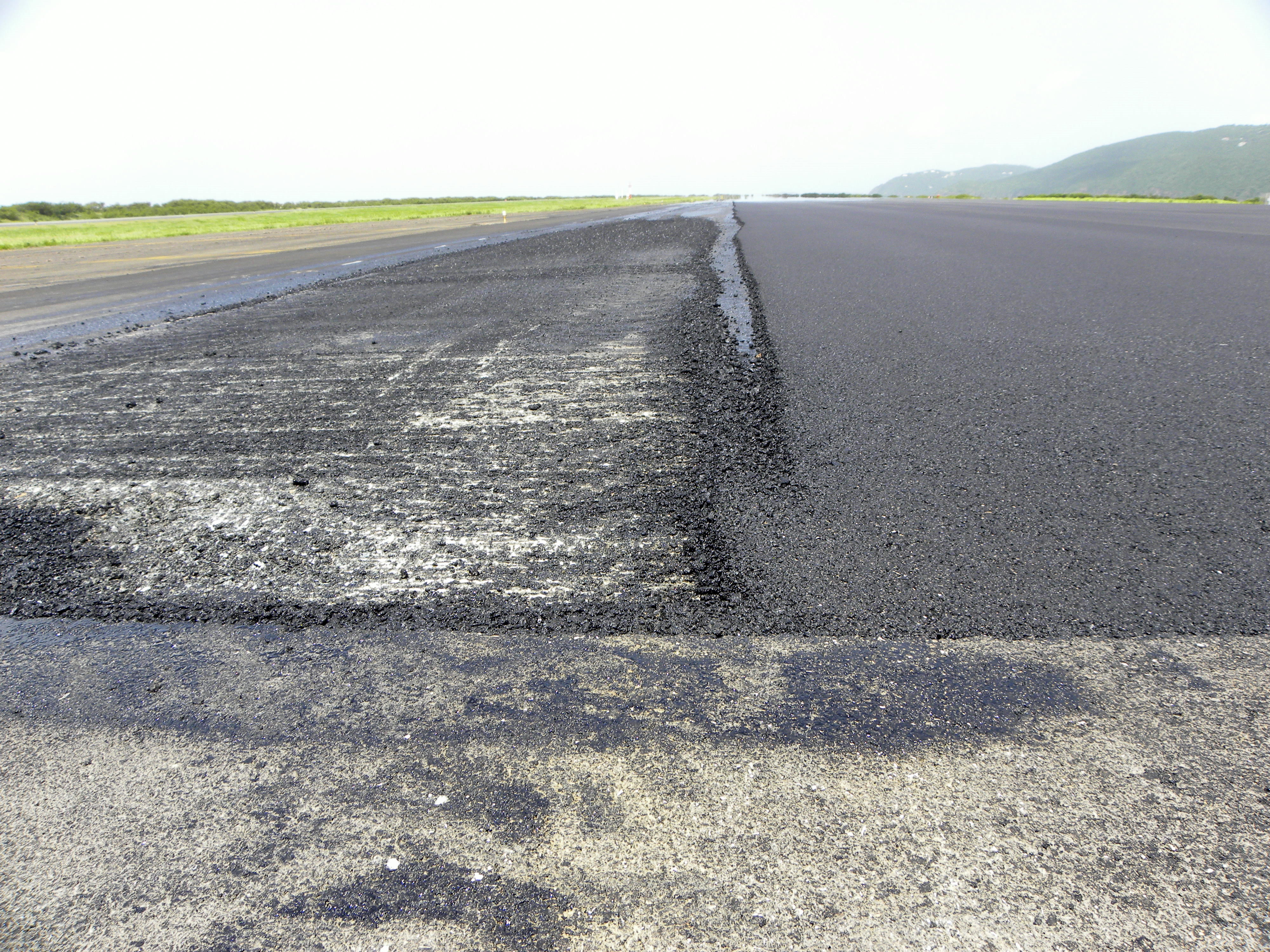 "We try to accommodate any aircraft that wants to come in," Hobson said.
The steps for the project are to first mill out the bad pavement, replace it and cover that with an overlay of three inches. After that, the new pavement gets its runway markings; then, after a 30-day curing period, the whole length of the runway is grooved perpendicular to the length for traction and runoff.
The first areas for treatment were the most stressed: the first 2,000 feet of the runway, or the touchdown area.
Only small portions of the runway can be paved each night and there have been at least four incidents of jet blasts causing the brand new pavement to fail, forcing the airport to close portions of the runway.
Airport engineers refer to this problem as "blowout." VIPA has been unable to provide an exact number of how many times flights have been delayed for this reason.
Blowout occurs when air, such as that from a jet taking off, is forced under a joint between older asphalt and the new, freshly laid pavement. The blast dislodges the new pavement and the asphalt goes flying, according to Gregory.
The loose asphalt on the runway is then unsafe for airplane takeoffs and landings.
Once such blowout last week had both contractor and airport staff scurrying to put the runway back in order, which they accomplished in just over one hour, but causing passengers on an outbound Delta flight Atlanta to endure considerable delay.
"We had everyone here," said Felicia Blake, VIPA maintenance manager for St. Thomas and St. John. "We used our heavy equipment, they used theirs."
Planes land and take off predominantly from west to east at the airport. The joints for the new paving run perpendicular to the length of the runway and are being completed from west to east.
The new pavement was being installed by milling off three inches of old asphalt, adding three inches of new asphalt, tapering the thickness of the new asphalt down a gradual decline over the old pavement, bringing the thickness down to zero, Gregory said, noting the difficulty of getting a material with the texture of asphalt to a thickness of zero.
But that approach has been subject to blowouts.
"You tend to have areas that are not adhering," Gregory said.
To prevent further blowouts, the project engineers have adopted a new procedure for creating a joint between the old pavement and the new. Now the pavement at the joint is being milled out resulting in a tighter fit.
"There is nothing for the wind to get under," Gregory said. "The contractor [V.I. Paving, Inc.] suggested the new method. We mill out as deep as we need to."