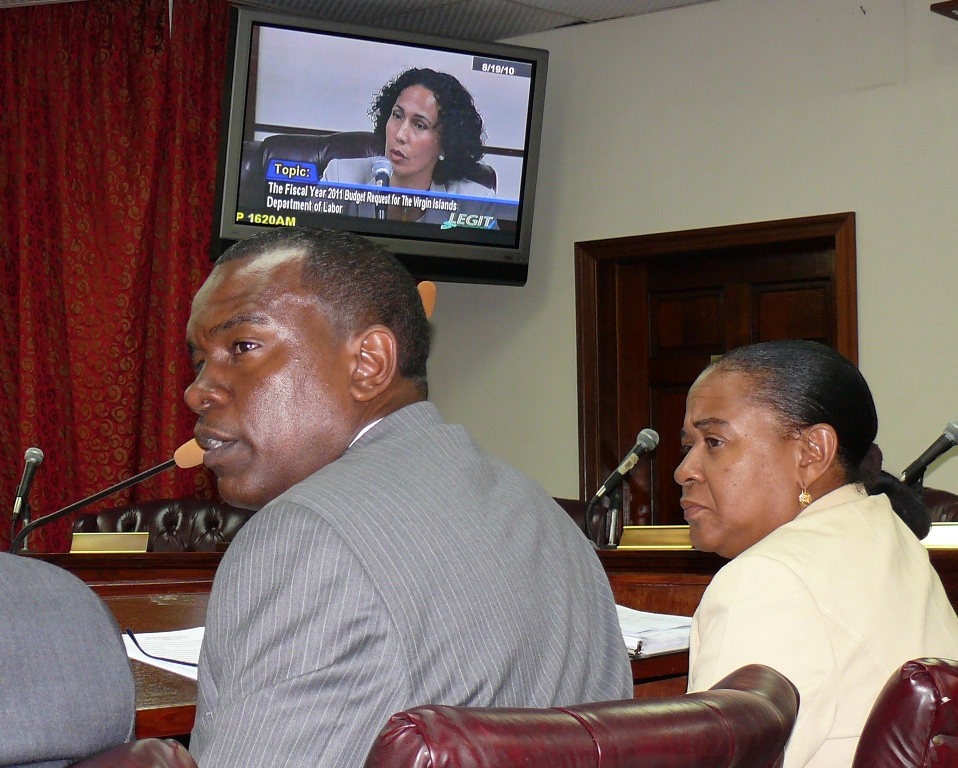 The Labor Department's summer youth employment programs have taken a sharp cut this year but continue to give hundreds of young Virgin Islanders summer employment and job training, Labor Commissioner Albert Bryan told the Senate Budget and Appropriations Committee Thursday.
"Territory-wide we have placed 720 youths in summer work experience, special projects and internships, 220 more than our initial target," Bryan said.
But this is about a 40 percent reduction from last year, mostly due to the absence of federal stimulus money that was previously available, he said.
The department appeared before the Senate panel to defend its Fiscal Year 2011 budget.
Labor is asking for $5.8 million from the government's General Fund—8.1 percent less than last year—to operate locally funded programs and $2.3 million from the Government Insurance Fund for Workers Compensation and Occupational Safety and Health programs.
That's a total local appropriation of $8 million – roughly half a million dollars less than last year. With federal funding of $7.8 million, Labor projects a 2011 total budget of $16.4 million – about 2.5 percent less than last year's budget.
Out of the $5.8 million due from the General Fund, Labor expects to spend $3.1 million on wages and salaries for personnel, and another $1 million in benefits. Out of its total budget, Labor projects spending $8.8 million on personnel costs and $2.9 million in benefits.
Among other functions, Labor oversees labor relations; wrongful termination and employee dispute hearings and appeals; workplace safety and health; the Workers Compensation program and Unemployment Insurance; job training programs; and the Bureau of Labor Statistics.
Over the course of the year, the department's Labor Relations division issued 431 child labor certificates, conducted 146 compliance visits and collected over $23,000 in back wages owed to employees, Bryan said.
The department processed more than 4,900 Workers Compensation cases, issuing 2,755 orders representing $6.1 million in payments to injured workers and service providers.
The V.I. Olympic Committee was also before the Senate Thursday. The small organization was established in 1966 to provide V.I. athletes a chance to compete on an international level. Because the V.I. residents cannot vote in presidential elections, the territory is regarded as a separate country for the purposes of international competition, said VIOC President Hans Lawaetz.
As a result, local athletes have a much greater opportunity to compete internationally—if the funding for training and travel come through, he said.
Since its establishment, the committee has grown to encompass 22 separate sports federations, covering sports from baseball to wrestling. VIOC has taken V.I. athletes to 10 Summer Olympics, six Winter Olympics, 11 Pan American Games, and 12 Central American and Caribbean Games, Lawaetz said.
Right now, the V.I. is competing in the first Youth Olympics in Singapore, he said.
The VIOC is an independent organization, funded both by the V.I. government and the International Olympic Committee. This year Gov. John deJongh Jr. recommended an appropriation of $170,000 to the body—unchanged from last year. The committee is staffed with volunteers and much of that money goes to help elite athletes train, Lawaetz said.
"Presently, we assist elite athletes, such as Laverne Jones and Tabarie Henry, with monthly training grants, to the cost of $10,500 per month or $126,00 per year," he said. "But we should also be assisting elite players in team sports if we expect to win medals in baseball, basketball, etc."
No votes were taken at the information gathering hearing. Present were Sens. Craig Barshinger, Carlton "Ital" Dowe, Terrence "Positive" Nelson, Sammuel Sanes and Patrick Sprauve. Sens. Wayne James and Louis Hill were absent.