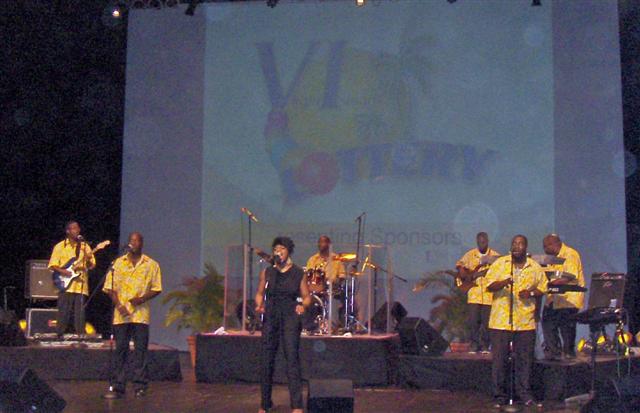 If the enthusiasm expressed by the hundreds of folks who came for a preview of the Reichhold Center for the Arts 2010-2011 season Thursday evening is any indication, the island is enviably positioned to sit back and be entertained by stars of great caliber and diversity.
From the tap shoes of the Rhythmic Circus and the silent slippers of the Aspen Santa Fe Ballet to, hold on – Michael Bolton and Jimmy Cliff and the trumpet of Hugh Masekela – the Reichhold staff has scored a winning season.
It's not an easy task. The Reichhold staff received high praise from Lawrence Benjamin, who many remember was Reichhold managing director for six years. Benjamin said, " It's very difficult to assemble a season like this. It's an eclectic group of performers. They did a wonderful job."
What performer is he most looking forward to? Big smile. "Michael Bolton, of course." Benjamin's own voice is well known in the territory.
His choice was soundly also that of the audience, who sent up yells of delight as film clips of the season's performers flashed across the stage, with Bolton followed closely by reggae artist Jimmy Cliff and Grammy winner Chaka Khan, who starts off the season with an R&B dance party Oct. 23.
The warm and balmy evening, celebrating the center's 32nd season, was sponsored by St. Thomas-St. John Chamber of Commerce Business After Hours.
As folks kibitzed over drinks and the chamber buffet, they were swaying to local vocalist Lorna Freeman-Davis along with the Spectrum Band, who kept things lively.
At last, all was quiet except for the resident chorus of coquis, as Reichhold Codirector Pamela Toussaint brought the staff together to announce what she called, "One of our strongest seasons ever."
She said, "Usually each season has at least one major artist, but we've taken it up a notch this year, with at least four."
After which the audience was treated to short clips of the performers. Karen Gutloff, marketing manager, shared the enthusiasm."At least one-half of the performer are Grammy winners or legends in their fields. I'm very proud."
Denise Humphrey, Reichhold co-director, was filled with her characteristic enthusiasm. Only a little more. "The caliber of the talent is exceptional," she agreed, but confided her big moment came when she was able to work with Michael Bolton.
"I've admired him since I was a child," she said.
Bolton will appear as part of his One World, One Love tour on Jan. 29, 2011.
The territory's own Dion Parson and the 21st Century Band will be joined by fellow Virgin Islanders Ron Blake on saxophone and Rashawn Ross on trumpet in an evening co-sponsored by the V.I Lottery and Reichhold.
The Family Series will feature Street Beat, as well as the Rhythmic Circus, a Tap Dance Extravaganza.
Other sponsors for the season are: International Capital and Management Company, V. I. Waste Management Authority, First Bank, First Insurance, V.I. Council on the Arts, Marriot Frenchman's Reef Hotel, Innovative Communications Corp., and the V.I. Department of Education.
For a complete lineup of the season, visit the Reichhold website.
Tickets to all shows can be purchased online or by calling the Reichhold box office at 693-1559.