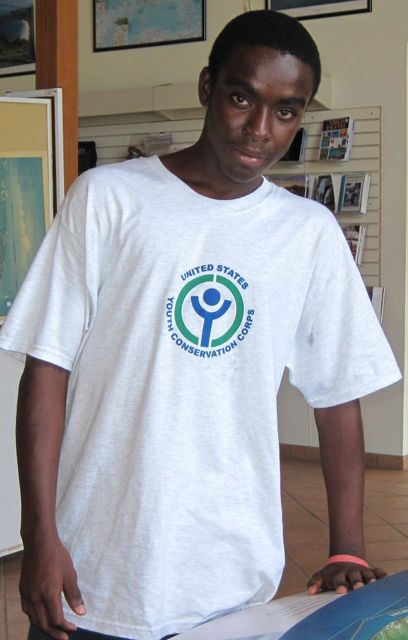 While all the young people who participated in the V.I. National Park's Youth Conservation Corps summer job program did a good job, Brian Morton, 16, was a standout.
"Brian displayed very good qualities early on by taking the lead and inspiring others by his thoughts and actions," park Superintendent Mark Hardgrove said.
According to Hardgrove, Morton was quick to understand the National Park Service's mission. He shows so much promise that Hardgrove said the park expects to invite him back next summer to work as a youth leader in the program.
"He'll help us in the day-to-day operations and help us design a program for youths his age," Hardgrove said.
Morton needed a summer job, but he said he wanted to learn more about the park, its sights and the island's history.
"You get to see how the park works," he said.
Morton spent the eight weeks of the YCC program working in maintenance. He raked around the Visitors Center, raked the beaches and raked at Annaberg. He's not complaining.
"It wasn't really a hard job once you have a mindset to do what you have to do to accomplish it," he said.
Though he liked working in maintenance, he doesn't plan to spend his working life with a rake in his hands. He plans to go to college, but has no idea of what he'd like to study or what path his career will take.
However, if Hardgrove has his way, it will be with the National Park Service.
"He showed so much promise," Hardgrove said.
Morton said he's a good student who studies hard. In a far-reaching conversation, he said he just can't imagine himself getting involved in the youthful drug and violence that plagues the territory.
"They shouldn't have guns. They should find something better to do. They need to keep their minds busy so they don't get into trouble," he said of those who chose to get involved.
Born in Nevis, he and his family moved to St. John when he was nine. While St. John is still less developed than its sister Virgin Islands, Morton said moving to the island put him more in touch with the rest of the world.
"Here is closer to everything," he said.
He attended Julius E. Sprauve School before heading on to Gifft Hill School. He'll be in the 11th grade when school starts.
When he's not studying, Morton finds time to occasionally go to the beach. And he likes basketball and plays football at Gifft Hill.
He comes from a big family. Of his three brothers and three sisters, only he and his older brother Ryan, 19, are still at home with their parents, Angela Morton and Elvis Grant.
His mother is very proud of her son.
"He's loving, he's honest and he likes to help," Angela Morton said.