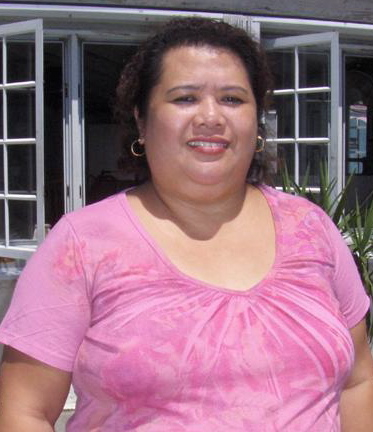 Maribeth Aguila didn't arrive on St. Thomas empty-handed. "I came with all my tools," she says, "Just like a carpenter."
The Addelita Cancryn Junior High School librarian brought an impressive array of professional skill from her native Philippines, along with more than a few satchels full of a determined enthusiasm.
It was a bold move. She left a different set of islands in a different sea, halfway around the world, to move to a new set of islands in a new culture, a move she feels she may have been meant to take
That was in 2006, when Aguila arrived to find a physical library at Cancryn, but little else. The school hadn't had a librarian in three years.
"The library was in disarray, suffering from neglect," she says.
It was a challenge Aguila welcomed. She thrives on what she calls the "nitty-gritty, the digging in and re-organizing."
"In one month, I got it organized," she says. "People were astonished."
She praises principal Yvonne Pilgrim's continuing support.
"No matter how small our budget, she manages to squeeze out some for the library," Aguila says.
After a lifetime in her native Philippines, Aguila ultimately couldn't resist a tempting opportunity she came across at an American Library Association conference in Orlando, Fla., in 2004.
"The owner of an agency hiring international teachers asked if I would be interested in re-locating. About six months later he called to ask if I'd be interested in a librarian position in the Virgin Islands. 'Where is that?' I asked. I've always believed I have a mission, and I thought maybe it's in the Virgin Islands."
Aguila has two daughters and a husband, Domingo Aguila.
"My husband wasn't too happy about the idea at first," she says with a slight laugh. "He said I was too old. I was 45 then. I did the interview over the phone. I came alone at first, and eight months later, my family followed."
Rita Aguila, her eldest daughter, now 25, blossomed on the island. She earned a master's degree in guidance and counseling from the University of the Virgin Islands and is pursuing a singing career.
Her youngest daughter, Jesse, now 12 and an honor student at Ulla Muller Elementary School, is entering Cancryn this year.
Aguila is still catching her breath, just returning home this week from a summer family vacation in the Philippines, though she graciously took time out in the re-entry process for an interview. "I still have suitcases all over the house," she says. "It's a more than 24-hour trip from the Philippines, and it's expensive," she says. It's the first time the entire family has been able to travel home together.
Aguila is now an integral part of the Cancryn campus, where the library is a focal point for programs she has instituted. She takes an active role in campus activities, most recently serving as one of the judges at the school's annual Book Parade.
Though Aguila on the one hand, laments the move away from actual books to computer reading, she takes full advantage of computer technology. For instance the Tumble Readable program she has instituted in the library. "We have 250 titles," she says, "classic kid's literature. It's an online program they access on the computers. They can check them out of the library.
"What is so valuable is that for students who don't read well, the books are narrated with sound so the student gets the correct pronunciation. The sentences are highlighted, and the pages turn automatically."
Each month focuses on a particular library activity.. "October is Teen Read month," she says. "We have activities for Black History month, Virgin Island history month. Each month we do something, we have read-ins, we get guest speakers on different subjects."
Aguila is particularly thrilled when "the handful of kids come in the library to check out real physical books." And she will take the books to the students. "I go to the classrooms" she says, "and I take the books to them. I tell them. "Hey guys, you are supposed to be reading."
She says library science remains the same, the challenge is the new clientele. She was director of the library at De La Salle University Dasmarinas for 17 years, so the junior high school students presented a new challenge.
She has an impressive resume of library affiliations. She was a board member of the Philippine Association of Academic and Research Librarians, serving one year as president. For the past three years she has served on the board of the local St. Thomas-St. John Library Association.
And, in her spare time, she volunteers. Last summer Aguila, a member of the Frenchtown community, and another librarian from the Philippines, Maria Samson, spent about two months sorting out the books, papers and magazines that now constitute the French Heritage Museum Library.
Always a believer in community service, Aguila says today she thinks she has found the "mission" she sought in her adopted Virgin Islands home.