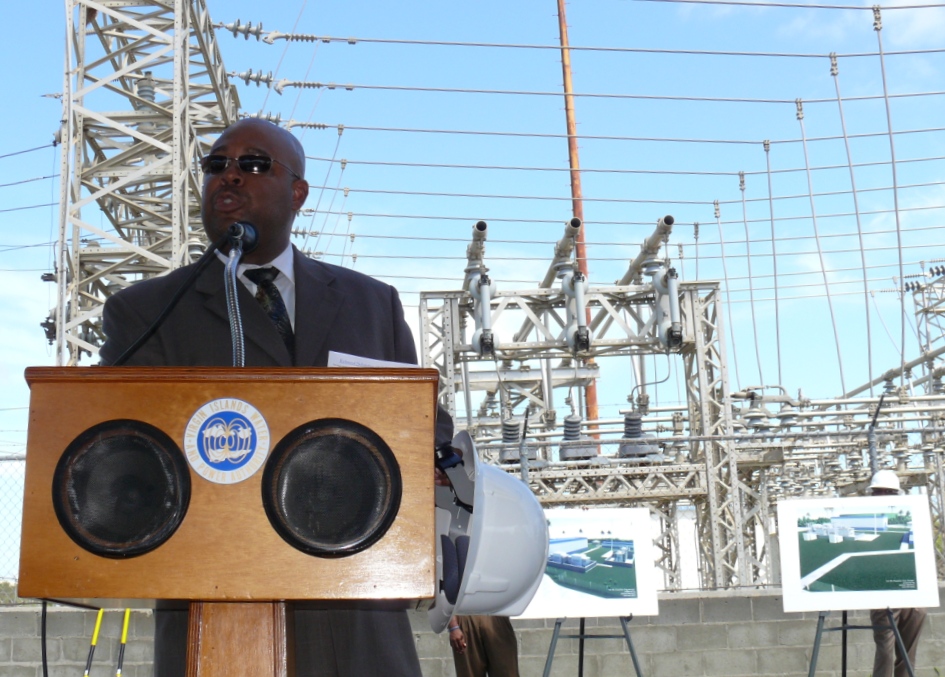 The V.I. Water and Power Authority cut the ribbon on a newly operational fuel-saving heat recovery generator and broke ground on an efficiency-enhancing high-voltage substation Wednesday at its Richmond power plant on St. Croix.
The new waste-heat recycling steam generator "is going to go a long way toward saving fuel, to the benefit of a great many people," said Vernon Alexander, WAPA's project coordinator for the heat recovery generator project.
Alexander said the heat recovery steam generator will improve overall plant efficiency and reliability, reduce air pollution because less fuel will be burned, and save customers money through reduced fuel use and hence reduced Levelized Energy Adjustment Clause (LEAC) charges on their bills.
Gov. John deJongh Jr. cut the ritual ribbon, saying the savings for utility customers would be "an important achievement" and the increased efficiency an important step toward meeting his administration's energy policy goals.
The heat recycling generator, the second of its kind for the island, will reduce fuel consumption and improve efficiency in the Richmond plant by capturing the energy normally exhausted into the air from two gas turbines and recycling it to generate steam for water and power production.
The steam-recovery boiler generates more than half as much electricity as the original boiler, essentially getting a 50 percent boost in the power generated by a gallon of fuel.
After the super hot steam is used to generate electricity, it has lost much of its heat and pressure, but it is still very hot. It is then used to boil seawater in tanks kept under vacuum for WAPA's seawater desalination plant. This cools down the steam more. Next the steam is cooled down one more step back into water by piping it through more cool seawater. Once liquid again, it is piped back into the boilers to be heated up again, starting its closed cycle all over again.
The project, costing $36 million, was funded through a $57.5 million bond issued in 2007 to support a five-year capital improvement plan. It was approved in 2006, and groundbreaking was held in September 2007.
In January 2009, WAPA announced a six-month project delay due to Hurricane Omar, problems with overseas manufacturing plants and shipping problems. But work proceeded and in November of 2009, WAPA fired it up for the first time. That is when a heavy industrial water pump for the boiler failed. Another delay ensued until it was replaced at the manufacturer's expense.
WAPA operates one other heat-recovery steam generator in the Richmond Plant and one in St. Thomas' Harley Plant. This new one is expected to save ratepayers more than $12 million in fuel costs annually based on current fuel price.
However, much of those savings will not be realized right away. The LEAC that has been in place for several months is set on the assumption the heat-recovery generator is online, and a portion of the savings will be offset by a slight increase in the base rate to pay for the generator.
Darryl Miller of the V.I. Ratepayers Association said he and his group are glad to see the waste-heat recovery generator up and running.
"We are excited, but we want to see the savings in ratepayers' pockets in the end," Miller said. "And we want to see the government do its part by having each department have its utilities in a separate line item so it cannot be diverted. WAPA has not been able to do all the maintenance they need because of the money owed by the government."
After that ceremony, the crowd of officials, dignitaries and media walked around to another part of the Richmond power plant to break ground on a 69 kilovolt substation upgrade.
"This is the first transmission-voltage substation on St. Croix," said WAPA Executive Director Hugo Hodge Jr. The $12 million replacement substation at Estate Richmond, along with a planned $8 million dollar substation mid-island, will shorten the distribution loop to the West End of the island and have a big impact on power being wasted and drained away through line losses, he said.
It will also add a greater degree of automation and a layer of protection to the system and allow WAPA to connect with an independent power provider like the anticipated Alpine Energy Group refuse-fueled facility.
According to Robert McCorkle, a project manager for the substation work, a foundation should be poured in mid-September, the physical structure completed by March or April 2011, and the electrical equipment installed by the end of October 2011.
The planned completion date is January 2012, he said. "But we've got a good jump on the start and are well positioned," McCorkle said.