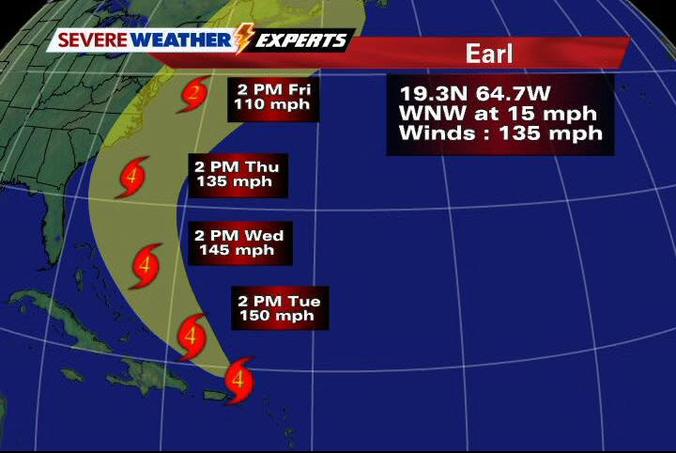 Residents and visitors spent the day hunkered down in their houses while Hurricane Earl's winds and rain swirled overhead. (To view video footage of the hurricane on St. Croix's West End, click here.)
"We've had a lot of blowing. The rain came down in sheets," said Stephen Hull, a resident of St. John's East End.
Conditions worsened as the afternoon progressed, and at 4 p.m., Robert Mitchell, a meteorologist at the National Weather Service in San Juan said, that between the late afternoon and midnight the territory would see its worst conditions.
"You'll get tropical storm force wind conditions in bursts," he said.
According to Mitchell, wind gusts of 63 mph were reported on St. Thomas. He said other areas had wind gusts throughout the afternoon upwards of 39 mph. Weather Station Zephyr at Ajax Peak, St. John, reported a gust of 51 mph at 4:14 p.m.
Tuesday should bring rain as the tail end of Earl heads out of the area.
At 5.p.m., the territory's hurricane warning was downgraded to a tropical storm warning. Hurricane force winds extend out 70 miles from the center with tropical storm force winds reaching 200 miles from the center.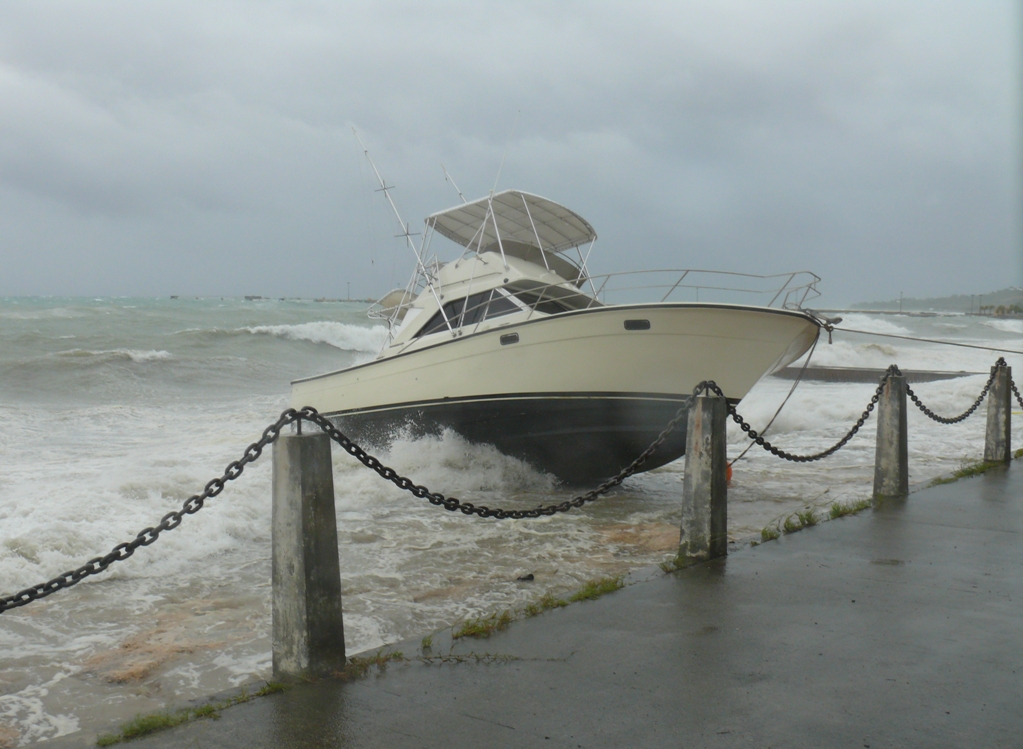 Earl, now a Category 4 hurricane, is centered at 19.3 degrees north latitude and 64.7 degrees west longitude. This puts it about 110 miles northeast of San Juan.
The wind speed stands at 135 mph, with gusts to 150 mph. It is moving west-northwest at 15 mph. The barometric pressure stands at 948 millibars or 27.99 inches.
As for the low pressure system that forecasters expect to eventually become Fiona, it should reach the area by the end of the week, National Weather Service meteorologist Ernesto Morales said.
At the Hulls' house, the wind started to pick up around 2 a.m., and when the shutters started banging, Stephen Hull got up to secure them. The power went off and on all day, leaving the Hulls and many other people often in the dark.
"It feels like summer camp," Maria Hull said.
Trees and branches were reported down all over St. John.
"No major structural damage," Deputy Police Chief Darren Foy said at about 2 p.m.
He said that crews were out clearing roads.
A big "old mampoo" tree came down in Lucy Portlock's Gifft Hill, St. John yard.
"It's going to be pretty bright out for a while, but they grow back fast," she said, referring to the tree's shade.
A webcam pointed at the Cruz Bay ferry dock showed that the adjacent dinghy dock was missing boards, and some dinghies tied up to it were partially underwater.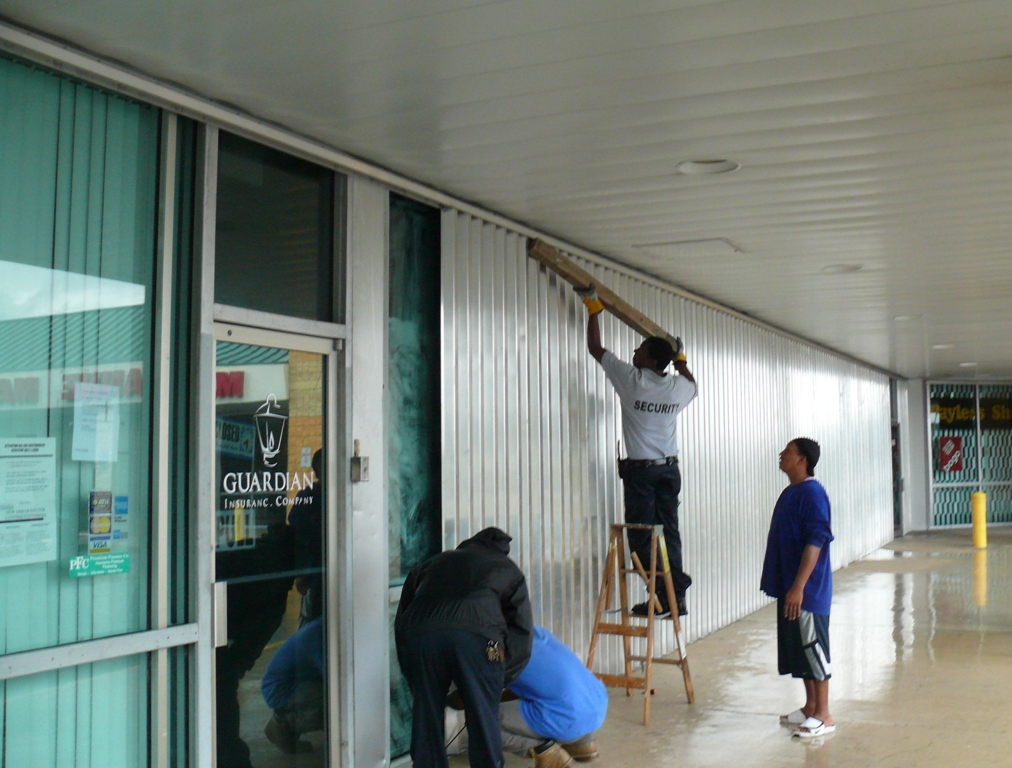 On St. Thomas, trees were down, and the road was flooded at Havensight. One large tree took down part of a wall at Western Cemetery, closing a side road for several hours.
Supermarkets were crowded Monday morning with people stocking up on water, candles, batteries, and large quantities of meat, supermarket managers said. The managers at several stores said they planned to remain open until conditions got too bad.
Government departments and agencies appeared to have closed up shop earlier than the noon closing announced by Government House Sunday night.
On St. Croix, huge waves pounded into the Frederiksted waterfront, white spray flying into the air as wave after wave struck stone and mortar with a thud. By noon, two empty boats were foundering against the rocks north of Frederiksted.
Throughout Sunshine Mall, workers spent the late morning hours bolting up corrugated metal covers over all the windows and doors, finishing up just as the power went out.
By that point, the wind began to howl, and the rain began to whip by fast enough the drops stung one's face.
Between noon and 1 p.m., staff from the Department of Planning and Natural Resources on St. Croix spent some time getting a line onto a powerboat of the sort used for deep sea fishing trips.
"It was reported stolen in Puerto Rico and had been recovered," said Carlos Aloyo, with Planning's enforcement. "But it tore free from its moorings, so we're trying to get it secured before it is destroyed."
Other vessels also took a hit. A 30-foot sloop-rigged sailboat was being beaten into the reef by the surf, frothy white foam spraying over the deck and the entire boat rocking almost 90 degrees with each wave.
"We're going to the sailboat next, to secure it and find out who it is registered to," Aloyo said.
In Christiansted, the waves were muted by surrounding reef, but late Monday morning a large catamaran, the Kindred Spirit, broke free from its moorings in Christiansted, breaking a few planks on the boardwalk before it was towed over to Gallows Bay.
Despite the wind and rain, a half-dozen men took the opportunity provided by a lull in the wind to toss nets and fill up a couple of five-gallon buckets with smallish fish.
The heavy rain brings the fish out, one man explained. "We're catching a lot of silver snapper and grunt," he said, declining to give a name. "When we're done, we're gonna cook up a bunch of fried fish and johnny cake," he said. The fishermen were not too worried about the weather, saying they had prepared their houses and they did not expect the wind to get too bad.
All morning long outside the Public Works office in Peters Rest it was a zoo, flooded with folks driving in, filling sandbags and driving home to finish preparing. But shortly after noon, the flow of people had slowed to nearly zero.
By late afternoon on St. Croix, the wind was whipping the rain into sheets, roads began to flood in earnest and the flow of cars on the roads slowed to a trickle, as people finished preparations and began to hunker down for the day.
V.I. Water and Power Authority spokesman Cassandra Dunn said at 1:30 p.m. that WAPA pulled all line crews off the road. The agency will send them out again when conditions improve.
Report WAPA problems on St. Thomas and St. John at 777-9272 and on St. Croix at 713-9272.
The V.I. Waste Management Authority said the sewer collection system has experienced a large inflow of storm water into the system. This has caused overflows in certain areas throughout the territory. Residents w ereasked to avoid known areas where manhole overflows occur and to proceed through standing water with extreme caution.
The current condition of the sewer lines allows for the inflow and infiltration of storm water into the sewer system and may exceed the pumping capacity at various pump stations which carry the flow from residential areas to the wastewater treatment plants. Until the rains and the runoff subside, the sewer collection system will continue to be impacted.
Residents are asked report any overflows to the Waste Management Authority at 713-1962 or 774-4139 or by accessing the WMA website.