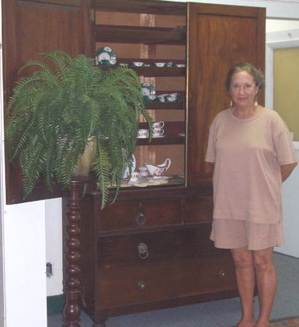 The St. Thomas Historical Trust Museum moved to its new location this summer, and like summer flowers, its treasures are now blossoming under new cultivation.
The museum is, indeed, a treasure itself, and one, alas, unbeknownst to many local residents. Since opening in 2006 in Royal Dane Mall in Charlotte Amalie on the second floor of what used to be Beretta Center, it has failed to attract a local audience.
Its present location, across from Franklin Delano Roosevelt V.I. Veterans Memorial Park is more accessible, with parking right across the street in the Fort Christian lot. The handsome building is part of local history itself, the home and former offices of Dr. Roy Anduze, which Trust president Ronnie Lockhart says has been "graciously" leased to the trust by his son, attorney Roy Anduze.
Climb up to the second floor, and you will walk into six rooms artfully designed as a glimpse into 19th century art and design through antique furniture thoughtfully culled from local family homes, prints and photographs.
You enter through a foyer at the top of the staircase and come upon what is called a "cupping table," which bears a little backslash and rail, donated by collector Michael Sheen.
For years, Sheen, along with his wife, Jan, scoured everything from yard sales to antique auctions in search of rare finds.
"The table is unique to the West Indies," he says. "It was used for serving rum on the porch.
To the right of the table is an English gentleman's mahogany wardrobe, like a press, according to Sheen, a Trust board member. "This piece is from Seahorse Cottages," he says. "It's from around 1870."
To the right is a small bedroom almost consumed by a mahogany four-poster bed, on loan from Gerhardt Sprauve., according to Lockhart.
Down the hall is what functions now as the Trust board room, its walls filled with photographs, portraits, including renderings of Coconut Square, now Roosevelt Park, Flag Hill, the old Barracks Building, now the V. I. Legislature, after a turn at housing the island's first high school.
Placed artfully in the relatively small quarters are seating arrangements, two chairs around what is called a candle table.
Peek in another small room and you will be ready to sit to a meal at what is called a gaming table, which opens into a dining table, according to Sheen.
"This came out of an old house here, maybe an estate sale," he says.
Many of the pieces have been donated by historian Felipe Ayala, from his notable collection, including occasional cane chairs and tables.
The museum falls under the direction of new director, Debbie Avery, who in the seventies ran Avery Advertising here. She returned to the island in July to take the position, and, she hasn't stopped since.
"I arrived at 10 on the evening of July 5, and started work the next day," she says, however, happily.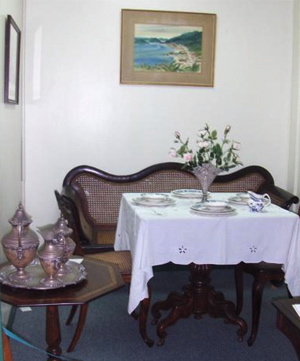 She has her hands full. The building hadn't been occupied for some time, so the first order of the day, she says, was a good house cleaning. Right now, she is awaiting Bernice Turnbull, former Finance Commissioner in the Turnbull administration, who will be conducting museum tours with a cadre of volunteer help.
Downstairs will be the Museum shop, which she hopes to open in October. It will showcase local books, art, prints, and reproductions of West Indian furniture from the 1800's. "We'll have over 100 designs , a few in the store, and the rest available on order," she says.
Starting Sept. 19, free tours of downtown' step streets will begin. Starting at 3 p.m., they will meet at the St. Thomas Reformed Church parking lot. The tours are not for the faint of heart.
The streets are between Nye Gade and Murphy Gade in Droggingens (Queens) Quarter, including Bred Gade, 116 steps, and Store Gronne Gade, 141 steps, and a peek at Addelita Cancryn's house on Kodo Strade, 130 steps.
The Trust's yearly fund-raiser gala is coming up Oct. 30 at Oceana, at Villa Olga in Frenchtown, with the theme, "Rock and Roll, Remember When." Details will be available on the Trust website.
The museum also has vanity Historical Trust license plates for sale. Call Eddie deLarde for details.
A visit to the museum can be arranged by calling 774-5541. It is open weekdays from 10 a.m. to 4 p.m.