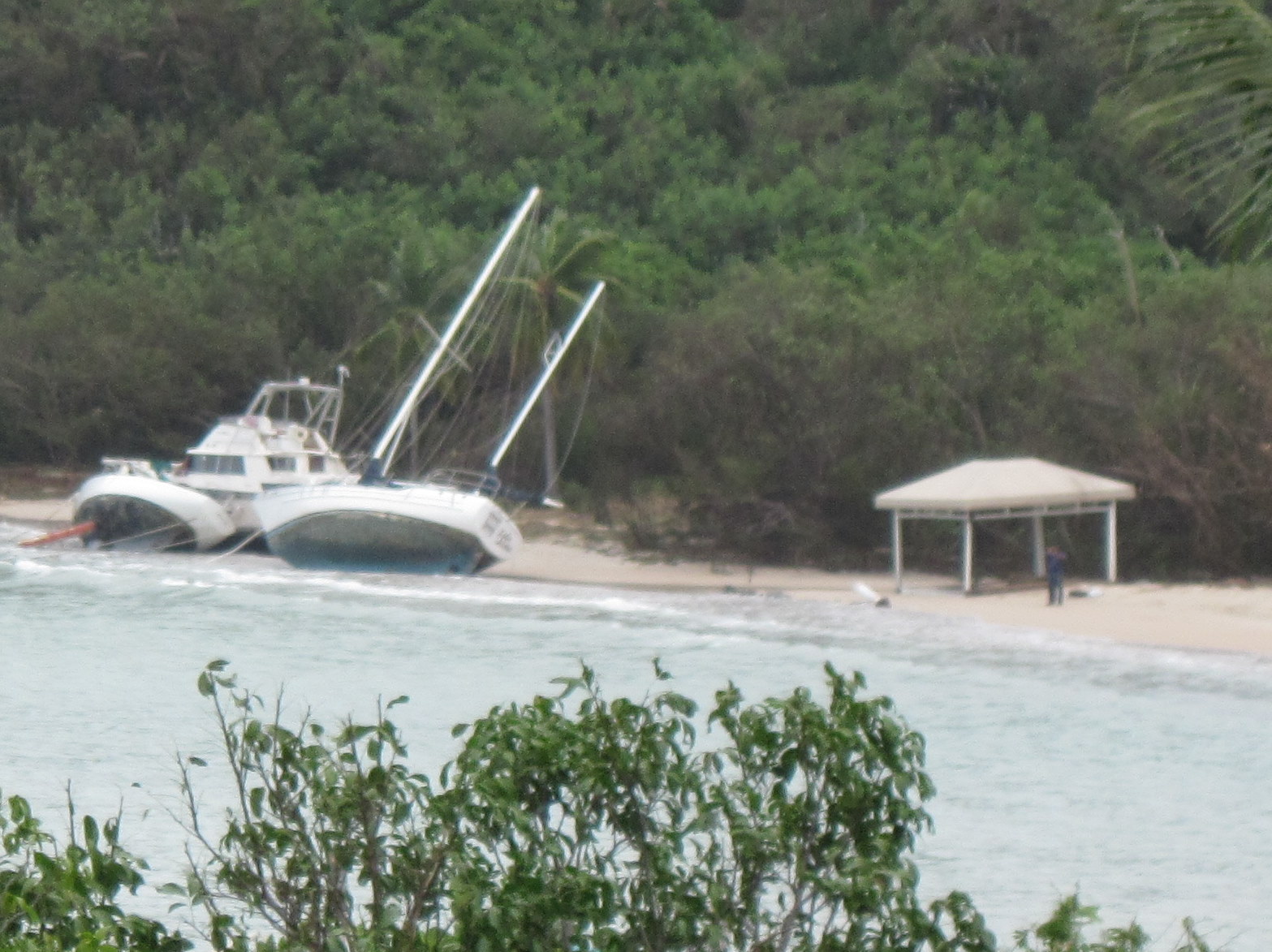 Mother Nature, always the star on St. John, took the biggest hit when Hurricane Earl brushed by Monday. While crews were out clearing by mid-morning Tuesday, many, many trees, branches and leaves littered the roadways.
The Reef Bay area appears to have gotten the worst of it. While the island's greenery definitely thinned out, trees at Reef Bay had bare limbs. Their leaves carpeted the roadway.
Power crews from the V.I. Water and Power Authority, as well as other companies, were in the Reef Bay area repairing power lines.
At V.I. National Park, the Visitors Center and offices were closed.
"We're starting to assess damages," park Superintendent Mark Hardgrove said early Tuesday morning.
He said vegetation suffered throughout the park, and Hardgrove anticipated it would take "about 100 days" to clear vegetation, repair downed signs and make other repairs.
Near Hawksnest Beach on the North Shore Road, the scent of bay leaves perfumed the air.
According to Hardgrove, St. John buildings suffered little structural damage.
In the Upper Carolina neighborhood of Coral Bay, a roof blew off a small shack, resident Sharon Coldren said.
Four boats went ashore in Great Cruz Bay, and part-time resident Ted Kengla said that the Westin Resort and Villas dock and bar were damaged. Westin security refused to let a reporter on the property to see for herself although guests were obviously still on the property and swimming in the adjacent Great Cruz Bay.
Two boats went on the beach in Coral Bay, Coldren said.
Both Hardgrove and Kengla said they saw huge waves battering the shorelines.
"It was a massive display of nature's power. I saw 10-to-15-foot swells come in," Hardgrove said.
Cinnamon Bay Campground was closed.
Power remained out across St. John, but grocery stores and the island's only gas station, E&C, were open.
Additionally, the ferries between St. Thomas and St. John are not running because all ports across the territory are closed until further notice.
"We have to make sure there is nothing obstructing the waterway," U.S. Coast Guard spokesman Ricardo Castrodad said.