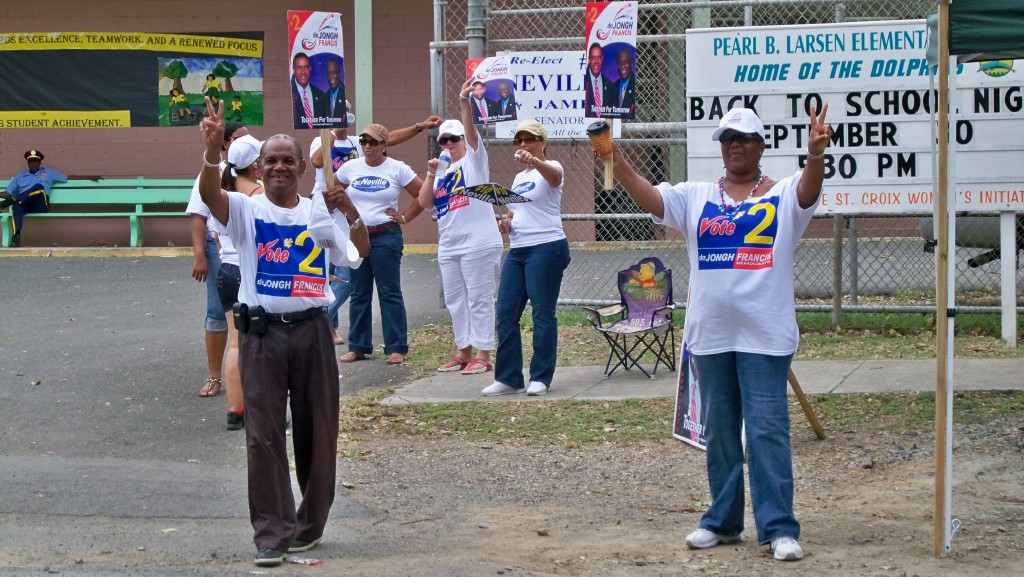 The enthusiasm of candidates' supporters was high early in the morning all over St. Croix with signs being waved and music blaring.
However, at 10:45 a.m., the sky turned dark, the wind kicked up and it started to pour, sending everyone for cover and momentarily dampening spirits.
On the roadside by Pearl B. Larsen Elementary School, people were holding up two fingers in support of Gov. John deJongh Jr. and Lt. Gov. Gregory Francis, who were number two on the ballot and seeking their second term. That group stood by supporters of the Adlah "Foncie" Donastorg ticket.
But the senatorial candidates were not being ignored in this primary where Democrats had a lot of options and Republicans few.
People were yelling "All the way with Weber," for senate candidate Jimi Weber and signs showing support for Sammuel Sanes and Diane Capehart were very visible at Christiansted polling spots.
It was busy outside Juanita Gardine Elementary School, with volunteers from several campaigns out in force. Horace Magras, St. Croix campaign manager for gubernatorial candidate Donastorg, was at one corner of the school's entrance with Agustin Quezada and a massive Donastorg sign.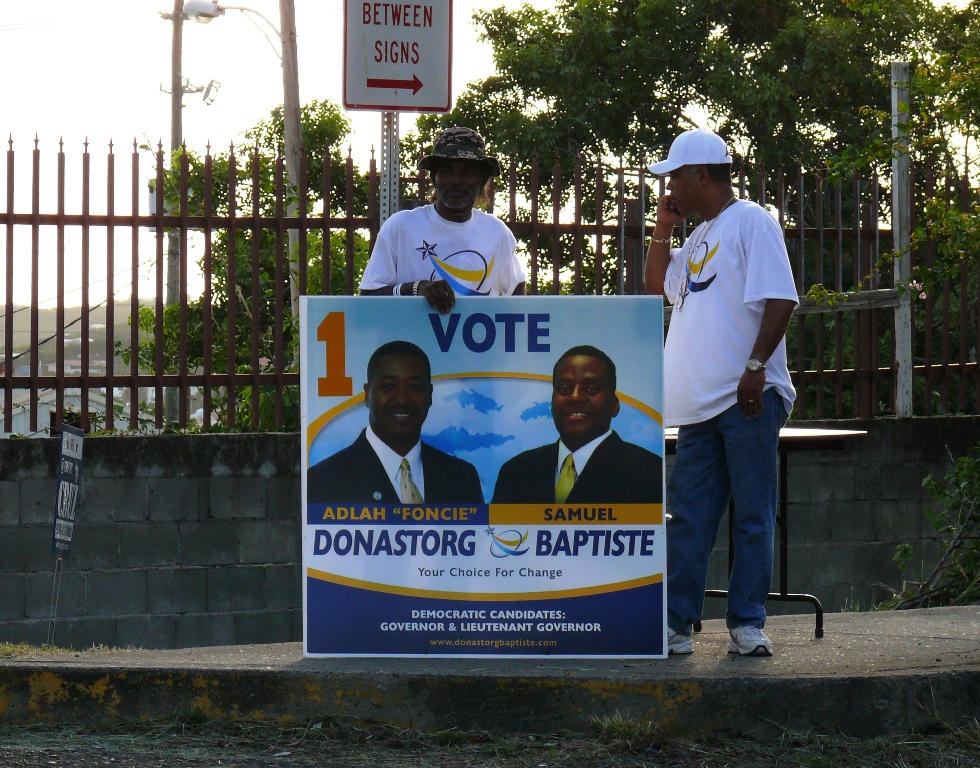 "We believe Donastorg will represent all of the people as opposed to a select few interest groups," Magras said.
When the sky opened up, incoming voters rushed to get inside Juanita Gardine to cast their votes before the thunder and lightning started. One lady who didn't want to be identified grumbled that they should have paper ballots in case the power goes out.
Elaine Springer, a polling judge at Juanita Gardine, said the turnout was heavy early and it was starting to taper off.
"There were a lot of people out voting early and now it has started to slow down," Springer said. "The turnout today has been better than other primaries since it is a gubernatorial race. Everything is moving along nicely."
Lt. Gov. Gregory Francis and wife Cheryl Francis were among the early voters arriving at 7:10 a.m. Before heading in to show his voter ID card and step into the booth, the lieutenant governor pressed the flesh, flashing his toothy smile and shaking hands with friends and supporters in line to vote.
"DeJongh and Francis are the original Democrats, not Tea Party Democrats," said Ronald St. Hilare, a deJongh supporter. Asked what he meant by "Tea Party Democrats," St. Hilare said deJongh's Democratic party challengers pretended his accomplishments did not matter and instead of debating substance, just called deJongh names.
"Just to try to win elections, the Tea Partiers, they call President Obama everything, even Hitler," St. Hilare said. "Here it is the same dishonest name calling. That is why I say they are Tea Party Democrats."
Vielette Lang-Alleyne, another judge at Juanita Gardine, said that the judge's duty is to make sure the overall process runs smoothly. In past elections the voters went to classrooms broken down alphabetically. In this election they all went to the cafeteria and, after registering at tables near the door, the voters moved along quickly to booths without any confusion.
According to Board of Elections official Raymond Williams, the polls will close promptly at 7 p.m. He said at that time policemen will get at the end of the line and nobody will be able to get in line after them.