In an overwhelming vote of confidence from the electorate, Gov. John deJongh Jr. and Lt. Gov. Gregory R. Francis emerged as the clear winners of Saturday's Democratic primary, taking 53 percent — or 7,487 — of the votes cast, according to the unofficial numbers.
"I think what tonight shows is that even when you add up the numbers of our three competitors, it doesn't come close to us, and that indicates to me that people are really focused on the issues and they really want leadership that focuses on the future and being positive, and that's what we've done," deJongh said at celebrations held at his campaign headquarters on St. Croix. (See video of deJongh celebration at article's end.)
The team of Sen. Adlah "Foncie" Donastorg and Samuel Baptiste garnered the second-highest number of votes with 4,300, while Gerard Luz James II and Glen Smith pulled in 1,823 votes. Falling in fourth was James O'Bryan Jr. and Pamela Richards Samuel, with 432 votes.
Speaking on the radio after the announcements were made, James said he "accepted the people's decision," and thanked them for their support in a gubernatorial race that often times went "up and down." He added, however, that residents "can't complain" anymore about wanting to change the status quo, since the incumbent team took the election.
Now that they've earned the Democratic nomination, deJongh and Francis will face off against Kenneth Mapp and Malik Sekou — the only gubernatorial challengers left — during the Nov. 2 General Election.
Donastorg could not be reached for comment Saturday evening, but his second bid for governor left a slot open in this year's Senate race, which looks like it could be taken by one of three possible candidates.
Unofficially, newcomer Janette Millin Young brought in the third highest number of votes in the St. Thomas-St. John district race, with 3,313, while Clarence Payne, the face of the Bovoni Homeowners Association, fell into the seventh spot with 2,653 votes.
"It's been a very tough race, and I really have to commend all the candidates running for Senate," Payne said later. Adding that he feels good so far about the results, Payne said that over the next few weeks, he's going to continue to "hit the pavement running," putting out his name and message to as many people as possible.
Not far behind, however, is another first-timer: former legislative executive director Simon Kevin Caines, with 2,645 votes.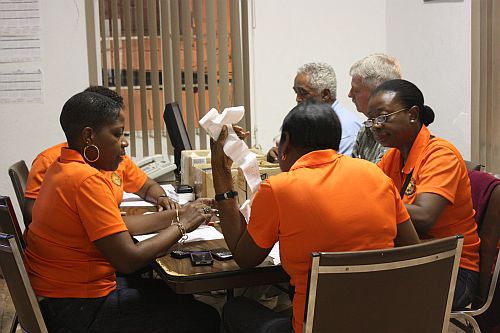 Though Caines is currently in eighth — only the top seven winners move on from the primary to the General Election — the numbers are still unofficial until all provisional, walk-in and absentee ballots are counted.
Elections' Deputy Supervisor Mabel Maduro said it would be at least a couple days before that process starts, but both officials and Board of Elections members are expected to be debriefed Sunday and Monday about what happened during primary.
Not surprisingly, incumbent Sen. Shawn-Michael Malone took the top spot in the district race, pulling in 4,140 votes. Malone was also the top vote getter in both the 2008 and 2006 primary, and will be going into his fifth term if he makes it through the General Election.
"I feel good about the number of Democrats who came out to support me — it shows that they still believe in me and the work that I do," Malone said after the results were in. "They are my employers, and I will continue to try and make them proud and show them how committed I am to them and protecting the life we have here."
Taking the second spot this year was Sen. Carlton "Ital" Dowe with 3,778 votes, while Sen. Louis P. Hill slid behind Millin Young into fourth with 3,228 votes. Sen. Patrick Simeon Sprauve also made it back in with 3,027 votes, while another incumbent, Sen. Alvin Williams, came in just ahead of Payne in the sixth spot with 2,836 votes.
Senator-At-Large Craig W. Barshinger also moves onto the General Election after beating challenger Ronnie E. Jones with 6,348 votes. Jones pulled in 3,501 votes.
District Board of Elections chairwoman Lorna A.C. Thomas said after the votes were tallied that operations, for the most part, ran smoothly throughout the day. There were a few glitches at about half the polls in the early morning, causing delays in openings, but all still managed to close on time after it was determined by the judges that there were no lines or residents left waiting after the 7 p.m. deadline.
"No one was turned away," she said.
Other winners this year are:
Board of Elections St. Thomas-St. John: Wilma Marsh Monsanto (1,474 votes) and Claudette Georges (1,303 votes);
Board of Elections St. John: Harry A. Daniel (1,685 votes);
State Chair, Democratic Party: Emmet Hansen (2,989 votes);
District Chair – St. John: Harry A. Daniel (1,663 votes);
Member-At-Large, Democratic Territorial Committee:
Louis "Tito" Morales (3,162 votes)
Jorge "Tito" Galiber (2,809 votes)
Marylyn A. Stapleton (2,724 votes)
Cheryl Boynes Jackson (2,563 votes)
Barbara Petersen (2,561 votes)
Nemmy Williams-Jackson (2,493 votes)
Leona Smith (2,459 votes)
Harry A. Daniel (2,402 votes)
Malcolm D. McGregor (2,333 votes)
Lorna A.C. Thomas (2,088 votes)
Kenn Hobson (1,982 votes)
Paul L. Fleming (1,699 votes)
Herbert Allan Grigg (1,691 votes)
Omar B.U. Henry (1,687 votes)
Florine Audain-Hassell (1,678 votes)
Jose L. George (1,612 votes)