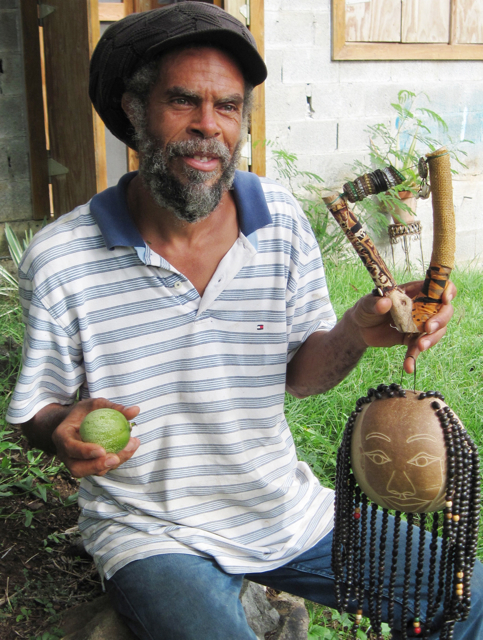 Delroy "Ital" Anthony wears many hats, but he may be best known as the proprietor of Native Arts and Crafts. Located next to the Salt Pond parking lot on St. John, it's a side-of-the-road place that sells just what its name suggests.
"Everything I make myself," he said.
Native Arts and Crafts will reopen again soon for the winter tourism season, so right now Anthony is busy creating items for sale. Using materials gathered in the bush as well as found items, he makes bird feeders, coconut and shell wind chimes, seed earrings, necklaces and bracelets, locust seed purses, mocko jumbie dolls, calabash masks and baskets, and other items.
"I see a calabash at a fair, I get it," he said.
He also makes a toy made out of mango seeds called a rahrah.
Anthony, 49, grew up in an artistic environment. He credits his mother, Margaret Christopher, with guiding him down his chosen path. That said, Anthony noted he also learned a lot from the late Herman Prince, a renowned basket maker who passed along his expertise to many St. John residents.
"I was in a documentary with Mr. Prince," Anthony said, adding that it recently aired on television.
Anthony has expanded his interest in all things cultural into several other related activities. For starters, he's a principal member of Echo People, a well-known and well-respected St. John drumming group. He said he got his musical feet wet by playing as a teenager with Steel Unlimited before moving on to the groups Prophecy and Inner Vision.
He now does demonstrations on medicinal herbs by request at various locations on St. John.
"Blackwattle bush tea is good for colds," he said, launching into a lengthy list of old-time remedies that cure ailments.
And he was recently chosen by the Agriculture Department to farm a quarter-acre organic gardening plot in Coral Bay. He doesn't think it's an ideal location since it's close to Coral Harbor's salt water and the area tends to flood, but he said that if that's what's available, he'll "go with the flow" and plant tomatoes and okra.
Anthony is also outspoken on the need for the territory to grow healthy food.
"We have to get serious about agriculture," he said.
He went on to discuss the need for the territory's schools to feed children nutritious foods rather than sugar-laden cereals that increase hyperactivity.
Anthony was born on St. John, went to Julius E. Sprauve School and soon started working at various places around the island. They included jobs in the laundry and landscaping at Caneel Bay Resort and landscaping at the Westin Resort and Villas. He also worked for the Agriculture Department, and he currently works as a landscaper for Windspree Vacation Homes and for himself in addition to all his other endeavors.
Along the way, he raised five children. The youngest Naphtali, 14, is on St. John. Afrika, 18, just went off to Sweet Briar College in Virginia. Son Asham, 25, is in Texas and his other sons, Oni, 21, and Zahur, 24, live in Florida.
In his very limited spare time, he helps St. John's Unity Day Group work on its various projects to bring fairness to St. John residents in matters that include property taxes.
"St. John is going to be heard," he said.
Anthony can be reached by calling 776-6155.