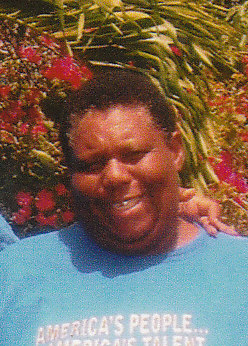 Laurice Matthias of Estate Tutu died on Aug 28 at her residence. She was 51 years old.
She is survived by her grandfather, George Richards; brothers and sisters: Dale, Betty, David, Stephen, Ann M., Theresa and Nicole Matthias; brother-in-law, Phillip Tyrell; uncles and aunt: Rev. Carlton Jackson Jr., Phillip Mulrain and Marie Jackson; and cousins: Paul M., Jermaine, Elie, Carlton L, Andrew, Oliver M., Doreus L., Elieanna and Deniro Jackson, Dr. Minerva Galtin, Carolyn, Ralph and Alphonso Green, Rev. Alphonso Galtin, Donald Jr., Latinia and Derron Martin, and Barbara Clay. She is also survived by nieces and nephews: Dale Jr., Dalia, T'Rell, Abigail, Davita A., David A., Stephen Jr. and David A. Matthias, Omauri Grosvenor, Akoya Emmanuel, Latoya James, Brian Hunt Jr., Philecia G., Patricia M. and Althea M. Tyrell, and Aryanna and Nila Hermon; as well as many other friends and relatives too numerous to mention.
There will be a viewing at 9 a.m. and a funeral service at 10 a.m. on Friday, Sept. 24, at the Davis Funeral Home Chapel. Interment will follow at Eastern Cemetery.
All arrangements are by Davis Funeral Home, 774-1464.