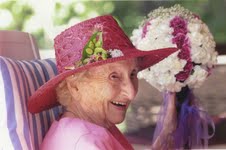 Marguerite "Jiggs" Bryant Shannon Powell, 104, of Morristown, N.J., died Monday, Sept. 13, in Manasquan, N.J. She was born April 2, 1906, in Concord, N.H., the only child of Clarence Downing Shannon and Lenna Belle Proctor Shannon.
Jiggs grew up in Fairfield, Conn. She was a 1927 Russell Sage College graduate and attended graduate school at Yale University where she met her husband, Charles Skrine Powell, to whom she was married 60 years.
Predeceased by her husband, Charles, Jiggs is survived by her daughter, Anne Proctor Powell Mathews and son-in-law, Richard Arnon Mathews; three grandchildren: Gustave Xavier Mathews, Charles Powell Mathews and Julia Isles Mathews Meneghin; and eight great grandchildren.
Jiggs resided in Morristown, N.J., for 64 years, where she was a member of St. Peter's Episcopal Church, the Home Garden Club, and the Reading Club. She wintered on St. Croix, U.S.V.I., for over 40 years and was active in St. George's Botanical Garden and East End Social.
She shared her love of music and piano playing with her family and friends.
A memorial service will be held at St. Peter's Episcopal Church in Morristown at 10:30 a.m. on Saturday, Oct. 9.