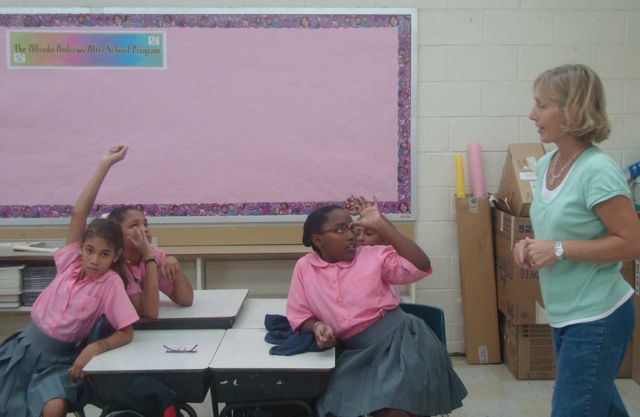 About two-dozen student at Alfredo Andrews Elementary School are being kept after school … and they love it.
Four days a week the kids take part in a new after-school program designed to help raise scores at the school, which is considered "under performing." The program is designed to engage the students in science and math by focusing on a subject that most kids love – animals.
The program is funded by a $75,000 grant from the U.S. Department of Education through its 21st Century grant program. The grant was awarded to the St. Croix Animal Welfare Center and is being operated for the center by the Learning Networks Foundation.
On a recent weekday the students were listening to Therese Donarsk talk about how to prepare your pet for a hurricane. They put together a list of steps that need to be taken and things that might be needed, including food, bedding, litter, leash, pet carrier and any medications the pet might need. Al those items should be put together in place where they'll be easy to access.
Then the students were given material to draw pictures of their pet, their home, a hurricane or a similar topic that appealed to them.
The program includes one day a week in a computer lab, art lessons and occasional field trips. But the main goal, according to Wanda Banks of the Learning Networks Foundation, is to improve those math and science scores—and that's what most of the work is aimed at.
And it's all done through the lens of animals. Lesson plans are taken from a variety of sources, include the Society for the Prevention of Cruelty to Animals website. The goal is to use nontraditional approaches to engage the children and get them interested in learning.
Banks said the school sent a flyer home with students, and the first 30 who signed up could be involved in the free program – first come, first served – without regard to age or academic status. So far about two-dozen kids have been signed up, she said.
The program also includes parent work sessions to help the students' parents learn how to encourage their children's math and science skills, Banks added.
Critical thinking was in evidence during the hurricane-preparedness session. Donarsk asked the students about cleaning up after the animals if they were forced to remain inside for a long period.
That's how "baby wipes" got added to the list.