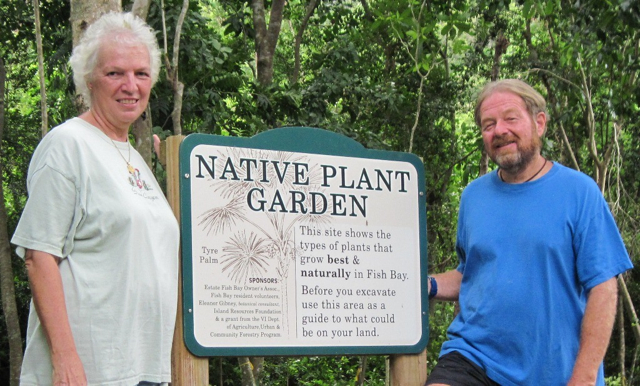 With a $3,325 Urban and Community Forestry grant and 200-hours-and-still- counting of hard labor, a small group of Fish Bay, St. John, residents created a Native Plant Garden on land owned by the Island Resources Foundation.
The garden sits right along Marina Drive, the main road through Fish Bay, and is adjacent to the Fish Bay gut. All are welcome to visit.
"We are trying to educate property owners about all the good plants we have in the area. And we're trying to stop clear cutting," Terry Pishko, president of the Estate Fish Bay Owners Association, said.
Clear cutting of property when landowners build homes has been an issue across St. John. Pishko hopes that if the landowners see that they have plants good for landscaping on their property they will think before they bulldoze them down.
The small shady garden has paths that wend this way and that. On the land among the paths grow a huge profusion of plants native to the island. One is solanum concarpum, a rare plant that grows only on St. John. Area scientists hope that the U.S. Fish and Wildlife Service will eventually include it on the Endangered and Threatened Species List. Another plant, the marron bacara, was long thought to be extinct, but is growing in the Native Plant Garden.
Other plants include examples of tyre palm, bay rum, black calabash, guavaberry, hoopvine, pepper cinnamon, and wattapama. A full list is available on the Estate Fish Bay Owners Association website.
The Estate Fish Bay Owners Association got the Forestry grant because the organization developed the project for the good of the community, Marilyn Chakroff, forest stewardship coordinator at the Agriculture Department, said.
The grant money went to pay for lumber to line the edges of the path, gravel, signs, peat moss, and tags. Additionally, the grant funded the cost of a consultant to identify the valuable native plants on the property and a contractor to create the paths.
Clearing the property of plants like catch and keep and sweet lime as well as creating the paths took about a year, Pishko said, but board member Allan Weinstock continues to expand the pathways and keep up with the garden's considerable amount of maintenance. Weinstock said he'd like to build a small bridge over a small side gut off the Fish Bay Gut.
However, like Pishko and most other volunteers who developed the garden, Weinstock is retired and getting past the point in his life where he want to do the heavy work required to expand the project and keep the garden looking good.
"It's an ongoing project. Maintenance is the biggest issue," he said.
Both he and Pishko said they wish some younger residents would volunteer to help out.
"But it's hard to interest them," Pishko said.
Those interested can visit www.estatefishbayowners.org for more information on the indigenous plants in the Native Plant Garden.