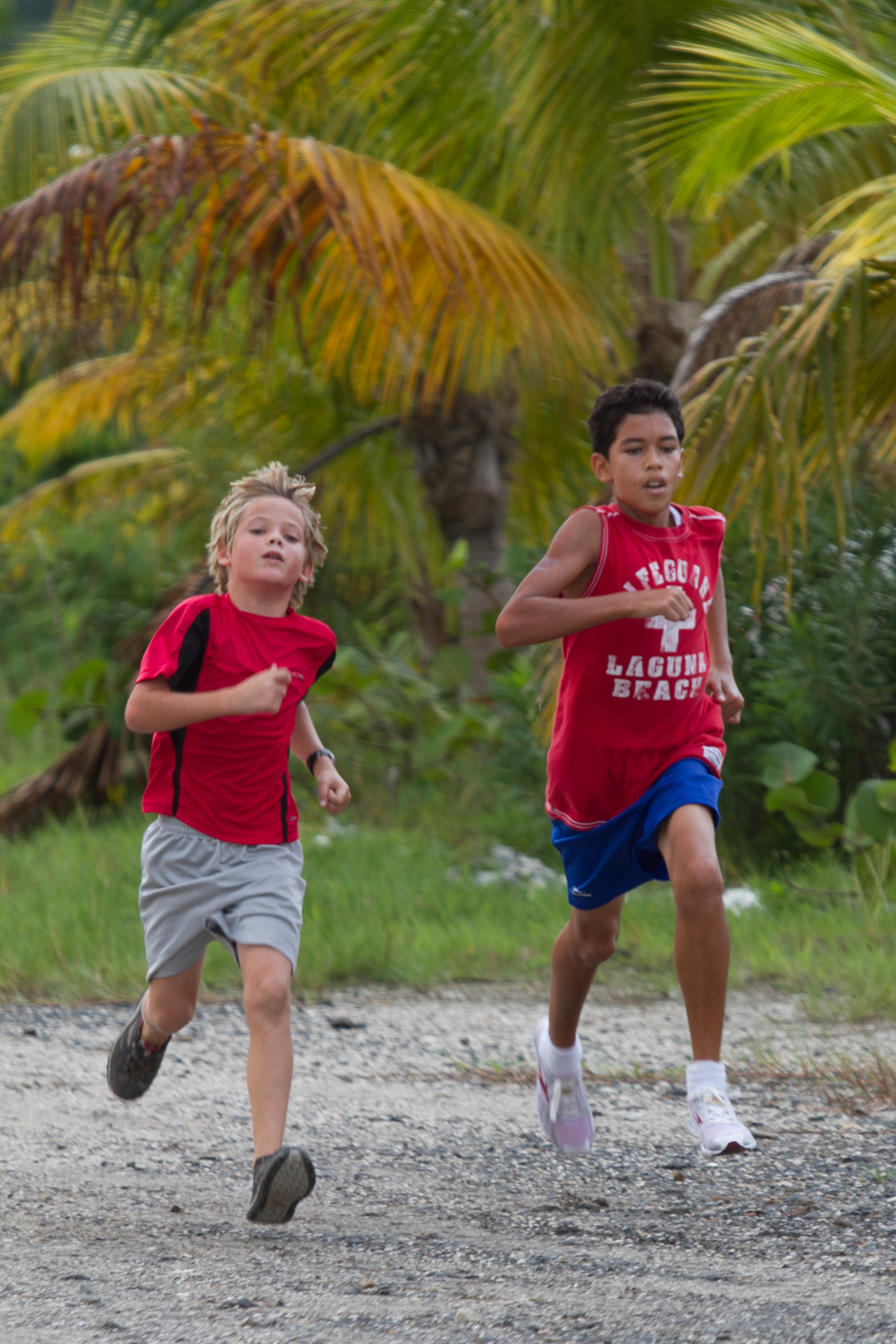 The threat of rain didn't dampen the spirits of the young competitors in the Altoona Lagoon Duathlon on the morning of Sunday, Oct. 3. Sixteen athletes, ranging in ages from 5 to 15 years, toed the line at the newly refurbished public park for the run/bike/run race hosted by the Virgin Islands Triathlon Federation (VITF). The duathlon race was the second event in the Kids' Tri VI series.
Theresa Harper, secretary of the VITF, said, "Although there were fewer than expected duathletes competing today, they all seemed to have a blast. The weather cooperated for much of the morning until the second run of the final race. The course was designed so that parents and friends could easily cheer on the kids as they looped around the park several times."
The distances of the race varied depending upon the age groups. The 5 to 6-year-olds covered a .25-mile run, a .5-mile bike and another .25-mile run. Thomas Steigaf blazed through the course and easily won the 5 to 6-year-old category. Newcomer Khalil Francis was second and Jasmine Hollins was third.
Aaron Morales of St. Mary's School was very serious about his bike riding. He made up over one minute on his competitors in the 7 to 8- year-old category and finished the race in 12:38. Aislin McStay and Miko Dizon-Bumann, both of Country Day School, were second and third, respectively.
All eyes were on the duo of Adriel Sanes and Jon Thomas, both of the Good Hope School, as they crushed the .5-mile run in about 5 ½ minutes. Sanes held off Thomas for the win in the 9 to 11-year-old category. Just a few minutes back was third-place finisher Dominic Pugliese from CDS. The Girl Power was lead by Shawna Dean and newcomer Eva Luna Wittmann, both of CDS.
Educational Complex Freshman Justin Noel nailed the .5-mile run/2-mile bike/1-mile run in 27:04, keeping ahead of second-place finisher Erik Williams of CDS. Third-place finisher, 12-year-old Wills Galiber was not far behind.
The first race in the Kids' Tri VI series was a swim/run race held at Chenay Bay on Sept 12. The Splash N' Dash event brought out nearly 45 kids from varying abilities and levels of fitness. The VITF will offer six events for children ages 5-15 throughout the year. The next race is the Altoona Lagoon Duathlon No. 2 on Feb. 12, and it is open to all children. For more information, contact the VITF at http://www.vitf.org