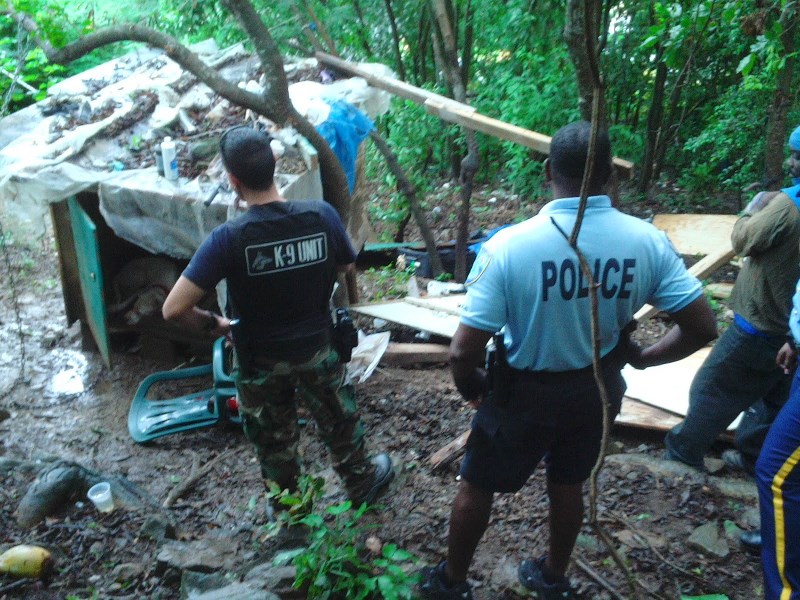 After residents complained, staff from the Police and Public Works departments launched a cleanup Tuesday of an area in Cruz Bay troubled by crime, vagrancy and illegal drug activity.
Crews removed a plywood shack, as well as piles of trash. They also cut down the bush in the area to improve visibility.
"But they come right back," said the owner of the nearby Banana Deck restaurant, who would give her name only as Kristin.
People who frequent that area steal items from her restaurant, including cans of soda when the restaurant was closed, she said.
During the latest cleanup, crews discovered a pit bull living in the plywood shack. Police took it to the Animal Care Center.
"She was covered in fleas and ticks," said Kimber Marner, an animal care technician at the shelter Thursday.
The dog immediately got a flea and tick bath, but Marner said that by Thursday the dog needed another bath because the first one didn't get rid of all the fleas and ticks.
No one was arrested during the cleanup.
This is the third time this year Police and Public Works crews cleaned up the area, Police Department spokesman Melody Rames said.
"This is an effort to rid several areas in the community where loiterers and vagrants hang out in bushes to conduct illegal activities. By clearing out the area it will give police and the community higher visibility into the area," Assistant Police Commissioner Raymond Hyndman said in a press release.
The heavily vegetated area, located across from Raintree Court in Cruz Bay, is about 1.5 acres in size and home to local fruit trees and wild vegetation. Deputy Police Chief Darren Foy said the area has been used to store stolen items and for drug use.