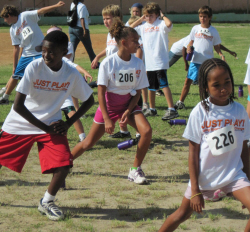 Winston Wells Ballfield was dry Monday, practically a miracle after last week's deluges, and in good shape for Monday's Just Play Day. It was sponsored by Using Sport for Social Change, an organization founded by Oregon resident Dean Doeling. He works for Nike and the youths who participated took home Nike items.
"This is such an important thing to get the kids on the island out and playing," Doeling said, clipboard in hand, as he sent volunteers off to various tasks.
Almost 250 St. John youths ages two to 18 showed up for a day of activities like football toss, basketball, baseball throws, and a 50-yard dash.
"We came here to play and have fun and to be with our friends and save the earth by not watching TV," St. John resident Aysha Clendinen, 11, said.
Luca Costello, a nine-year-old St. John resident, said he came out because he didn't want to spend the day "in a big comfort chair."
It also helped that Luca's parents, Luigi Costello and Julie King, were both on hand as volunteers.
"I just want to show kids there's an alternative to hanging out," Costello said.
King is a frequent contributor to various travel forums. She made a pitch Monday to readers to donate to Using Sport for Social Change. She said she asked the frequent visitors who participate in the forum to give back to the community.
"We are failing our youth and need to give them something to do," King said of her reason for asking visitors for help.
This year, Just Play Day organizers went green by giving the youths fabric bags instead of plastic to carry their Nike gear and water bottles to fill throughout the day.
"Last year, 300 to 400 plastic bottles headed to the dump," Costello said.
Plenty of parents were on hand to help and watch their kids enjoy the day.
"There are very little sports on the island so we jumped on it," parent Jeff Bleyer said.
Brenda Wallace, who served as master of ceremonies, said Just Play Day was a community event that taught the participants team and life skills.
"And it brings the island together," she said.