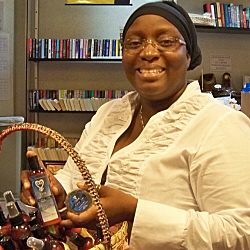 Yoki Hanley recalls the scent of a soft shower in the rain forest, the scent of a beautiful rose garden and the scent of rejuvenating sea air. The memory of those scents are what she uses for her inspiration to create her "itiba" body care products.
Itiba Cahubaba is the Taino Indian name for mother earth, from whom, Hanley says, all life sprang.
She says people smell the scents she has created and feel like they are being taken away on a Caribbean experience. She adds that the products can be an inspiration for others too.
"People say the scents make them want to come down to St. Croix," Hanley says. "You can have the experience of the Caribbean, without leaving home, or reminisce of sensuous times in the Caribbean."
For the past 10 years, beginning out of necessity, Hanley has made an art of capturing lovely Caribbean scents and selling them.
"Without health insurance I had to go back to my roots using plants and herbs to deal with sickness and health problems," Hanley says. She mixes up her creations in her home and says she has always been a kitchen chemist. She added when she was growing up on St. Croix her family always used plants and herbs for cleansing and body care.
"All Caribbean children had to have their weekly tonic of aloe or cod liver oil," Hanley says laughing softly.
She remembers wonderful times spent out in nature growing up on St. Croix playing in gardens and at the sea side. She says what she creates depends on her mood and memories and what colors she visualizes.
She recalls bright, sunny, Caribbean smells of lemon grass mingled with the smell of fresh green limes. She mixes those scents in 100 percent essential oils until she gets the perfect exhilarating blend. Those scents are the inspiration for Carib Lime body lotion, fragrance spray, body polish, soap, bath gel, and body butter.
MidNite Rain transports one to the rain forest in a refreshing soft rain shower. "It is reminiscent of a nice calm rainfall with a sweet sensual smell creating a nice feeling," Hanley says.
She says she loved to spend time in her mother's rose garden, adding it was like no other garden.
"The roses my mother had, up until (Hurricane) Hugo, had the most beautiful scent and the colors were gorgeous," Hanley says. From those recollections she has created Island Rose.
And there is Sea Lavender with a hint of fresh air rolling off the Caribbean sea and a relaxing scent of lavender.
Her six different scents have become signature scents for some loyal customers who encourage her to keep producing Caribbean scents. Her newest scent, in time for the holidays, is called Kaya. Hanley says the term actually means to have a beautiful body — not marijuana as in Jamaican culture and Bob Marley's music.
The last couple years she has been seriously marketing itiba and it is starting to pay off in recognition.
Midnight Rain body lotion was selected to be put in the gift bags of all the nominees at the 2010 Academy Awards. And she has all the Midnight Rain products in baby shower baskets for Alicia Keys and Mariah Carey.
"I am just waiting for that special email from Oprah," Hanley says. "I would like to see myself become international and in the European market."
Her products are made from coconut, palm and avocado oil, shea butter and other natural ingredients and conform to all FDA regulations. They can be found at numerous retail shops on St. Croix like the Freudian Slip in Sunshine Mall, Polly's on the Pier, and Divi Gift shop or on line at www.itibabeauty.com.