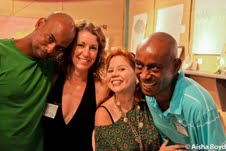 Before the deluge almost had us scrambling to build the proverbial ark, there were two very special events hosted here in St. Thomas by two very special friends.
First was the very innovative "Dream in Green" summer party to close its Young at Heart program. This was held at Tillett Gardens and hosted by ArtVI Advocates, which was founded by Priscilla Hintz. An opening event held earlier this summer provided a relaxed atmosphere within which members of our arts community and others could come together to share their concerns about our environment.
At this event artists Eric Browne, Eranah Davies, Lamont Blake and Kimberly Young were available to talk about their work and their inspiration. Also, Priscilla spoke about the islands' newest nonprofit (and her brain child), ArtVI Advocates, its upcoming initiatives and events.
ArtVI Advocates is a grassroots organization of energetic and innovative art advocates who have a keen interest in furthering the cause of arts and cultural advocacy in the U.S. Virgin Islands. Its mission is to support and promote the arts in order to enhance the cultural, social and economic well-being of the territory through arts education and advocacy. The Dream in Green Summer "pARTy" was a project designed by ArtVI Advocates to connect the young at heart with the arts in the Virgin Islands and to help inspire greater appreciation for the arts and encourage long-term commitment to arts philanthropy in the Virgin Islands.
The other special event was hosted by Carrie Freyn, also known as Miss Yachtie. On learning of her sister Sheila Watson's battle with ALS (known as Lou Gehrig's disease), Carrie was determined to do what ever she could to be supportive. So when Sheila's stateside friends set up a team called Sweet on Sheila to participate in a walkathon to raise awareness and funds to support the ALS Foundation, Carrie decided to gather her V.I. friends for a kayak and paddle board event on Hull Bay. So the V.I. team Sweet on Sheila paddled for their cause and raised some funds and a lot of awareness among those of us who until now, knew very little about the devastating effects of this degenerative disease with no known cure.
Among those who joined and supported Sweet on Sheila were Harry Freyn, Mike Barrows, David Strobel, Kathryn Wakeford, Linda Wright, Jess Burke, Brett Geary, Ken Floyd, Elena Shabau, Kathy Gibson, Carlyayn Mitchell, Reid Brett, Michael Barret, Jon Euwema, Aug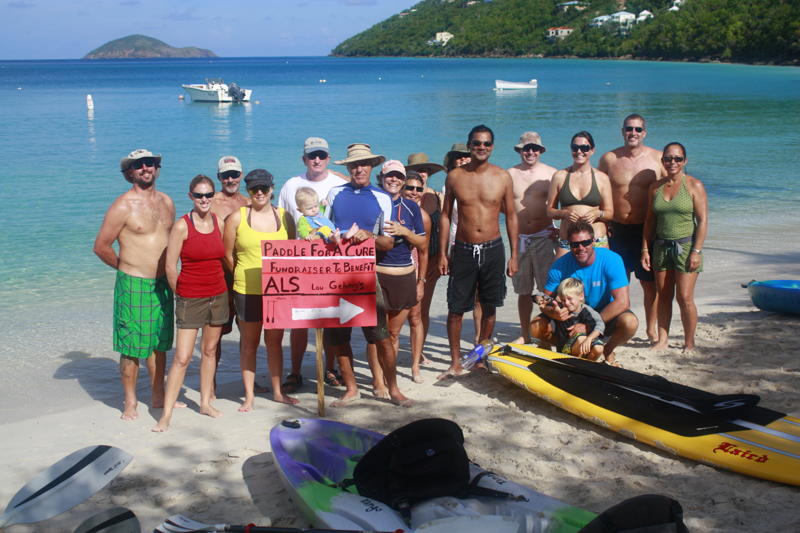 ustine Holder, Debbie Dunham, Cheryl Miller, Glenn Higgins and Lorena Freyn.
If you want to help with this cause please go to www.walktodefeatals.org
Please be generous!
SCENE……….!
Please send your invitations to public and private events to june.archibald@gmail.com or to source@viaccess.net.