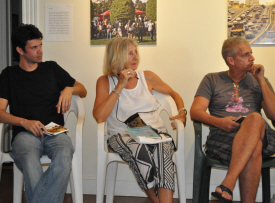 For many of the artists in the Caribbean Museum Center for the Arts' exhibition "Paradise Lost," the show references how development and commercialization of the islands has despoiled the landscape.
Nine artists from Puerto Rico, the U.S. Virgin Islands and Denmark are included in the show, which marks Virgin Islands-Puerto Rico Friendship Day and runs until Dec 2. Exhibition curator Monica Marin hosted a panel discussion with all but one of the artists Saturday, and no punches were pulled.
"We all want to show how this view of paradise has been tainted by progressive development on the islands," said Jason Mena, who photographed the text "Todo Es Mentira" in the sprawling San Juan metropolis. The title translates to "It is all lies."
Johanna Bermudez-Ruiz, a native of St. Croix, directed the award winning documentary "Vieques: Islands Forging Futures," explained that her project started as a "labor of love" and that she personally felt responsible to tell the true story of how the U.S. Navy's bombing practices have damaged the island of Vieques.
La Vaughn Belle, another St. Croix resident, compiled an investigative video, "Moving Pictures," that examined and reconstructed a narrative of this virgin paradise. "Paradise has become an illusion," she said.
Janet Cook-Rutnik, who lives on St. John, decided to view the project as "Paradox Found;" her multimedia work portrays how the beautiful islands are being tainted by violence and bloodshed.
Rafael Trelles wanted to explore the historical, political and economic history of Puerto Rico in his multimedia art project "A Monument to Failure," which examines how paradise has been destroyed "due to the heavy metals and petroleum deposits of big corporations," he said.
Luis Carle created a haunting photographic display of images combined of Puerto Rico, New York, and New Zeland to depict the landscape as desolate and "moon-like."
Nanna Dubois Buhl of Denmark was not present for the panel, but the artists agreed that her illustrations left a deep impression on them. She documented the importance of various native plants used by St. Croix's Maroons, or escaped slaves, to deter their recapture.
Carmen G. Mojica Martinez decided instead to view the project as "Lost Paradise" because she still is able to depict small pieces of paradise throughout her photographic display. She used analogue, 35 mm film which was later digitalized with added color — the color represents the small pieces left of paradise.
William Stelzer, an artist based in St. John, took even a bolder approach to show that paradise can still be found here. He created a hypothetical U.S. Virgin Islands' advertisement campaign that challenges the viewer to take an in-depth look at the sacred places that the islands offer. "Sacred spaces were very important to the early populations," he said, and he is trying to bring those spaces back to the present through his art.
The panel closed with an opportunity for guests to ask questions, followed by a short session where visitors were given time to explore the various displays and talk one-on-one with the artists.