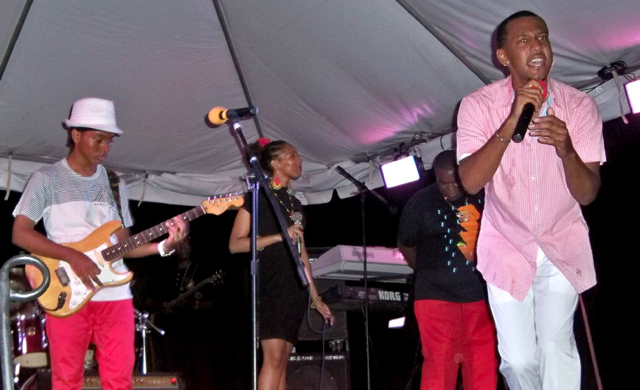 The message was love and nonviolence. Musicians and poets proclaimed it loud and clear at the Second Annual Neosoul Music Festival on St. Croix Saturday night.
About 600 people attended the festival at the Divi Carina Bay Beach Resort. The stage, located by the pool, had chairs set around it and the pool so listeners were treated to sounds and visions traveling across the water. VIPs received an even better view from the balcony surrounding the resort lobby a floor above the pool.
During the breaks between acts, guests were able to check out handmade jewelry creations by Colette, art by Stuart Rames and more. But mostly people seemed to be enjoying adult beverages and socializing Many of the women were dressed in their finest attire, talking to friends poolside or sitting at tables in the beach side cafe.
"I really enjoyed listening to Junior P," Halima Henry said. "The music has been good and the ambiance is good too."
Cheryl Francis, founder of the Stop the Bleeding Foundation, said proceeds from the festival will benefit the organization's work to reduce violence in Virgin Islands communities.
"People came and really got to feel the peace," Cheryl Francis said. "It was a successful, top-notch festival."
She also said it was "such a wonderful way to celebrate the work we do."
Krista Edwards, spokesperson for Silhouette Entertainment producers of the festival, described the event as an eclectic showcase of art.
"It is Neosoul and R&B meets roots-rock reggae," explained Edwards.
Young local talent was showcased, with the Caribbean pop band Prodigy Block doing a rendition of 'Smells Like Teen Spirit' by Nirvana. Anu Maat Davis Kahina, a 16 -year-old poet and singer, held the crowd spellbound with her verse.
The Stop the Bleeding Foundation is a non-profit organization founded in 2007 to get parents actively involved in reducing the violence in their communities and promoting peace as the cultural standard, said Francis. The group collaborates with other organizations, such as V.I. Care, Mothers Against Guns, Crime Stoppers of the Virgin Islands, schools, churches, and with youth leaders to educate children about better ways to solve their problems. Since its inception, Stop The Bleeding has involved parents through its Parent Involvement Drive programs and has become well known for its poignant and award-winning television messages urging parents to actively participate in the lives of their children.
Some of Stop the Bleeding's programs expected to benefit from funds raised include: Step for Peace, The V.I. Peace Manual, Peer-to-Peer Education, and multimedia public service announcements.
Some of the other performers were Swagga, Jahman, Junior P, Cherise King, Vance-Fungo, Stanford Joines, Divya, Black Starr Band, Hetepi, Winifred "Oyoko" and Khema "Goddess" Loving, Temisha Libert, Wanda Rosario, Voices of Praise and the Cruzan Dance Company.
Sponsors for the music festival were Hovensa, Pinnacle Services Inc., Trisission Productions, Bank of St. Croix, and ABS Printing.