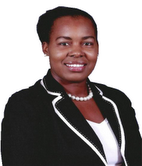 Daniela C. Roumou, a fourth-grade teacher at the Lockhart Elementary School on St. Thomas, has been chosen as the 2011 State Teacher of the Year. "On behalf of the leadership of the Department of Education, I am pleased to offer congratulations to Ms. Roumou on this very worthy achievement and her continued dedication to ensuring the success of our students in and out of the classroom," said Commissioner Dr. La Verne Terry. "Her outstanding demonstration of compassion, commitment and communication when working with her students, colleagues and parents has afforded her this recognition, and I am confident that as she continues to impart her knowledge and expertise to our students, there will be many more such recognitions for her to celebrate and of which to be very proud."
Roumou began her tenure with the department in 2005 as a fifth-grade teacher at the Ulla Muller Elementary School. She credits her decision to become a teacher to several factors: the influence of past teachers, the urgent need for effective teachers who are passionate about education, her love for children and a desire to make a difference in her community. "When I consider the factors which led me to become a teacher, I reflect on my experiences with remarkable teachers who served as positive role models in my life. They challenged, motivated and guided me to strive for excellence in every area of my life. Most importantly, they guided me to the urgency of being my own greatest critic and fan; and the need to embrace my civic responsibility to serve, protect and help my fellow man," she said.
In summarizing her philosophy on teaching Roumou said, "Teaching is an art designed for passionate and committed leaders who are guided by a common mission of empowering learners to achieve their fullest potential both academically and socially. It is a profession built on service to others by way of developing the children of today, who are really the citizens and leaders of tomorrow. Teaching is the ability to personally promote the service of education.
"My beliefs about teaching are demonstrated in my personal teaching style of actively engaging each child in their learning process. My teaching begins with a personal connection with each student In order for my students to gain knowledge of any concept, they must feel a sense of relevance; thus it is my responsibilityto provide each student with a caring and stimulating environment built on embracing their uniqueness and their individualism. Seeing a student transform from one level to a higher level and knowing I played a positive part in the process is one of the greatest rewards for me as a teacher. I tool and re-tool myself in order to empower students to be risk takers and challenge their mental and physical abilities. I make every effort to be involved in my students' activities outside of the classroom. This helps me to see each of my students as a whole child. I seek to establish a constructive rapport with the parents by going to them rather than waiting for them to come to me. I get to know my students and parents on a personal level through home visits focused on improving student achievement."
On the school level she has served on committees including the Geography Bee, Communications Arts Showcase, School Assessment Team, Family Science and was president of the Parent Teacher Association (PTA). Other committee activities included: Beta Club, Chess Club, Math Expose, Teacher Appreciation, School Improvement Team, Leadership Team, and the District and State Taskforce. She has also served as an inter- and intra-teacher mentor and inter- and intra-Promethean Board trainer.
Outside of the school she serves as an adult literacy tutor with the local Literacy Link program; and is an active victim advocate and court advocate with the family resource center for victims of domestic violence and sexual assault; organizer, manager, coach and tutor for the Achievers Little League Team; past secretary and legislative chair and Blanca Baby committee chairperson of the St. Thomas Business and Professional Women (BPW) Organization; teacher, mentor and present activities coordinator of the Family Youth Crisis Intervention Girls' Rites of Passage Program; as well as a member of many other community organizations.
"My focus has been and remains on what I can do for my community rather than what my community can do for me. Active participation in school committees is a non-negotiable for me. These experiences have afforded me additional meaningful opportunities to reach and interact with students, parents and colleagues beyond the classroom. My mantra is community service is not an option but a part of my civic duty," Roumou said.