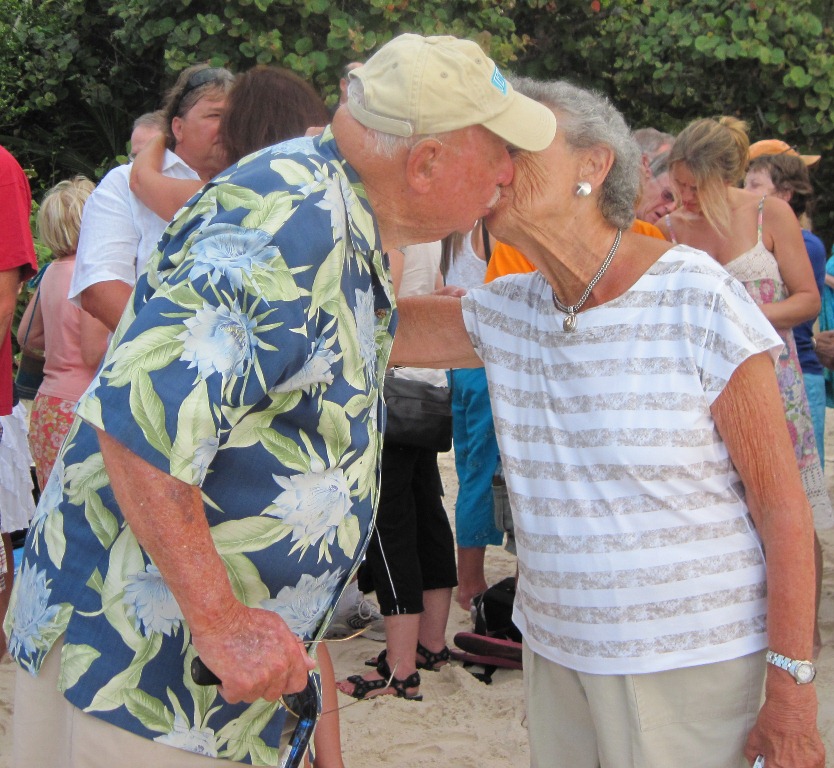 In good times and bad, the 110 couples who renewed their wedding vows at Monday's ninth annual Valentine's Day Celebration of Love ceremony, stuck together.
"We didn't think we'd have any more years," Howard Levine said, standing front and center at Trunk Bay Beach.
He and his wife, Jackie, of West Orange, N.J. and St. Thomas, were married the longest with 62 years together. Jackie Levine recently suffered a serious illness, giving rise to doubts about how many years they'd have left together.
She had advice for those married a shorter number of years.
"Stay in love," she said.
It was a rough year with lots of losses for Mark and Laurie Lind of Seabrook, N.H.
"It made us appreciate what we have," Laurie Lind said, explaining why she and her husband of 15 years decided to renew their vows.
Darrell and Carol Pusateri of Warren, Penn., had 40 years of wedded life together. She said they had their ups and downs, but their secret was just to hang in there.
Her husband took it further, commenting that unlike many younger people, he and his wife took their wedding vows seriously.
"You made a commitment…," he said.
Those 110 couples came from St. John, St. Thomas and all over the country.
Toni Lacer and Moe Chabuz had only a short drive from their St. John home to renew wedding vows made five years ago.
"It's a meaningful way to celebrate Valentine's Day," Toni Lacer said.
Bonnie Harma and John Lenich of Woodbury, Minn. are married 14 years. Like several couples, they're celebrating their anniversary on or around Valentine's Day. They got married at Caneel Bay Resort and have returned nearly every year to celebrate their Valentine's Day wedding anniversary.
Ben Henderson and Mary Underwood of Boone, N.C., will be married 25 years on Tuesday.
"We've been romancing each other all week," Henderson said.
Sandy and Chuck Kottwitz of Elmira, N.Y., honeymooned in 1973 at Cinnamon Bay Campground.
"It's nice thing to do after this many years," Sandy Kottwitz said.
The event is organized by non-denominational minister Anne Marie Porter, who officiates, and Cathy Dove. Dove spent the ceremony holding a pair of electrical plugs together, while her husband, Bill, did the same further along the series of extension cords that powered the microphone.
The power flickered off and on, but came back just in time for all the couples to pledge their love.
"I do," they said in unison.