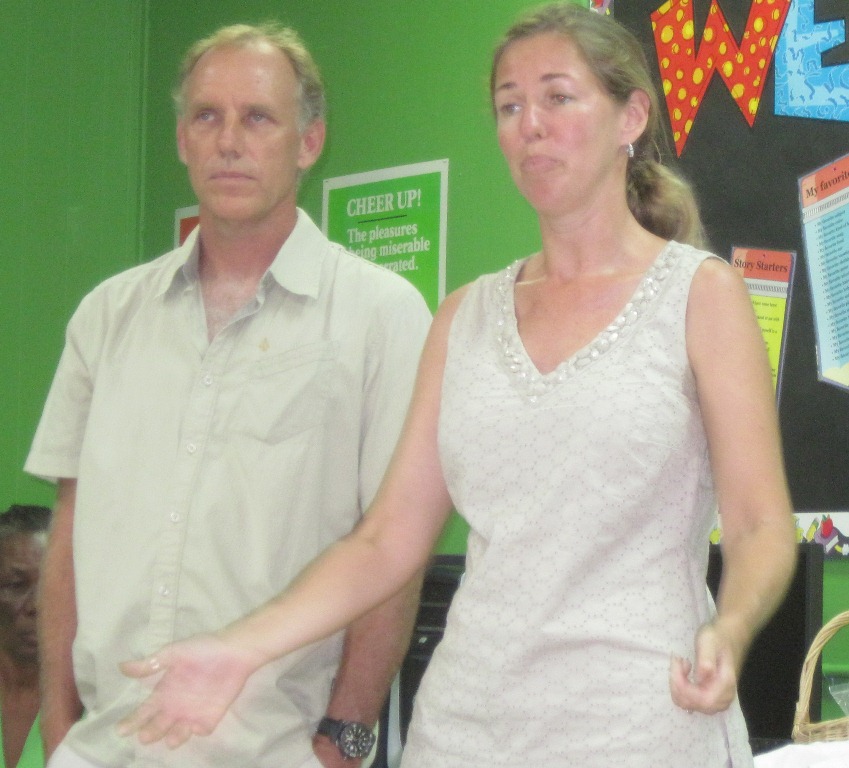 A 25-room hotel is too large for Coral Bay, said many of those who spoke Wednesday at a Planning and Natural Resources Department public hearing on a rezoning request. About 50 people, mostly Coral Bay area residents, attended the meeting held at Guy Benjamin School.
Karen and Rob Vahling, in partnership with David Witham, hope to add a third floor on to the long-closed 26,200-square-foot Voyages Restaurant building. The building is located on Route 107 across the road from the water.
They need a rezoning from W-1, waterfront pleasure, to B-2, business secondary, because the 0.6-acre lot is not large enough for a hotel in the W-1 zone. To build a hotel in the W-1 zone, the lot must be three acres.
Stuart Smith, who heads Planning's Comprehensive and Coastal Zone Division, said a variance is not possible because it can only be granted for a use not allowed under the current zoning. Since a hotel is allowed under W-1, B-2 was the best fit.
Genoveva Rodriquez, who built the adjacent Cocoloba shopping center, was incensed at the idea of a 25-room hotel because she said she built the shopping center to a scale that suits Coral Bay.
"That is overpowering the lot size," she said.
Rodriquez vowed to get a rezoning for her 1.75-acre property so she could build condos, including putting some on top of the shopping center.
Sharon McKee said the size of the project "flies in the face of what this community is all about."
"Something this big will definitely impact us," McKee said.
While Smith stressed that each rezoning request is looked at individually, several people said this rezoning would set a precedent that would change Coral Bay's character.
Others said they didn't have an issue with a hotel at that location but would prefer that it be capped at 16 rooms, the size allowed under the W-1 zoning.
However, Karen Vahling pointed out that they need the 25 rooms to turn a profit.
Rob Vahling said the sale of the property is scheduled to close Sept. 22. He said the sale is not contingent on getting the rezoning and that he didn't know what they would do if they didn't get the property rezoned.
Later, Karen Vahling said that they could do something a lot more "destructive" than a hotel.
"A casino," she said, ticking off other uses that seemed out of character for Coral Bay.
Several people who manage vacation villas or own cottages that they rent to visitors questioned the $200-a-night tab for a room at the hotel. Judy Kane said there are many, many villas charging less than that price that sit empty because there's a glut of villas on the market.
"We're a different type of business," Karen Vahling responded.
When residents expressed concerns about increased traffic, Karen Vahling said that she anticipated guests would take the VITRAN bus rather than rent cars.
This prompted David Gray to point out that luggage is not allowed on the bus.
"And is the bus running?" he said, commenting on a regular problem with Coral Bay's bus service.
Cruz Bay resident Haynes Small, noting that Witham contributed to his church, spoke in favor of the project.
"Let us try to be reasonable and share," he said.
Smith said that when Planning makes its recommendation to the Legislature, which has the final say on rezonings, it takes into account community feelings about projects.
"I put a lot of weight into what the community says," Smith said.