Reading is the key to success, Gov. John deJongh Jr. said Saturday, as most of the 58 St. John students who participated in the Governor's Summer Reading Challenge gathered at the Cruz Bay bulkhead for a party and trip on the boat Discovery to celebrate.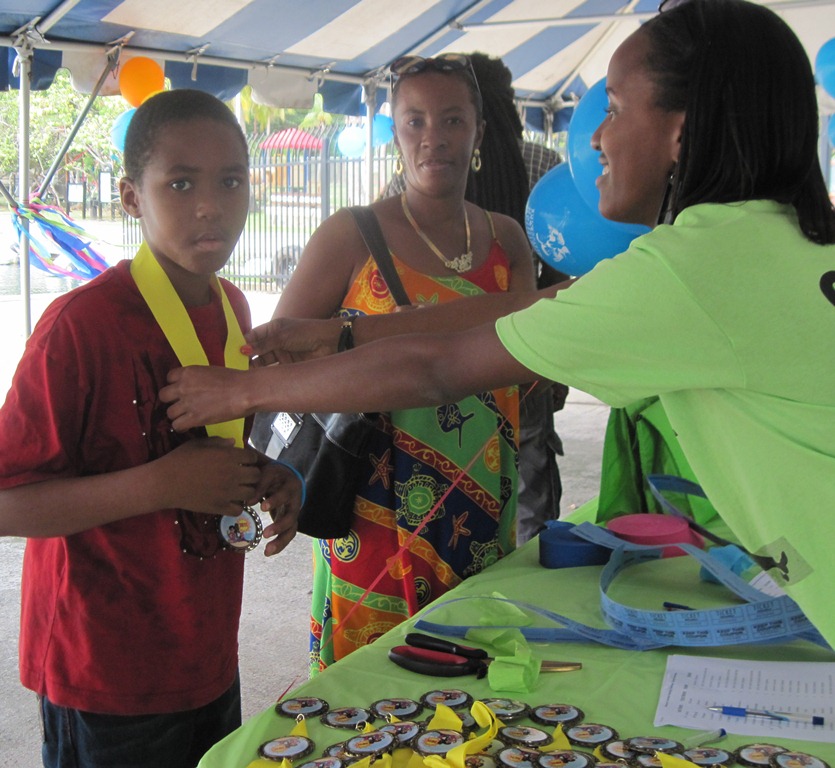 "It gives our young people a leg up," deJongh said.
The governor and Julius E. Sprauve School Assistant Principal Brenda Dalmida both pointed out that getting parents involved was one of the benefits of the program.
"And it promotes literacy," Dalmida said.
Sekoia Rogers, a special assistant to deJongh, who served as the contact person for the program, said that, in addition to improving reading skills, the program expanded the horizons of students who live on an island.
"They can learn about lots of stuff," she said.
The young readers, who got invitations to the party because they read the required five books or more, went home with medals and bright green lunch bags filled with goodies after enjoying pizza and the boat trip.
Zohar Sofer-Greer, 11, a Gifft Hill School student, said he read six books: his favorite was "Dove."
Zohar's brother, Motali Safer-Greer, 9, who also attends Gifft Hill School, said he participated because he liked the reading.
"It makes me a better reader," Motali added.
K'ijanne Alfred, 9, a Sprauve School student, said that reading helped her learn how to write. She said she read "20 or 10" books over the summer: the one she liked best concerned a girl who was teased all her life.
Danielle Joseph, 11, liked "Mocko Jumbie Dream" best.
"It was very interesting," Danielle said.
Many of the students were shy when asked about their experiences with the program, but all came up with the name of their favorite book.
"Molly Lou Melon," replied Seamus Ewell, 5; "Sharks," exclaimed Dennis Bigrigg, 6; and Rahqueen Titre, 10, liked "Jungle Boy" best.
Alice Krall, who serves as president of the Sprauve School Parent Teachers Association, said that the school won a $1,000 grant last year from the program because it had the most students participating.
Krall said that money, coupled with additional funds raised at the annual Sprauve School Gala, bought 150 lockers for the school's fourth through ninth graders, which was a big help to students who carry 30 percent of their weight in their backpacks, according to a nurse's study.