With St. John's American Legion Viggo E. Sewer Post 131 manning the barbeque grill, and the local chapter of AARP of the Virgin Islands bringing homemade side dishes and desserts, Team River Runner wrapped up its week on St. John with a party Saturday at Cinnamon Bay Campground.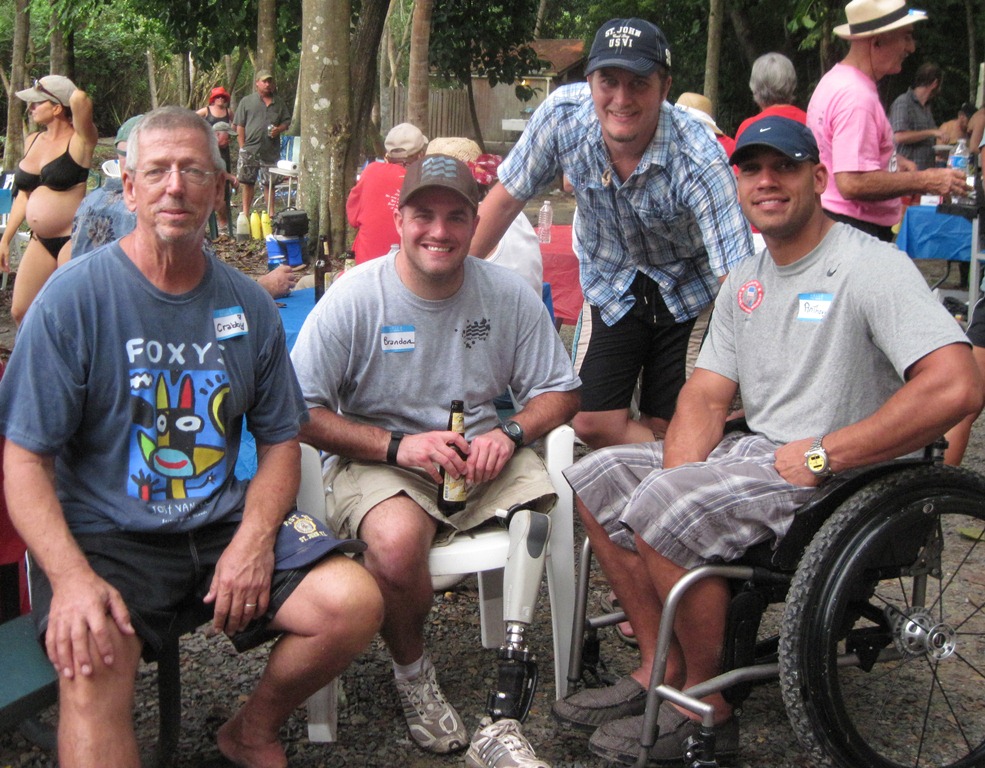 "The whole thing was amazing," Jared Bolhuis, 24, of Rockville, Md. said of the week.
In addition to camping in the cabins at Cinnamon Bay Campground, 22 wounded veterans and their partners, as well as seven staff members plus Team River Runner Director Joe Mornini, spent much of the week kayaking and snorkeling.
Some are missing one or two limbs, some have brain injuries, and several are in wheelchairs.
The logistics are challenging, but thanks to help from many St. John transportation, watersports, and boat companies, the veterans got to St. John from St. Thomas, had transportation around the island, the use of snorkel gear and kayaks.
"Everybody chipped in," American Legion Commander Doug Benton said.
While the participants had some pretty wet days, many said the rain wasn't a bother as they got out in the water.
"Kayaking was the great equalizer," Anthony Radetic, 32, of Abbeville, Ala., said.
Radetic has a spinal cord injury and can't walk, but said in the kayak, he's at the same "level" as everyone else.
Travis Strong, 34, of Golden, Col. is a double amputee, but said his good upper body strength was a big help in the kayaking.
Brian Beckwith, 30, of Pittsburgh, Penn., went on a night kayak trip where thunder and lightning added an unexpected extra. While he said the week was incredible, what counted most was the chance to bond with other veterans.
"My best times are with fellow veterans," Beckwith said.
Brandon Huff, 29, of Woodland, Calif., enjoyed the snorkeling in the warm waters near Waterlemon Cay.
"I have some really good memories," he said.
While watersports were the main event, Mornini said that the veterans were encouraged to learn leadership skills to take home with them.
This was the Washington, D.C.-based Team River Runner's fourth trip in five years to Cinnamon Bay. Mornini said they missed one year because the organization couldn't raise enough money.
Various people and organizations helped fund Team River Runner's trip. Moe Chabuz, who owns Skinny Legs Bar and Restaurant in Coral Bay, came up with more than $10,000 by asking people he passed in February's "8 Tuff Miles" to contribute.
Although the American Legion and AARP did most of the food, members of the community showed up with brownies, beer, and more.
"These guys deserve our support," Coral Bay resident Bob Klenke said.