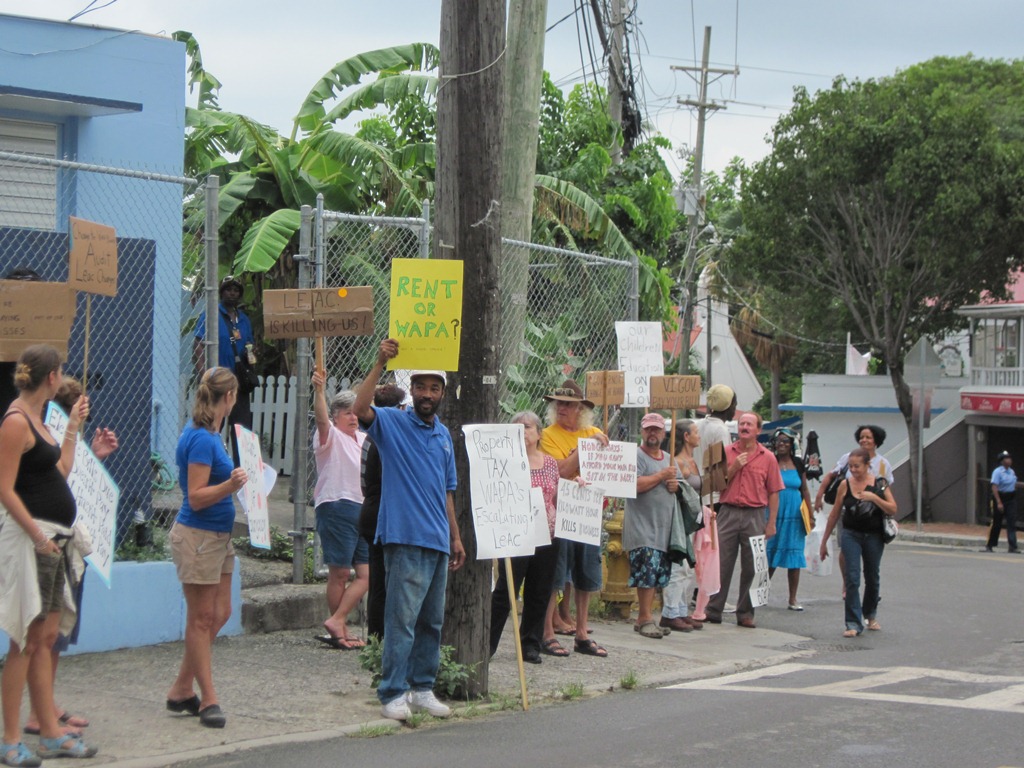 Frustration with the V.I. Water and Power Authority's rates and its use of oil to generate power topped the list of complaints from many people at Wednesday's WAPA protest on St. John. Similar protests were held on St. Thomas and St. Croix.
About four-dozen people braved rainy skies to stand with picket signs across the street from the Legislature building and the police station. When the rain began falling harder, the protesters moved into the Legislature's covered garage, but the thunder and lightning called a halt to the protest at about 12:30 p.m., organizer Paul Devine said.
As the morning progressed, people driving by in cars honked their horns in support. Others stopped to chat with the protesters.
Devine said he was pleased at the outcome mainly because the media presence will ensure that the word gets out.
Many of those at the protest would be even more pleased if their WAPA rates came down.
"I'm paying WAPA bills with my roll of pennies," Sherrie Bunge said, holding a bucket with pennies filling the bottom and carrying a candle to use if she can't pay her bill.
Bunge said she had to give up a planned trip off island to visit her grandchildren because all her money went to pay the Levelized Energy Adjustment Clause on her WAPA bill.
"I can't even afford food," she said.
Alphonso Queeley carried a sign that said "Rent or WAPA." He said his bill was $400 a month. He said four people lived in his house and that he did not have air conditioning.
Others at the protest told of electric bills that went from $200 a month to $500 a month in a two-year span.
"And it's going up," Joanna Wheatley said.
Albert Willis carried a sign that said "Hodge said if you can't afford your WAPA bill, sit in the dark."
"It's ruining businesses," he said of high electricity rates.
Frank Cummings, who owns a company that takes people on underwater Snuba tours, explained further. He said that because of high electricity prices, he now pays more to fill his air tanks.
Gary Emmons wanted to know why WAPA doesn't cut service to government departments that don't pay their WAPA bills.
"If I don't pay the bill, I'm turned off," he said.
K.O. Joseph, who owns Baked in the Sun Bakery, carried a sign that said "Declare a State of Emergency." She said her electric bill is $3,800 a month, a figure that's imposing a serious financial hardship on the business because she can't raise prices on her products.
"How much can you pay for a bagel," she said, noting that there is only so much her customers will pay for her products.
Joseph and others pointed out that the territory pays the highest electrical rates in the country.
Gary Ray put the figure at 12 cents per kilowatt hour (kwh) on the mainland versus 47 cents per kwh in the Virgin Islands.
"That's three and a half to four times what we should be paying," he said.
Others at the protest said they wanted a WAPA board with the technical skills to pursue alternative energy.