St. John resident Eric Lambert, 61, was out for a solo Sunday dive off Dog Island and went missing. His friends on board the Swordmaster III could not locate the diver when he was ready to be picked up.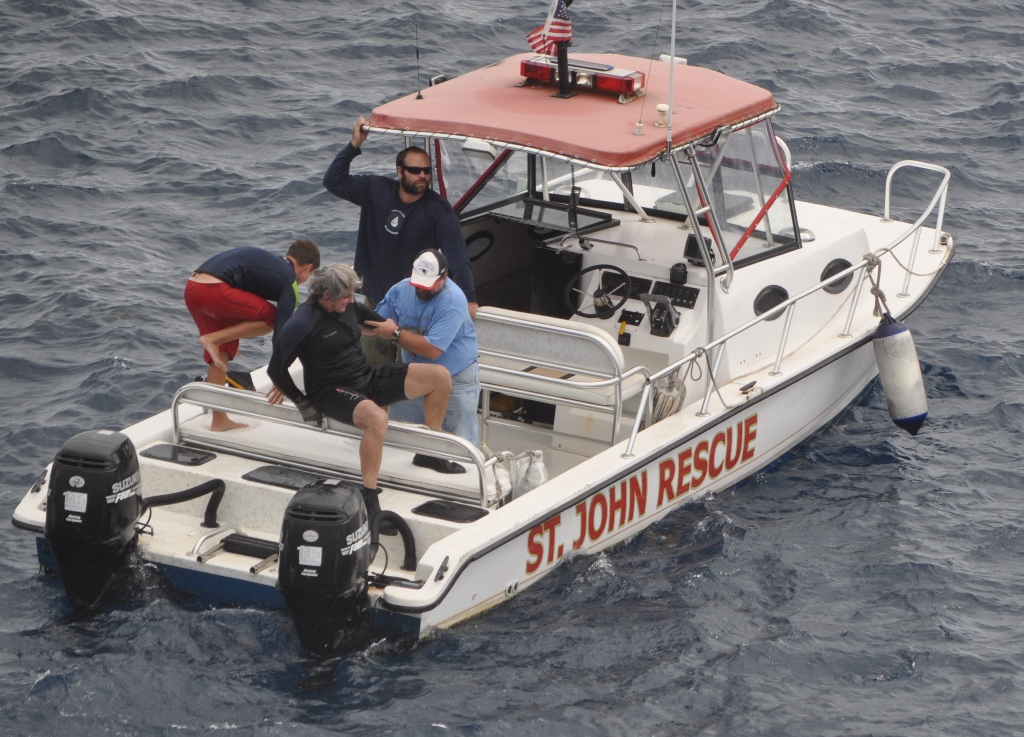 Three hours later, the U.S. Coast Guard, St. John Rescue, and V.I. National Park, assisted in rescuing Lambert, who had drifted from Dog Island to St. John's south side.
"I am very grateful," he said, adding that he plans to make a donation to St. John Rescue.
Lambert, a construction contractor, called for a pickup around 10:30 a.m. after a half hour spent diving for lobsters. His friends heard the whistle, but when they headed in his direction, Lambert said, they lost sight of him in Sunday's rough seas.
"They went roaring by about 30 feet away," Lambert said.
Lambert said he thought they'd be right back, so he treaded water. They didn't return, so he decided to tread water toward St. John. However, the current was so strong it pushed him off the island's south shore and he couldn't make it to shore.
"After an hour my legs started cramping up," he said.
As he drifted off St. John, he picked out landmarks; first, Chocolate Hole and then Bovocap Point. When a sailboat passed him about 200 yards away, he blew his whistle, but received no response. Cape Air and LIAT planes flew overhead, and a powerboat also missed him, by about 20 feet; he waved his lobster snare at the boat, but also failed to get a response.
About a half hour later, he heard the "chop, chop" of a helicopter. Lambert said the helicopter made a pass all along St. John south shore to Ram Head. On its second pass, the crew spotted him, and boats from St. John Rescue, the park, and the Coast Guard soon followed. St. John Rescue pulled him out of the water off St. John's Kline Bay, directly east of Dog Island.
Unbeknownst to Lambert, St. John Rescue had already sent a diver down into the water where the friends on board the Swordmaster III last saw him.
"About 60 feet down," Bob Malacarne of St. John Rescue said.
According to a Coast Guard press release issued Monday, Lambert drifted 1.5 miles southeast of Dog Island. Dog Island is adjacent to Great St. James, a larger island that sits between St. John and St. Thomas.
"This rescue was possible thanks to successful coordination between the Coast Guard and multiple local agencies such as St. John Rescue and St. John Park Services," Petty Officer 2nd Class Chris Harper, Sector San Juan operation unit controllersaid in the press release. "They remained vigilant throughout the search and offered their services and responded rapidly upon the Coast Guard helicopter spotting the diver."
The Coast Guard indicated it received the call at 11:06 a.m., about a half hour after Lambert said he called for pick up. The Coast Guard helicopter crew located him Sunday at approximately 1.30 p.m. floating with the assistance of his diving buoyancy compensator and a yellow inflatable signaling device.
The Coast Guard delivered the following advice for divers:
Never dive by yourself.
Ensure you have a dive plan and a diving "buddy."
File a float plan with a family member or friend. If you decide to deviate from your original intended plan, notify your emergency contact immediately.
Check your dive equipment carefully and ensure that equipment functions correctly.
Mark the area in which you are diving with a dive flag and a light when divers are in the water.
Know the signs and symptoms of heat exhaustion, hypothermia and dehydration, as well as procedures for emergency treatment.
Check local weather conditions before diving.
Taking basic safety precautions while diving will increase your chance of surviving a potential diving accident.
Boat operators should be alert and aware of dive flags.
If you have not been SCUBA diving in the past year, please ensure you are physically capable of handling ocean conditions before diving.
Divers should have proper diving signaling equipment in case of a distress.