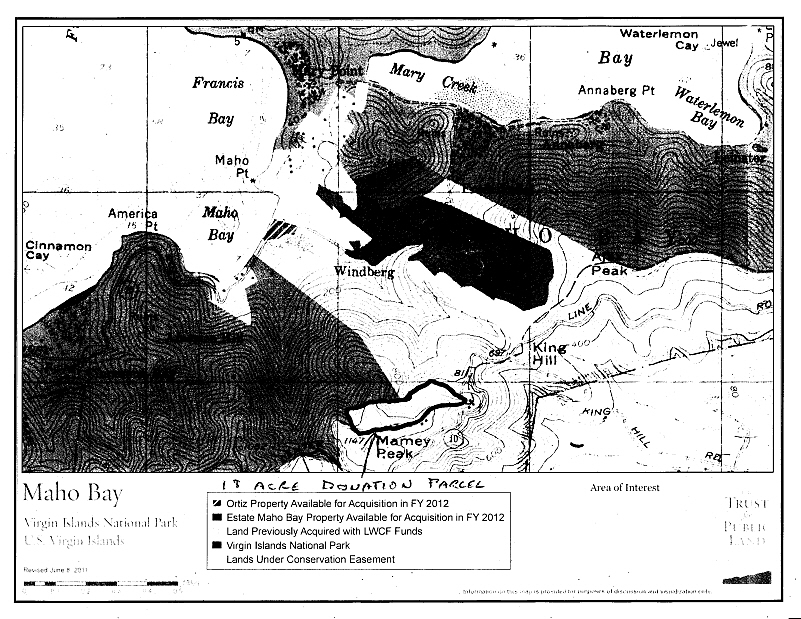 Thanks to a donation by a foundation that wants to remain anonymous, V.I. National Park on St. John now owns 18 acres at Mamey Peak that was part of the Harvey Monroe Marsh estate. The land was an inholding and owned by Marsh's heirs and is located above Maho Bay.
"This is the largest contribution in quite a few years," John Garrison, area director for the Trust for Public Land, said Friday at a Rotary Club of St. John meeting held Friday at the Westin Resort and Villas Beach Café.
The trust forged the deal, and Garrison put the value of the land at $9 million.
The property includes all the land on the north side of Mamey Peak Road. The south side is developed with numerous houses. Garrison said the donated land's residential zoning means that perhaps three dozen houses could have been built there.
Rafe Boulon, chief of resource management at the park, said the donation protects the entire upper part of the watershed.
"It's all right on top of a couple of guts that come down into Maho Bay," Boulon said.
He said the land is steep, and if it was developed, erosion sediment could have run down into the bay.
Sen. Craig Barshinger lives at Mamey Peak. He said he was pleased not only because it helps preserve his neighborhood but because it's important to preserve the island's ridge lines.
"It gives the sense to visitors and locals of a pristine environment," he said.
Mary Eileen Haim also lives at Mamey Peak. She was delighted to hear the news since she said she and other neighbors worried that someone would build huge houses on that land.
"And it means that when you're at Maho Bay, you will never see houses," Haim said.
Garrison said work continues on the acquisition of 1,400 acres at Castle Nugent on St. Croix that includes four miles of shoreline with pristine fringing reefs. The property is home to pre-Columbian and colonial artifacts.
"It's going to be St. Croix's answer to V.I. National Park. St. Croix badly needs the economic stimulus," he said.
Garrison spoke about other recent acquisitions that will eventually be turned over to the park when it has funding. The cornerstone was the 419 acres at Maho Bay that the Trust is in the midst of conveying to the park.
Other deals include an acre at Maho Bay owned by the late Roy Penn and three acres at Maho Bay now in use as a park parking lot.
On the bad news front, Garrison said he's no longer in negotiations with the Giri Giri Corp. to buy the 14 waterfront acres on which Maho Bay Camps sits. He said he couldn't say why.
"But things could change. It's a dynamic situation," he said.
The campground's original 36-year lease was set to run out Jan. 31, 2012, but owner Stanley Selengut got a six-month extension until July 2012 so he wouldn't have to close up shop in the middle of the busy winter season. The campground was taking reservations only until May 2012 to give it time to shut down operations before the lease ended. In November, it got a one-year extension, which will keep the campground open through June 2013.
In Rotary news, President Bruce Munro said the club is welcoming new members. If you're interested, call him at 776-6674.