Nathaniel Ramos of Puerto Rico dove into the waters at Frederiksted Pier and quickly got into the smooth rhythmic stroke that propelled him to victory in the Dolphins Swim Team's 8th Annual Sea Swim.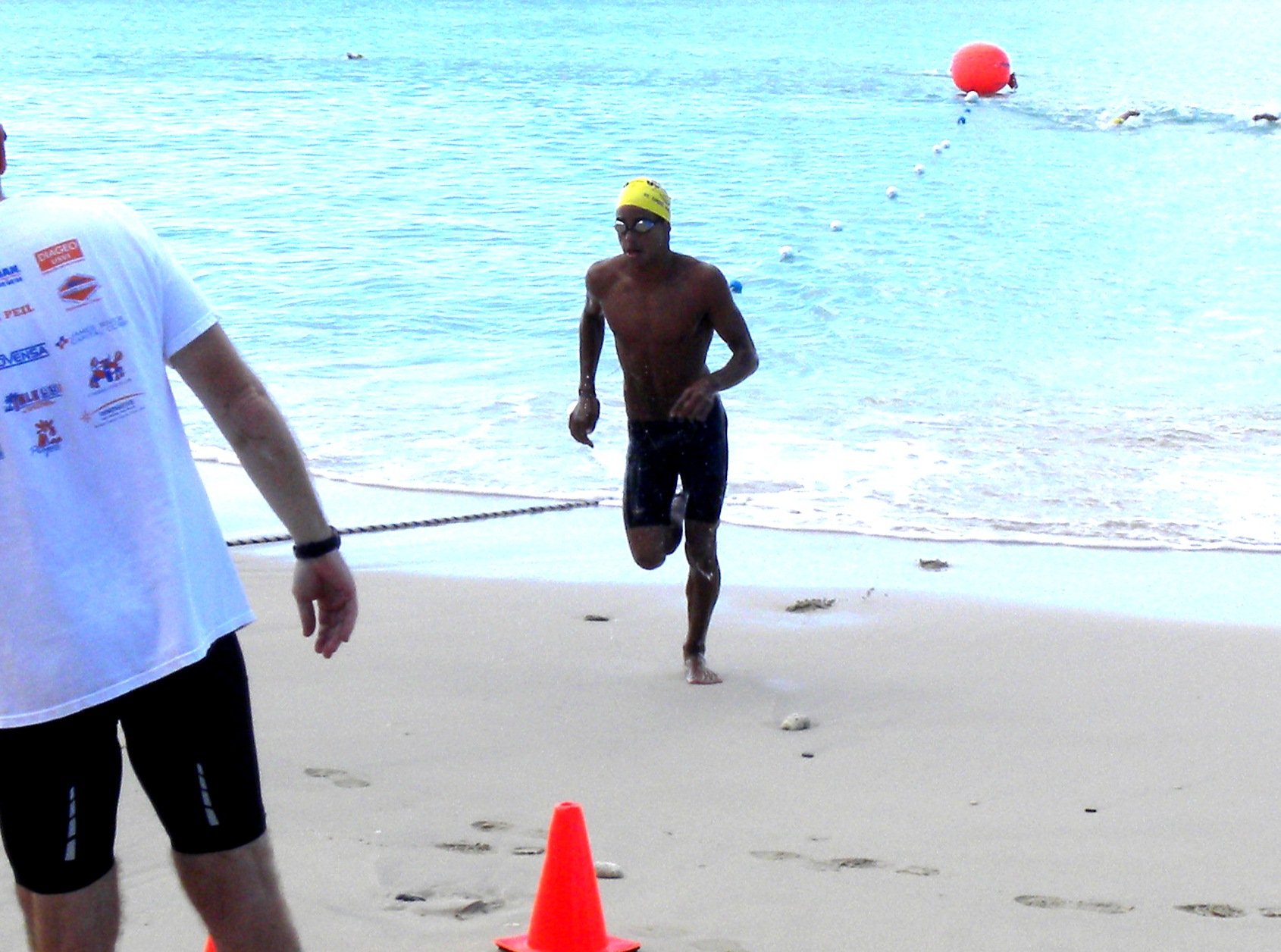 A 17-year-old Turabo University of Puerto Rico student, Ramos was first out of the water at the Rainbow Beach, and ran across the finish line in a not too shabby time of 21:52 for the one mile swim.
Betsmara Cruz completed a Puerto Rico sweep when she was the first female swimmer to cross the finish line in a time of 22:49.
Betsmara, a 23-year-old recent graduate of Catholic University, said that she was using the Sea Swim as part of a training regimen that she hopes will help her qualify to represent her country in the 800 freestyle at the Summer Olympics in London this year.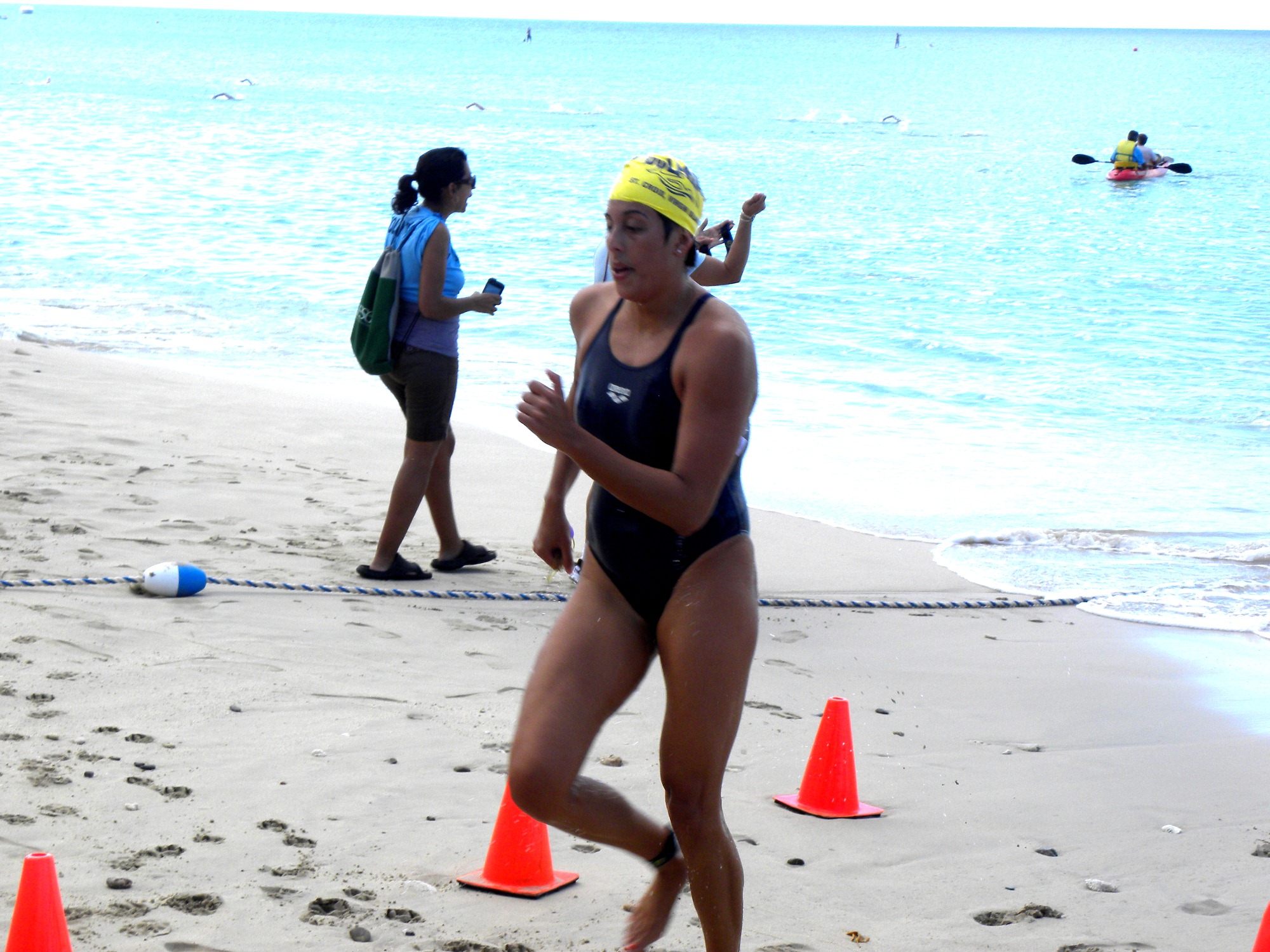 Broken down into five age groups and two categories of fins and no fins swimming, 130 swimmers jumped from the pier promptly at 11:00 a.m. The groups were 12 and under, 13 to 17, 18 to 25, 26 to 49, and 50 and over. Among this year's swimmers were teams from Montclair State in New Jersey and Assumption College in Massachusetts. According to Sea Swim Chairperson Jodie Lawaetz-Mays, Duke University, which was also training on island, had to leave prior to the event.
The dolphins swim team led the local contingent of swimmers, and Bryson Mays represented the Dolphins well with his second place showing in this year's competition.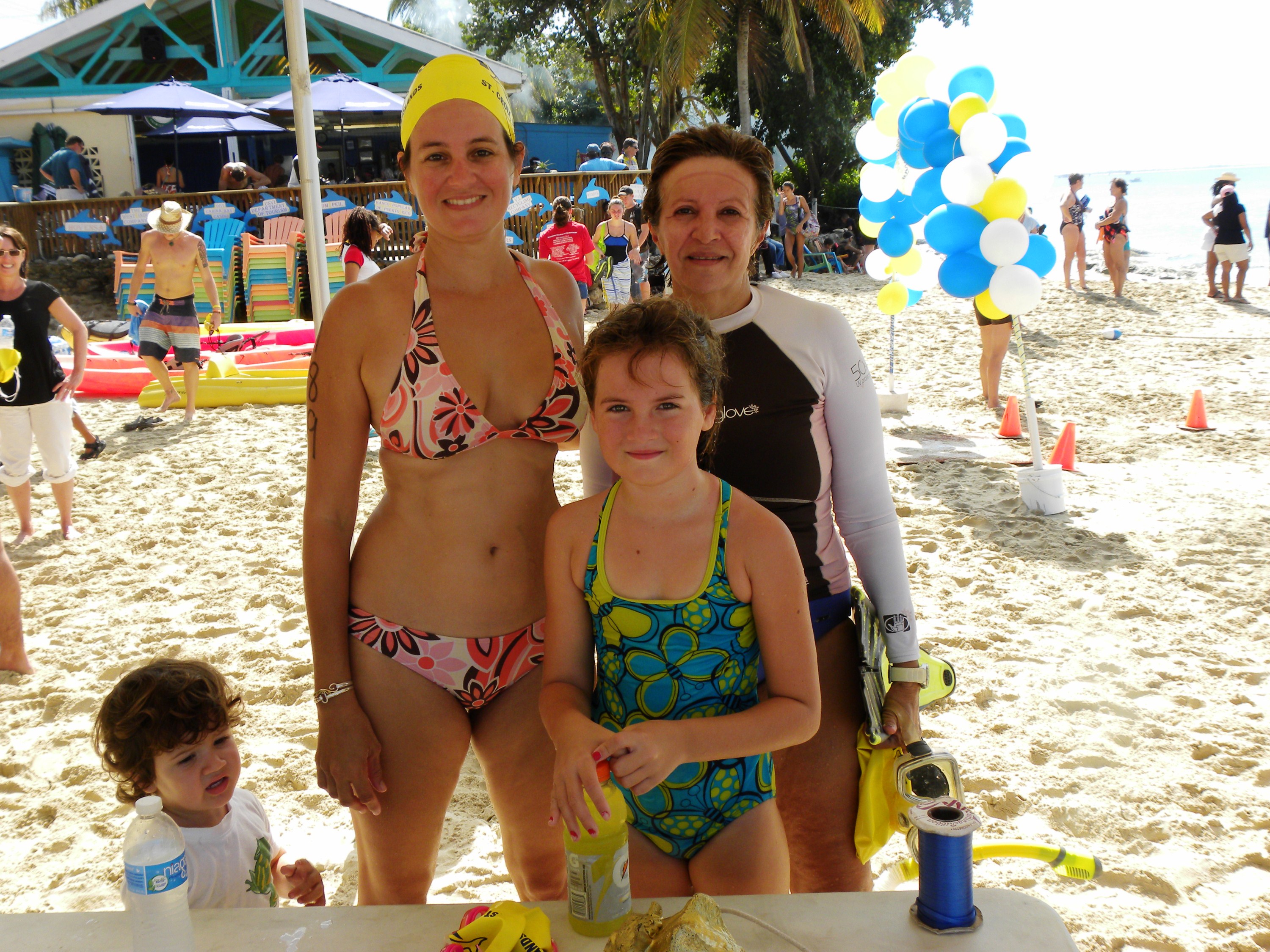 Another local team amazingly represented three generations of swimmers: grandmother, Leonor Gillette, her daughter, Alexandra Mcstay, and grand-daughter, Aislin Mcstay, have been partaking in the swim for the past four years. Leonor, retired, was a teacher at the Educational Complex. Alexandra, following in her mom's footsteps, is currently teaching in the public school system.
"This was a good meet", said Chairperson Lawaetz-Mays. "We were able to raise over $30,000 through sponsorships and donations. This is one of our many fund raisers that helps to keep our due low."
The day finished with a barbecue on the beach and the awards presentation.
Final results and times of the Dolphins one mile Sea Swim: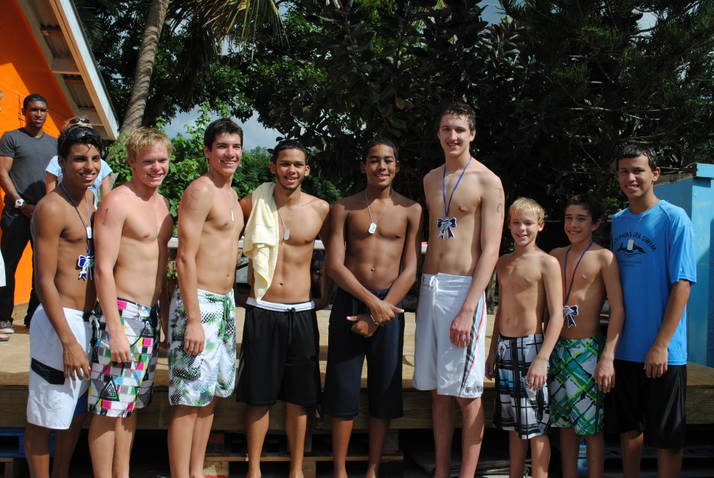 Overall Male Finishers Age
1 21:52 Nathaniel Ramos 17
2 22:12 Bryson Mays 17
3 22:13 Gustavo Castro 16
4 22:43 Victor Gaud 15
5 23:03 Ramon Delleguas 17
6 23:34 Niko Stines 14
7 23:47 Joseph Berry 19
8 23:53 Matthew Mays 13
9 23:55 Nicholas Dascher 12
10 24:07:00 Jean Carlos Pantojas 15
11 24:14:00 Stuart Cromarty 47
12 24:17:00 Zakarias Westerberg 20
13 25:00:00 Tony Hendricks 14
14 25:26:00 Michail Volski 21
15 25:29:00 Webster Bozzo 12
16 25:32:00 Jonathan Thomas 12
17 25:33:00 Adriel Sanes 13
18 27:01:00 Sean French 22
19 27:09:00 Cory Munro 19
20 27:16:00 Thomas Long 21
21 27:26:00 Ricardo Gonzalez 16
22 27:41:00 Arland Macasieb 36
23 28:00:00 Kevin Santos 15
24 28:13:00 Alex Lewit 15
25 29:10:00 Kellen Hood 27
26 29:15:00 Micheal Adams 20
27 29:27:00 Frank McQuiggan 63
28 29:34:00 Donny Keenan 21
29 29:51:00 Hector Rodriguez 17
30 30:53:00 Tyler Meller 18
31 31:00:00 Victor Torres 16
32 31:58:00 Erik Williams 15
33 32:31:00 Jason Gleason 37
34 32:39:00 Richard Sang 18
35 32:46:00 Tucker Brown 26
36 35:27:00 Scott Fricks 49
37 35:36:00 Anton Kuipers 40
38 37:38:00 Raymond Lutz 58
39 38:48:00 Ahmed Abdelaal 26
40 38:49:00 Kenny Wilson 12
41 39:55:00 Sterling Gaston 16
42 40:01:00 William Thomas 63
43 40:10:00 Omer Erselcuk 42
44 41:02:00 James Whitehurst 64
45 42:54:00 Brian McLaughlin 52
46 43:41:00 Joe Holt 60
47 44:08:00 David Ziemer 41
48 44:23:00 Ed Statts 77
49 47:12:00 Lloydstill Alexander 52
50 48:34:00 Scot Mchain 44
51 50:56:00 Larry Williams 69
52 54:34:00 Angelo Galiber SR MD 51
53 1:04:22 Antonio Lewit 12
54 Ryan Waren DNF
Overall Female Finishers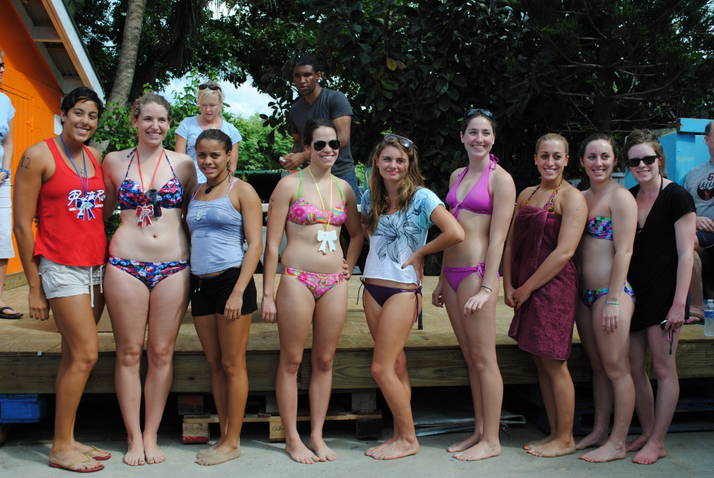 1 22:49 Betsmara Cruz 23
2 24:07:00 Monique Haney 19
3 24:26:00 Gabriela Oquendo 15
4 25:02:00 Kerry Silva 21
5 25:31:00 Caylee Watson 17
6 26:56:00 Carly Eckles 19
7 27:22:00 Alexandra Golden 21
8 27:23:00 Kait Owen 21
9 27:24:00 Jen Ryan 20
10 27:24:00 Maureen Quirk 19
11 27:26:00 Kelly Abner 21
12 27:27:00 Jamaris Washshah 14
13 27:28:00 Chole Hayden 12
14 27:28:00 Tiy Gozalez 14
15 27:32:00 Amanda Guy 20
16 27:38:00 Katherine Medeiros 18
17 27:38:00 Danielle Tagarelis 18
18 27:39:00 Jillian Burke 20
19 27:54:00 Meaghan Shea 19
20 27:55:00 Sarah Jane Pucci 18
21 27:55:00 Kelsie Donahue 19
22 28:04:00 Christa Bodemann 19
23 28:12:00 Catherine Milton 43
24 28:15:00 Samantha Kruger 18
25 28:15:00 Elise Prayson 18
26 28:17:00 Katie Huling 19
27 28:23:00 Catherine Humbert-O'Kane 18
28 28:27:00 Brienne Von Rosendahl 24
29 29:25:00 Rachel Pellegrine 20
30 29:35:00 Nicole Stantial 19
31 29:48:00 Courtney Hyman 20
32 29:48:00 Jacqueline Ubhaus 20
33 29:49:00 Kathleen French 18
34 29:53:00 Jacklyn Moe 20
35 30:48:00 Lauren Uckar 21
36 32:34:00 Victoria Bischoff 19
37 33:04:00 Ashley Vallone 20
38 33:05:00 Tayler Isakson 20
39 33:05:00 Maria Vira 20
40 33:21:00 Christie Fries 23
41 34:04:00 Amanda Weber 24
42 34:36:00 Laura Hood 24
43 34:58:00 Gabrielle Quinones 22
44 35:02:00 Jessica Jospeh 18
45 35:34:00 Carol Murphy 52
46 36:22:00 Clada Monteith 53
47 36:53:00 Kerianne Lamontagne 21
48 36:55:00 Margaret Colman 18
49 37:12:00 Kaitlyn Murphy 19
50 38:29:00 Kelly Kuipers 42
51 39:53:00 Emilly Shalkowski 41
52 40:05:00 Mallarie Gleason 25
53 42:40:00 Lindsay Kammerzelt 33
54 43:39:00 Janice Williams 68
55 46:51:00 Julie Sommer 33
56 47:07:00 Jennifer Andrews 38
57 47:25:00 Julie Eckard 39
58 52:29:00 Cynthia Whitehurst 56
59 Jessica Alloyo DNF
FEMALE AGE GROUP: 12 and Under
* record 1 Chole Hayden 27:28:00 12
MALE AGE GROUP: 12 and Under
*record 1 Nicholas Dascher 23:55:00 12
2 Webster Bozzo 25:29:00 12
3 Jonathan Thomas 25:32:00 12
4 Kenny Wilson 38:49:00 12
5 Antonio Lewit 1:04:22 12
6 Ryan Warren DNF 11
FEMALE AGE GROUP: 13 – 17
1 Gabriela Oquendo 24:26:00 15
2 Caylee Watson 25:31:00 17
3 Jamaris Washshah 27:27:00 14
4 Tiy Gozalez 27:28:00 14
MALE AGE GROUP: 13 – 17
1 Nathaniel Ramos 21:52 17
2 Bryson Mays 22:12 17
3 Gustavo Castro 22:13 16
4 Victor Gaud 22:43 15
5 Ramon Delleguas 23:03 17
6 Niko Stines 23:34 14
7 Matthew Mays 23:53 13
8 Jean Carlos Pantojas 24:07:00 15
9 Tony Hendricks 25:00:00 14
10 Adriel Sanes 25:33:00 13
11 Ricardo Gonzalez 27:26:00 16
12 Kevin Santos 28:00:00 15
13 Alex Lewit 28:13:00 15
14 Hector Rodriguez 29:51:00 17
15 Victor Torres 31:00:00 16
16 Erik Williams 31:58:00 15
17 Sterling Gaston 39:55:00 16
FEMALE AGE GROUP: 18 – 25
1 Betsmara Cruz 22:49 23
2 Monique Haney 24:07:00 19
3 Kerry Silva 25:02:00 21
4 Carly Eckles 26:56:00 19
5 Alexandra Golden 27:22:00 21
6 Kait Owen 27:23:00 21
7 Jen Ryan 27:24:00 20
8 Maureen Quirk 27:24:00 19
9 Kelly Abner 27:26:00 21
10 Amanda Guy 27:32:00 20
11 Katherine Medeiros 27:38:00 18
12 Danielle Tagarelis 27:38:00 18
13 Jillian Burke 27:39:00 20
14 Meaghan Shea 27:54:00 19
15 Sarah Jane Pucci 27:55:00 18
16 Kelsie Donahue 27:55:00 19
17 Christa Bodemann 28:04:00 19
18 Samantha Kruger 28:15:00 18
18 Elise Prayson 28:15:00 18
20 Katie Huling 28:17:00 19
21 Catherine Humbert-O'Kane 28:23:00 18
22 Brienne Von Rosendahl 28:27:00 24
23 Rachel Pellegrine 29:25:00 20
24 Nicole Stantial 29:35:00 19
25 Courtney Hyman 29:48:00 20
26 Jacqueline Ubhaus 29:48:00 20
27 Kathleen French 29:49:00 18
28 Jacklyn Moe 29:53:00 20
29 Lauren Uckar 30:48:00 21
30 Victoria Bischoff 32:34:00 19
31 Ashley Vallone 33:04:00 20
32 Tayler Isakson 33:05:00 20
33 Maria Vira 33:05:00 20
34 Christie Fries 33:21:00 23
35 Amanda Weber 34:04:00 24
36 Laura Hood 34:36:00 24
37 Gabrielle Quinones 34:58:00 22
38 Jessica Jospeh 35:02:00 18
39 Kerianne Lamontagne 36:53:00 21
40 Margaret Colman 36:55:00 18
41 Kaitlyn Murphy 37:12:00 19
42 Mallarie Gleason 40:05:00 25
MALE AGE GROUP: 18 – 25
1 Joseph Berry 23:47 19
2 Zakarias Westerberg 24:17:00 20
3 Michail Volski 25:26:00 21
4 Sean French 27:01:00 22
5 Cory Munro 27:09:00 19
6 Thomas Long 27:16:00 21
7 Micheal Adams 29:15:00 20
8 Donny Keenan 29:34:00 21
9 Tyler Meller 30:53:00 18
10 Richard Sang 32:39:00 18
FEMALE AGE GROUP: 26 – 49
1 Catherine Milton 28:12:00 43
2 Kelly Kuipers 38:29:00 42
3 Emilly Shalkowski 39:53:00 41
4 Lindsay Kammerzelt 42:40:00 33
5 Julie Sommer 46:51:00 33
6 Jennifer Andrews 47:07:00 38
7 Julie Eckard 47:25:00 39
MALE AGE GROUP: 26 – 49
1 Stuart Cromarty 24:14:00 47
2 Arland Macasieb 27:41:00 36
3 Kellen Hood 29:10:00 27
4 Jason Gleason 32:31:00 37
5 Tucker Brown 32:46:00 26
6 Scott Fricks 35:27:00 49
7 Anton Kuipers 35:36:00 40
8 Ahmed Abdelaal 38:48:00 26
9 Omer Erselcuk 40:10:00 42
10 David Ziemer 44:08:00 41
11 Scott Mchain 48:34:00 44
FEMALE AGE GROUP: 50 and Over
1 Carol Murphy 35:34:00
2 Clada Monteith 36:22:00
3 Janice Williams 43:39:00
4 Cynthia Whitehurst 52:29:00
MALE AGE GROUP: 50 and Over
*record 1 Frank McQuiggan 29:27:00 63
2 Raymond Lutz 37:38:00 58
3 William Thomas 40:01:00 63
4 James Whitehurst 41:02:00 64
5 Brian McLaughlin 42:54:00 52
6 Joel Holt 43:41:00 60
7 Ed Statts 44:23:00 77
8 Lloydstill Alexander 47:12:00 52
9 Larry Williams 50:56:00 69
10 Angelo Galiber SR 54:34:00 51
THE ST. CROIX DOLPHINS SEA SWIM (Fins),FREDERIKSTED, ST.CROIX, VIRGIN ISLANDS – 1 MILE – 8-Jan-12
Timing by Project St.Croix/V.I.Pace Runners
11 and Over Male
1 Noel Sanes Kingshill, VI 23:44 41
2 Eric Ruparelia Christiansted, VI 27:20:00 11
3 Henrik Ruparelia Christiansted, VI 41:04:00 11
4 Eldon Lambert Christiansted, VI 50:46:00 59
5 Brent Williams Wappinger Falls DNC 71
11 and Over Female
1 Amanda Ruparelia Christiansted, VI 34:20:00 11
2 Melinda Moran Christiansted, VI 36:58:00 40
3 Alexandra Mcstay Christiansted, VI 38:39:00 33
4 Cathy Mares Christiansted, VI 40:59:00 62
5 Shannon Tonin Christiansted, VI 44:25:00 48
6 Leonor Gillette Christiansted, VI 45:29:00 60
7 Sarah Surdyke Kingshill, VI 48:53:00 33
FEMALE AGE GROUP 10 and Under
1 Nathalie Kuipers Christiansted, VI 34:33:00 9
2 Erin Andrews Christiansted, VI 46:42:00 8
3 Aislin Mcstay Christiansted, VI 47:00:00 8
4 Jayla Norman Kingshill, VI 49:41:00 10
5 Jessica Aloyo Christiansted, VI DNF 10
MALE AGE GROUP: 10 and under
1 Zack Buzzo Christiansted, VI 34:22:00 10
2 Hunter Tonin Christiansted, VI 35:38:00 9
3 Gabriel Sanes Kingshill, VI 41:14:00 10
4 Colby Moran Christiansted, VI DNF 10