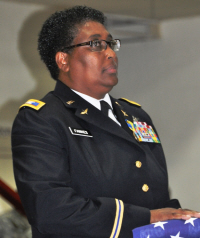 Col. Caroline F. Fawkes made history as the first female state aviation officer in the entire Army National Guard, and now after nearly 33 years of military service, 4,400 hours of accident-free flight time, and 24 consecutive months of deployment to Guantanamo Bay, Cuba, she is hanging up her flight helmet.
Sunday afternoon, more than 200 people filed into the St. Croix Central High School Gymnasium to honor Fawkes at her retirement ceremony for her dedicated service to the V.I. National Guard, in which she has served since 1979.
Speaker after speaker, the sentiment was the same: Fawkes defied many boundaries, always soaring high above expectations as she became the first female to complete one task after another.
"I want to thank her for what she has done for women in the Virgin Islands National Guard, and women as a whole – in the Army, Air Force, Navy, and Marine Corps," State Command Sgt. Maj. Mona L. Barnes said. "She's a legend in her own right."
Fawkes attended the first Officer Candidate School held in the Virgin Islands, and was the first female aide-de-camp to a general officer selected within the VING. She is also the first female Virgin Islander to become a pilot and serve in the VING, and lastly, she is the first (and only) female in the entire armed forces to pilot the C-23B Sherpa military transport aircraft.
"Thank you, Col. Fawkes," Adjutant General Renaldo Rivera said. "Thank you [flying] in all the turbulent weather, for all the island-hopping, and for being the first in almost everything in aviation."
The mixed audience was evidence of the type of impression Fawkes made on the community. National Guardsmen, retirees, family members, and current and former senators filled the seats. A few people even flew in from around the globe to honor her.
U.S. Navy Lt. Jonathan Bryan served with her in Guantanamo Bay, Cuba, where Fawkes served from 2009 to 2011, first as the director of Joint Visitor's Bureau, and then as the director of plans and operations for the Joint Task Force.
"I'm so honored that she invited me – in 10 years serving in the Navy, the best leadership I've ever seen is from her," Bryan said.
Bryan presented Fawkes with an aviation picture personally signed by the remaining few Tuskegee Airmen, whom he met at a convention, and he read aloud the inscription signed to her.
" 'Our sister Caroline, you are an example to your homeland and those who love and respect you. Thanks for being the first – signed, Tuskegee Airmen,'" Byran read.
Lt. Gov Gregory R. Francis told the audience about his time serving alongside Fawkes. Apparently he helped recruit her as a young girl after she graduated from St. Croix Central High School.
"I knew her from day one," Francis said. "She has met the test and challenge of being a military soldier, and one of the finest."
Only after receiving several gifts, and watching an impressive musical slide show displaying her career, did Fawkes grab the microphone. Her voice cracked a few times with emotion, when she gave credit to her father and mother for their love and support. Fawkes thanked dozens of people, crediting them all for being part of her career.
"Everything has a beginning and an end, and time has come to turn in my boots," Fawkes said. "Retirement is when you stop living at work, and start working at living."
Fawkes will formally retire on Jan. 31, but was presented with her final military awards, and a retirement flag, with which she conducted one final walk as an acting commander.