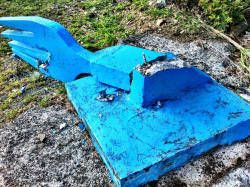 A St. John icon was knocked down late Thursday or early Friday when someone or some thing knocked over Gifft Hill Road's Fork in the Road. The concrete marker is a St. John spoof on the common directional advice to turn at the fork in the road.
The blue Fork in the Road has been in place for at least 25 years, Terry Bertolino said. Bertolino lived in the neighborhood when the Fork in the Road was built. She said a neighbor put it up as a way to let construction crews know where to turn off Gifft Hill Road to reach his house.
"It was wooden but somebody decided to make it concrete," Bertolino said.
Bertolino was shocked that it was knocked it over, but said this wasn't the first incident with the Fork in the Road. She said that some years ago, someone broke off fingers so the fork was making an obscene gesture.
Martha Toomey, who lives on that road, said her husband discovered that the Fork in the Road was on its side when he walked the dog around 6 a.m. Friday.
"It doesn't look like a car did it. It kind of looks like somebody did it on purpose," she said.
She said there are no tire tracks, no shards of glass and no pieces of steel to indicate a car went off the road into the Fork in the Road.
"I find it disquieting," she said.
Judy Chamberlain, Gifft Hill School's head of school, lives in the house adjacent to the Fork in the Road. Several years ago, workers fixing her house spiffied up the Fork in the Road with repairs and a new paint job.
She said it looks to her like a vehicle hit it because it would take tremendous force to break the fork off the base.
"I was likely hit by somebody coming out of the road," she said.
She said she heard the sound of a truck backing up the road while she was cooking dinner.
Chamberlain said a neighbor told her she came home around 11 p.m. Thursday and saw the broken fork.
She said it's too soon to say how the neighborhood will repair the Fork in the Road.