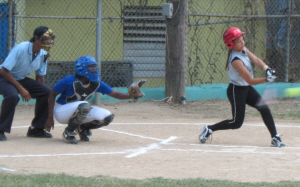 With six previous wins in their gloves, the young women from Tortola's Elmore Stoutt High School were on St. John this weekend in hopes of winning the 16th annual Ruby Rutnik Memorial Softball Tournament.
"Not want to win, we're going to win," Shereen George, 17, said.
There was no doubt in Khalisha Stoutt's mind either. The 15-year-old Elmore Stoutt student said she had faith in her team.
Elmore Stoutt faced off against St. Croix Educational Complex Friday for the first game of the three-day tournament. And those young women from St. Croix weren't going to accept defeat without a fight.
"We're trying to beat everybody," Reneah Guzman, 16, said, noting that last year, Educational Complex placed second.
Other teams expected to play include Eudora Kean High School on St. Thomas, Central High School on St. Croix and a team from Julius E. Sprauve School. A combined St. Thomas private school all star team dropped out.
Who will win won't be known until the championship game Sunday, but many of the young women planned to enjoy the weekend.
"You get to meet new people," Shenigua Kean, 18, Eudora Kean High School's scorekeeper, said as she waited with the Kean team for the tournament to start.
While the young women were focused on the game, their coaches, parents and supporters saw a bigger picture.
"It's to show them how to interact with different teams, and to get them ready for college," St. Croix Educational Complex coach Ching Ching Bermudez said.
Her fellow coach, Sherry Simmonds, saw it as an opportunity for the young women to make new friends.
Jesus Grant was sitting in the bleachers to support his daughter, Kean player Brianna Grant, 17.
"It encourages them to play better when they have a parent out there cheering," Grant said.
The cheering at the Ruby Rutnik tournament will come to an end this year, organizer Andrew Rutnik said.
He and his family started the tournament the year after his daughter, Ruby, died in a car crash while a student at American University in Washington, D.C. She was a star pitcher at Antilles School, and the tournament was organized to raise scholarship money.
"It was a way to remember Ruby and keep her spirit and memory alive," he said.
In June, Rutnik and his wife Janet lost their son Amos Rutnik in a car accident on St. John. Amos Rutnik was an integral part of the tournament and shared announcing duties with his father. With his son gone, Andy Rutnik said he and his wife found it "a little too much" to run the tournament.
He said he was thankful for all the help the community offered over the years.
"I hope the spirit of the tournament will be picked up by another group," he said.