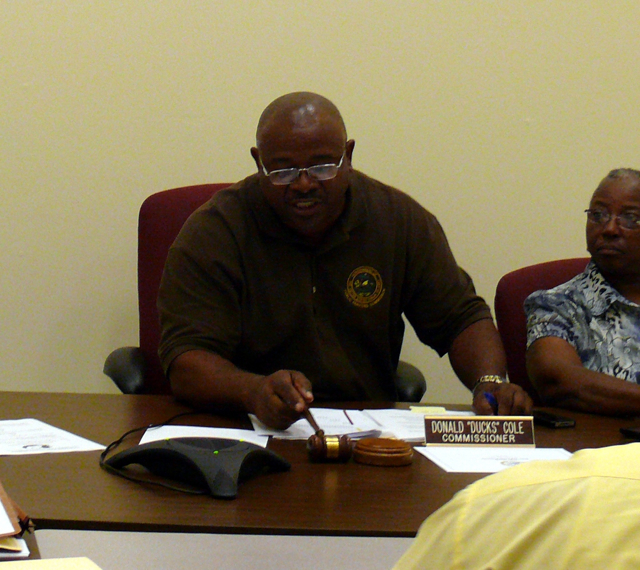 More dependable government subsidies or higher fares are needed for V.I. ferry services to be sustainable, a consultant hired by the V.I. Public Services Commission reported to the commission Wednesday, concluding subsidies are more effective.
Neither Varlack Ventures nor Transportation Services, the two companies that operate the St. Thomas-St. John ferry routes, have reached their projected rates of return, said PSC consultant Avery Williams. Varlack Ventures has turned a small profit, while Transportation Services has been losing about $240,000 per year for the past several years, he said. The difference between the two companies are complex, but one reason Transportation Services has been struggling more is it has higher debt service payments because it borrowed money to upgrade its fleet several years ago, Williams said.
Overall, both companies will need either some regular subsidy or increased rates in order to maintain the same level of service on the routes, and his research strongly suggests subsidies are the better route, Williams said.
"Most jurisdictions never actually try to recover 100 percent of their costs through fares," Williams said. "It is always some mix of government subsidies and fares that make the system sustainable. … Everybody that has tried to finance (the ferry system) 100 percent with fares has failed."
Malcolm Kirwan, a consultant to Varlack and to Transportation Services, and attorney Maria Tankenson-Hodge, the companies' legal representation, both objected to subsidies because they cannot be relied upon.
"The government has not been a reliable partner in this enterprise, and I'm sure the PSC members agree that with the current economic situation, the government is not going to be able to subsidize the ferries," Kirwan said. "Given that, the PSC is faced with actually raising rates to allow an eight percent rate of return," he said.
The PSC voted to create a docket and to assign at its next meeting a hearing examiner to look into ferry rates and subsidies.
While Varlack Ventures is up to date on paying its PSC assessments, Transportation Services has accumulated a balance of around $60,000 over the last three years, PSC accountant Claudius Moore said. The PSC voted to give Transportation Services another 90 days to pay the assessment before voting on whether to send the matter to the V.I. attorney general.
In other ferry matters, the PSC appointed St. Croix attorney Lorin Kleeger hearing examiner to consider revoking the SeaTrans ferry contract for the St. Croix-St. Thomas route. SeaTrans has had serious financial difficulties and has not run the St. Croix route regularly since its flagship vessel, the Royal Miss Belmar, ran aground in July 2011.
The PSC normally pays for such studies by making special assessments on the utilities it regulates. But with the ferry company facing financial difficulties, that approach has difficulties. With PSC resources thin and the ferry company unlikely to be able to pay much of an assessment, Kleeger suggested having a single day of hearings on St. Croix, as the island most affected by the SeaTrans ferry franchise, PSC attorney Boyd Sprehn said.
In other business, the PSC voted to direct staff to begin returning roughly $91,000 being held in escrow by the PSC in relation to disputed WAPA bills back to the ratepayers whose bills are in dispute. The move was a response to a recent V.I. Supreme Court opinion determining the PSC has no authority to resolve WAPA billing disputes, PSC attorney Tanisha Bailey-Roka said.
All votes were unanimous. Present were Chairman Donald "Ducks" Cole, Sirri Hamad, M. Thomas Jackson and Elsie Thomas-Trotman. Verne David was absent.