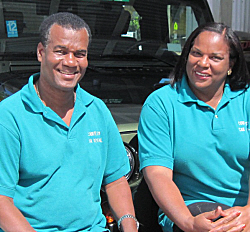 Times are tough for all St. John car rental companies and Courtesy Car Rentals is no exception. The 19-year-old company is suffering from the influx of St. Thomas-based rental cars taking the barge to St. John.
"St. Thomas can easily crush St. John with a blink of an eye," owner Greg Edward said.
Edward is all business when it comes to salvaging St. John's rental car industry. Speaking soon after Gov. John deJongh Jr. nixed the Motor Vehicle Bureau's sudden implementation of a 1968 law that put a stop to St. Thomas rentals heading to St. John, he said there was plenty of blame to go around.
And he said that some visitors book with his company, decide to rent on St. Thomas and don't cancel the Courtesy Car Rentals booking till they're on island or don't show up at all. Edward said they forfeit their $100 deposit but they also leave Courtesy with a car on his hands that he's unlikely to rent.
Courtesy, like most St. John agencies, has a small fleet. He has only 15 cars to rent. He said he and others have been asking since 1993 for an increase in the number of rental car slots for St. John. It now stands at 625 compared to 3,000 for St. Thomas and 2,000 for St. Croix.
St. Croix isn't an issue for St. John but he said that 600 to 700 of those St. Thomas-based cars come to St. John each week either by multi-day visitors or those coming for just the day. Except during the busiest times, Edward said St. John companies are left with cars sitting on their lots because of the influx of St. Thomas cars.
Edward got into the car rental business almost by happenstance. He had spent 20 years at Caneel Bay Resort as a cost controller when a Cruz Bay visitor asked him where he could rent a car. The visitor said he had tried two agencies but had no luck.
One bank and the Small Business Administration turned him down for loans.
"So I refinanced my house," he said.
The company employs five people including Edward and his wife, Josephine Edward, 45. She is the company secretary.
Edward, 52, moved to St. John when he was 17, but was back on his native St. Lucia when he met his wife. She joined him on St. John in 1990. The two are family-focused with trips to the movies on St. Thomas and to the beach with the one daughter left at home, Monique, 13. He and his wife are also parents to Gregory Jr., 21, at college in Atlanta. Edward also has two other children, Juleen, 28, who lives in Arizona, and Coreen, 25, a resident of Boston.
Although he's been on St. John for decades, he still finds the island special. He said that if it wasn't for the presence of V.I. National Park, the island would look like Miami Beach with hotels all along the North Shore.
"I believe that's why so many people keep coming back to St. John," he said.
Reach Courtesy Car Rental at 776-6650 or at the Courtesy website.