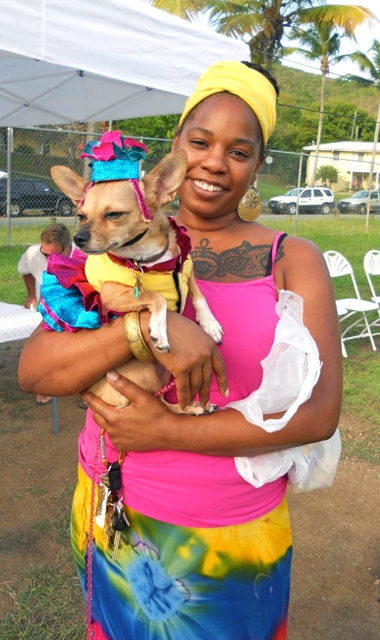 "We've been at this almost 80 years. In dog years!" joked master of ceremonies Sinbad as the 11th Annual Wagapalooza kicked off Saturday evening at the national park grounds in Cruz Bay.
It was all about the dogs as pets of every breed and age competed in categories like best costume and best trick. Nearly all dogs won a prize, but pets seemed more concerned with eating treats and pleasing the crowd as they lavished kisses and wagged tails in excitement.
About 200 people gathered to watch two dozen of man's best friends run an obstacle course, roll over and just look plain adorable. More than once speakers claimed the event was reaching toxic levels of cute as a dog named Taliah pranced around in a colorful carnival-inspired costume and another participant, Sweetie Pie, carried a basket of flowers in her mouth.
"When I got her, they were about to kill her. She had two days left, and now I see the second life she's been given," said Taliah's owner, Crystal Allen.
Like many of the dogs present, Taliah is a rescue dog from a local animal shelter. The Animal Care Center on St. John puts on the Wagapalooza event as a fundraiser to earn money for feeding, housing, medicating and caring for rescued dogs and cats.
The participating rescue dogs proved that owners don't need a purebred to love their pets as they laughed and hugged their furry friends. Judges even got a little love as puppies licked their faces during the Best Puppy Love competition and dogs jumped on Sinbad in an attempt to save him during Best Rescue Dog.
The program went off without a bark or bite. Jokes kept spectators literally falling out of their seats as dogs sniffed around meeting new canine pals. Dogs stopped to scratch their ears and roll on their backs as owners marched them around the circle of spectators.
"The best part of the night was that everybody had a lot of fun. All the dogs got along and that's the most important part," said Viky Becker, co-chairperson of the event.
The obstacle course gave dogs a minute and a half to jump through hoops, go over a seesaw and slalom through vertical poles, following treats held in owners' hands. The traditional costume contest continued to be a favorite as dogs dressed as bumblebees, a submarine and even Yoda strutted their stuff.
Now that dogs have participated in one of the most grueling competitions in the Virgin Islands, what's next?
"We're going to get some sleep and eat bacon strips in the morning," laughed Allen as Taliah waved goodbye with blue ribbons decorating her collar.
Winners:
Best Costume: Taliah, Sweetie Pie, Oda May Brown.
Best Old Timer: Contra, Dusty, Magnolia.
Best Puppy Love: Lulu, Latoya, Lucky.
Best Rescue Dog: Rosie, Wheezy, Windu.
Best Adult Handler: Magnolia, Riley, Oda May Brown.
Best Junior Handler: Charlie, Kelsey, Noah.
Best Look-a-Like: Kevin and Chloe, Windu and owner.
Best Trick: Cora, Sweetie Pie, Triton.
Best Gamblers Choice (Obstacle Course): Woody, Hannah, Rosie
Babe Award: Buster
Waga Queen: Taliah
Waga King: Woody