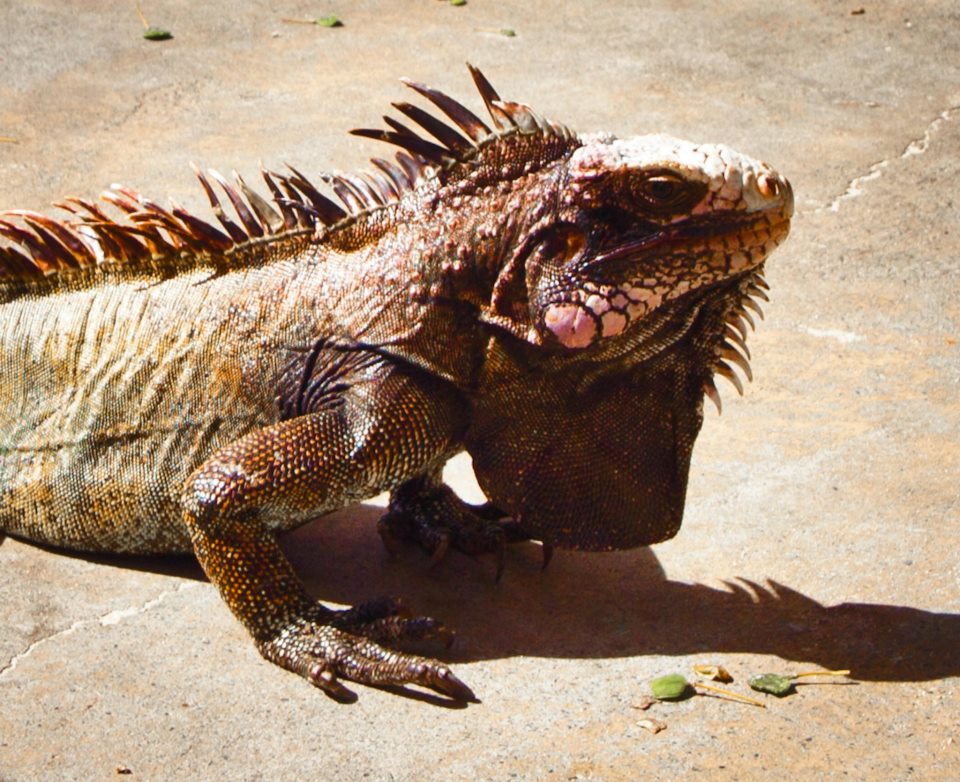 Jessica Bellas, a researcher on St. John studying iguanas, was outraged when she spotted two Westin Resort and Villas employees bagging iguanas as part of the resort's iguana relocation strategy. She said it turned out there were four iguanas in one bag.
"They just can't do that to animals," she said Thursday.
It's true that they shouldn't be doing it because iguanas are protected under the V.I. Indigenous and Endangered Species Act. They are afforded additional protection under the Agoutis and Iguana Act that prohibits the taking, wounding or killing of any iguana. However, the Westin has a huge iguana overpopulation problem.
Westin manager Mike Ryan said, "They get overly aggressive and create an issue for our guests."
He said the resort developed what it thought was an iguana-friendly relocation program because it didn't know what else to do. Its staff had been relocating them to the gut near the Virgin Grand Estates and to the east end of Fish Bay.
Now that Ryan knows that this isn't allowed, he said the resort would come up with a new way to deal with the iguanas after consulting with the Fish and Wildlife Division of the Planning and Natural Resources Department.
"We want to make sure we're doing the right thing," he said.
The Westin inadvertently contributed to the problem by running a feed-the-iguana event for its guests around 3 p.m. most afternoons. Ryan said that by about 2 p.m., 30 or 40 iguanas would start coming out of the "woods" to the feeding spot near the beach to wait for their daily ration of lettuce and other produce leftovers.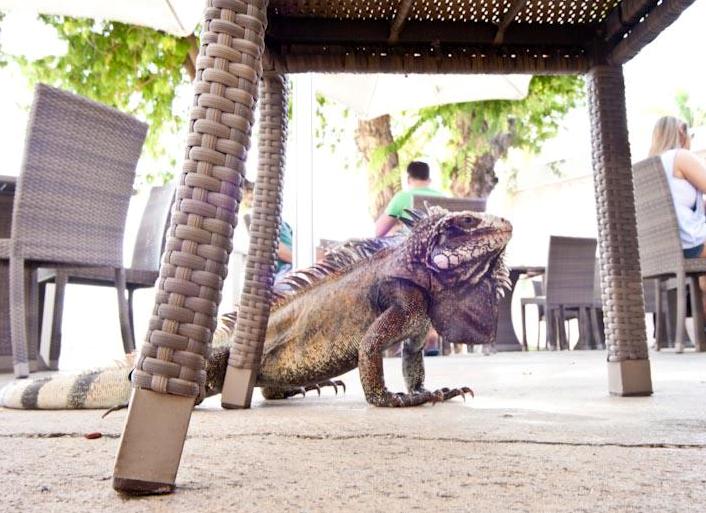 Ryan said the Westin no longer holds the afternoon feedings, but the iguanas are firmly entrenched on the property. They're so bold as to jump in the pool while the guests are in there.
The lizard population is augmented by iguanas dropped off by people who had problems in other locations, Ryan said.
Renata Platenberg, a wildlife biologist at Fish and Wildlife, said that there are no natural predators at the Westin and in other locations with large iguana populations. She suggested that the Westin walk a dog around the property's perimeter to discourage the iguanas.
Platenberg also advised that resorts put up signs advising guests not to feed or approach the iguanas because they can bite, scratch or injure guests by flicking their tails.
According to Platenberg, there are no commercially available iguana repellents. However, they can be deterred from eating plants by spraying vegetation with a solution made of blended garlic cloves, hot peppers, vegetable oil and water.
Plants and potential nesting sites can be protected from iguana damage by using chicken wire. To discourage iguanas from climbing trees, wrap thin sheets of metal, such as aluminum flashing, around the base of trees. Make sure the metal extends high enough off the ground to keep them from jumping over the barrier. Sheets of Plexiglas can be used as fencing to prevent access. In extreme cases, electric fences may be used.
Additionally gardeners should avoid planting vegetation that is preferred food for iguanas. Plants that iguanas particularly enjoy include hibiscus, impatiens, nasturtiums, garden greens, and most fruits and flowers. Iguana resistant plants include milkweed, oleanders, crotons and most plants with tough, thick leaves.
To deter iguanas, one can also remove protective cover such as dense thickets of vegetation, and fill vacant burrows with concrete and sand, checking first for eggs.
Platenberg said that moving iguanas isn't allowed and doesn't solve the problem. She said others will just move into the territory and another location will now have a problem.
"Iguanas are territorial," she said. They pick those territories because they provide food, shelter, breeding sites, a place to bask and have no predators.
Bellas is part of Pittsburgh's Chatham University team headed by Crystal Fortwangler. Last summer the team took a count of the number of iguanas on St. John. The numbers aren't in yet, but Fortwangler said that while the entire island has iguanas, the largest populations are around the Westin, Chocolate Hole and Cruz Bay areas.
Platenberg said she would alert the Department of Planning's Enforcement Division about Westin's capturing of iguanas but by mid-afternoon, the matter had not been resolved.
For advice on what to do with an overpopulation of iguanas in your neighborhood, call Platenberg at 775-6762.