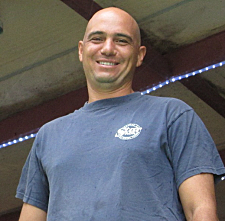 There are new owners at the iconic Skinny Legs restaurant and Bar in Coral Bay, but the laid-back, mellow vibe remains the same.
"It's laid back, mellow," Doug Bean, who bought the bar April 1, with his wife, Jaime Elliott, said.
The menu and the website both have a new streamlined look, but the website content and the food remain the same. Burgers, including the burger of the day, are still the backbone of what the restaurant dishes up for lunch and dinner.
Sandwiches run to favorites like grilled chicken and grilled mahi mahi. Other menu favorites include hot dogs, chili and Greek and chef salads.
They're still won't be any French fries or blender drinks on the menu despite wishful thinking by many customers. Bean was adamant that French fries aren't coming because it would take a big deep fryer to make that happen, and Skinny Legs doesn't have the space.
Visitors and locals also stop by to watch sporting events on the big-screen TVs and to enjoy the easy camaraderie that permeates the place.
While St. John has gotten decidedly more upscale over the years, Bean said the restaurant remains as popular as ever with a strong local following and slews of visitors making it a must-do on their St. John vacation bucket list.
"They want a cheap lunch," Bean said, laughing.
The bar is a Coral Bay institution, opening in 1991 with the late Doug Sica and Moe Chabuz at the helm. Sica died in 2006 and Chabuz and his wife, Toni Lacer, are now on an extended RV vacation across the United States.
Bean, 37, started working at Skinny Legs in 2000, first as a prep cook, then waiter and bartender until he became manager in 2005.
"I did every job possible," he said.
He came to Skinny Legs with plenty of bar and restaurant experience on his resume. After growing up in Lakeport, Calif., he moved to the Mount Hood, Ore. area, where he worked in bars, restaurants and managed a brewery.
While in Oregon, he met the woman would become his wife, both of them "snowboard bums," he said.
On a whim, the two decided to move somewhere like South America for a year. A friend pointed out that they'd have trouble working in South America, but said "what about St. John?"
Bean had never heard of St. John, but he and Elliott the next day bought one-way tickets. That was in 1999.
"We were going to stay a year," he said.
After landing in Cruz Bay, Bean took the VITRAN bus to Coral Bay. He immediately felt at home, and he and Elliott quickly became an integral part of the community. Both got jobs, with Elliott soon signing on as the reporter at Tradewinds weekly newspaper.
Bean continues the tradition of community involvement established by Sica and Chabuz. He said Skinny Legs hosts fundraisers for programs like Kids and the Sea and is often the memorial service location for St. John residents who died.
Running Skinny Legs is a more than full-time endeavor, but Bean said thanks to manager Jordan Manges, he's able to take some time to play golf at Mahogany Run Golf Course on St. Thomas.
"It's my Zen time," he said.
Reach Skinny Legs at 779-4982 or visit the website at www.skinnylegs.com.